The sustainable initiatives of the first chefs with this distinction will additionally be detailed and highlighted on the various platforms of the MICHELIN Guide throughout the year, through the creation of various content. This will allow readers to learn more about the restaurants embracing sustainability and have a better understanding of the vision of the chef and the cuisine they will taste as they choose their dining experiences.

READ MORE: Restaurants Fighting Climate Change
"Faced with constantly evolving challenges including production methods, sourcing and waste management, chefs are striving to improve their practices," explains Gwendal Poullennec, International Director of MICHELIN Guides.
"Often, these initiatives combine the best of the knowledge of our predecessors with the creativity and innovation of chefs who are never short of ideas. The ambition of our approach is to amplify the scope of the good and ingenious practices of chefs by putting them in the spotlight. The ideas, methods and know-how developed by these chefs will thus help raise awareness of an entire sector to its customers and the general population."
The launch of the new icon is in line with the MICHELIN group's wider commitment to sustainability. The MICHELIN Guide has, for several years now, focused its attention on good environmental practices in the restaurant industry, In light of the increased interest of gourmets with what they consume.
In 2019, the MICHELIN Guide also handed out Sustainability Awards to recognise chefs across several destinations rated by the guide, including Angel Leon of three-MICHELIN-starred Aponiente in Spain, Enda McAvoy of one-starred Loam in Ireland, and Heidi Bjerkan of one-starred Credo in Norway.


RECOMMENDED READING: What Does Food Look Like When Sustainability Is The Main Ingredient?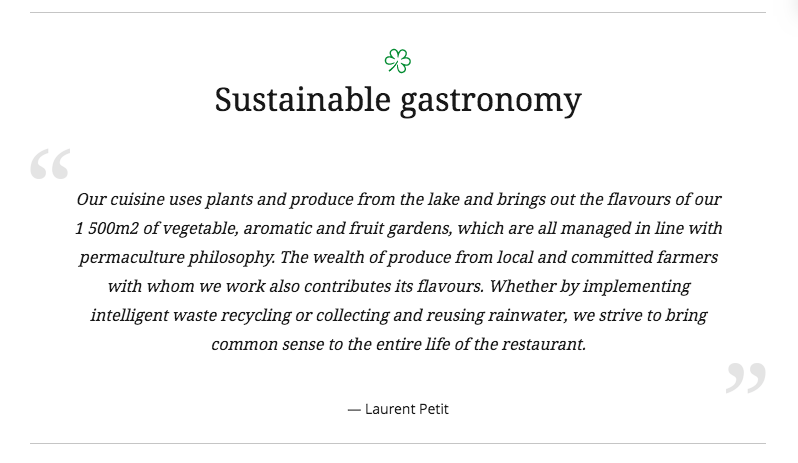 Restaurants in the new Sustainable Gastronomy selection are marked with a green icon and feature a quote from its chef on the restaurant page such as this by Laurent Petit of Le Clos Des Sens.