A Plus membership from the MICHELIN Guide is your ticket to VIP upgrades and amenities at over 1,000 of the world's best hotels.
MICHELIN Guide Ceremony
15 restaurants are awarded or promoted to One, Two, or Three MICHELIN Stars; a total of 95 restaurants are recognised with MICHELIN Stars, with 78 in Hong Kong and 17 in Macau; and the sustainable commitment of one new restaurant is also highlighted with the MICHELIN Green Star.
A total of 72 food establishments are awarded a Bib Gourmand, with 65 in Hong Kong and seven in Macau. Out of the 65 food establishments recognised with a Bib Gourmand in Hong Kong, six are new entrants.
Dining Out
Find out what impressed our MICHELIN inspectors in the newly promoted starred restaurants.
Find out what impressed our MICHELIN inspectors in the newly promoted starred restaurants.
How some terrible fishballs in Oakland, the United States, inspired the opening of Fisholic, a creative fish-focus MICHELIN Bib Gourmand eatery in Fortress Hill, Hong Kong.
Features
Here's why Macanese cuisine is more than just a mix of Portuguese and Cantonese food.
A familiar face in Joël Robuchon's culinary empire is the friendly and spirited Julien Tongourian, who exudes the warmth and wisdom that can only come from decades of experience. Here's what he has to say about the past, present, and future of Robuchon's legacy.
As travellers increasingly focus on their carbon footprint, hotels in Hong Kong and Macau are stepping up their game with a range of eco-forward initiatives.
People
Meet Jacky Luk, sommelier of three-MICHELIN-star Forum and winner of the inaugural MICHELIN Guide Hong Kong & Macau Sommelier Award, presented by Perrier-Jouët. Luk took over Forum's wine program and brought the 46-year-old institution's wine list to greater heights, all while bringing in a fresh perspective to pairing wine with Chinese cuisine.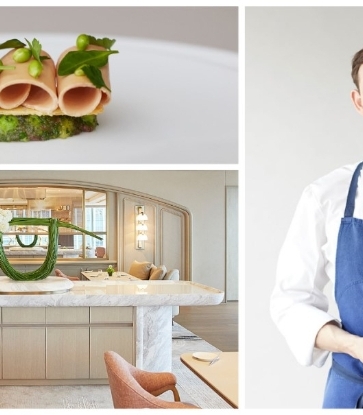 Daniel Calvert is Executive Chef of SÉZANNE, which was promoted to Two MICHELIN Stars in the MICHELIN Guide Tokyo 2023. Before moving to Tokyo in 2021, he lived and worked in London, Paris, New York and Hong Kong. We asked him about Japan, his experiences around the world and what he would say to young chefs.
Can you pursue perfection in the kitchen while caring for the environment? Executive Chef Julien Tongourian of Robuchon au Dôme in Macau thinks so. He shares how the three-MICHELIN-starred restaurant's efforts to source sustainably and reduce waste in the kitchen aligns with parent company SJM's journey to sustainability.
Dining In
Black sesame cakes, put chai ko, red bean cakes… for many Hongkongers, these street snacks evoke sweet memories of their childhood.
Many MICHELIN-starred Cantonese eateries and hotel restaurants have launched Chinese New Year puddings to ring in the Year of the Rabbit.
For many Hong Kongers, claypot rice is the best thing about autumn.
Travel
A Plus membership from the MICHELIN Guide is your ticket to VIP upgrades and amenities at over 1,000 of the world's best hotels.
When you book a hotel with the MICHELIN Guide, you get concierge-level care for every step of your journey.
Style and service. Personality and reliability. Culture, comfort, and a consistently extraordinary experience — this is what makes a MICHELIN Guide hotel.
News & Views
Kuala Lumpur and Penang's dining establishments make their debut in the MICHELIN Guide with 97 listings, covering over 20 cuisine types, along with three restaurants receiving the MICHELIN Special Awards: Service Award, Sommelier Award and Young Chef Award.
Myojaku and SÉZANNE receive Two MICHELIN Stars, and 16 new restaurants are distinguished One MICHELIN Star, while the Bib Gourmand celebrates 38 new restaurants which have been rated as best value-for-money by MICHELIN inspectors.
The inspectors of the MICHELIN Guide are in the field to spot the best restaurants in Kuala Lumpur and Penang. The first edition of the MICHELIN Guide Kuala Lumpur and Penang will be unveiled in December 2022.
Sustainable Gastronomy
Winner of the MICHELIN Green Star at the MICHELIN Guide Hong Kong & Macau 2023, Mora has built its modern French-Chinese menu around the humble soybean, transforming its various expressions into an array of exciting dishes, while integrating sustainability into its cultural expression. Chef-owner Vicky Lau shares her sustainability ethos and provides inspiration for the wider F&B industry.
Wellness
The refreshing combination of raw fish cured in citrus juices makes for a delicious summertime treat.
Just because you're going low carb doesn't mean you have to sacrifice this staple.