For most people, there is nothing like a warm, nourishing meal to look forward to on a long and tiring work day — particularly during this recent period of challenges brought about by the global outbreak of COVID-19.
Recognising this, Michelin offices across Asia teamed up with their local governments, national tourism boards and charities in their respective cities to sponsor and organise initiatives aimed at sending nutritious meal boxes to hospital workers in the frontlines of fighting the virus, as well as the elderly and low-income families in society. More than 15,000 meal boxes were distributed as part of the projects that ran concurrently in MICHELIN Guide destinations such as Japan, South Korea, Thailand and Singapore in April and May 2020.
Despite the ongoing uncertainties faced by the restaurant community, the initiative saw many chefs and restaurants listed in the MICHELIN Guides in the different countries generously step forward to offer their contributions. From street food hawkers and casual Bib Gourmand restaurants to three-MICHELIN-star fine-dining restaurants, the chefs and their teams offered a wide array of thoughtfully prepared meal boxes composed from different ingredients, cuisines, and ethnic flavours, with each one prepared to the highest safety standards.
The Michelin teams across Asia would like to offer a sincere thank you to the frontline workers for keeping our cities safe, and to the participating restaurants for keeping our societies fed.
Here's a recap of some of our regional initiatives below.
---
Singapore
To show its support and appreciation towards MICHELIN-recommended restaurants and eateries in Singapore, as well as to make sure the city's less fortunate stay well-nourished during the challenging times, Michelin partnered with welfare organisation the Food Bank Singapore to launch a week-long campaign from 18 to 24 May 2020.
The initiative rallied a total of 20 establishments including MICHELIN-star, Bib Gourmand and MICHELIN Plate-recognised restaurants to send out more than 2,000 meal boxes during lunch and dinner to Food Bank Singapore beneficiaries such as elderly homes, family service centres and low income families across the country.

The list of participating Michelin restaurants included three-MICHELIN-star Odette, two-MICHELIN-star Saint Pierre, Shisen Hanten and Zén, as well as one MICHELIN star restaurants Alma, Buona Terra, Burnt Ends, Hawker Chan and Nouri. Bib Gourmand eateries include Chey Sua Carrot Cake, Heng Carrot Cake, Hjh Maimunah, Ka-Soh, Muthu's Curry and The Blue Ginger, while Plate eateries include Ji Ji Noodle House and Keng Eng Kee.
The initiative also welcomed voluntary contributions from previous MICHELIN-recommended restaurants Char and New Ubin Seafood, as well as one-MICHELIN-star Burnt Ends' sister joint Meatsmith.
READ MORE: Michelin Singapore Donates 2,000 Meals To Families In Need
---
Thailand
In Thailand, Michelin joined the Tourism Authority of Thailand (TAT) to support and encourage medical personnel through the "Thailand Together" initiative. The programme, which ran from 13 to 22 April 2020, saw the distribution of 2,000 meal boxes carefully created by 19 restaurants recognised in the MICHELIN Guide Bangkok, Chiang Mai, Phuket & Phang-Nga 2020 to frontline workers in nine hospitals in the country — as a show of appreciation and thanks for their tremendous dedication and efforts to help keep everyone safe and healthy during this crisis.


The restaurants that freshly prepared meals prepared following the highest safety standards included two-MICHELIN-star restaurants Sorn and R-Haan, as well as one-MICHELIN-star venues such as Saawaan, Saneh Jaan, Chim by Siam Wisdom, and Upstairs. The line-up also included Plate-rated restaurants such as Sri Trat, Je Ngor (Sukhumvit 20), Somtum Der (Si Lom), Baan, and Supanniga Eating Room, alongside Bib Gourmand establishments like The Local, Thai Niyom, Klang Suan, 100 Mahaseth, Polo Fried Chicken (Soi Polo), Poon Lert Room (Phlapphla Chai intersection), and Eat Pad Thai.
The 2,000 meal boxes to medical staff in nine hospitals across Bangkok, comprising Rajavithi Hospital, Ramathibodi Hospital, Phramongkutklao Hospital, King Chulalongkorn Memorial Hospital, Vajira Hospital, Siriraj Piyamaharajkarun Hospital, Bamrasnaradura Infectious Diseases Institute, Pranangklao Hospital, and Thammasat University Hospital.

---
South Korea
Michelin in collaboration with the Seoul Metropolitan City Government organised the MICHELIN Star Heart Lunchbox initiative in May to express Michelin's support for the local community.


Between 11 and 13 May, 27 out of the 31 MICHELIN-star restaurants listed in the MICHELIN Guide Seoul 2020 prepared 1,500 lunch boxes that were distributed to five hospitals across the city that are exclusively treating Covid-19 infected cases. These hospitals include Ewha Womans University Seoul Hospital, Seoul Metropolitan Dongbu Hospital, Seoul Child Hospital, Seoul Seonam Hospital and Seoul Medical Center, as well as General Senior Welfare Centers for the Elderly in the Gangseo and Seodaemun districts. The latter provide meals, housework, counselling and nursing care for elderly citizens who live alone.
The participating restaurants included Seoul's two three-MICHELIN-star restaurants Gaon and La Yeon; all seven two-MICHELIN-star restaurants, as well as 18 one-star restaurants serving a diverse range of cuisines including contemporary Korean, French, Spanish, Chinese, Japanese and more. Accompanying the lunchboxes filled with premium ingredients such as abalone, Hanwoo beef and ginseng were notes with positive messages from the renowned chefs and their kitchen teams.
---
Japan
In Japan, Michelin was a supporter and sponsor of the Smile Food Project, a non-profit initiative organised by chef Shinsuke Ishii of one-MICHELIN-star Tokyo restaurant Sincere.
The project gathered the city's top chefs — all on a voluntary basis - to show their support and appreciation to the medical workers fighting Covid-19 crisis on the frontline by delivering delicious and nutritious food to their workplaces. Some of the participating restaurants include restaurant group Citabria Ltd, which operates two-MICHELIN-star venue L'Effervescence, two-MICHELIN-star Sazenka and one-MICHELIN-star La Paix, among many others.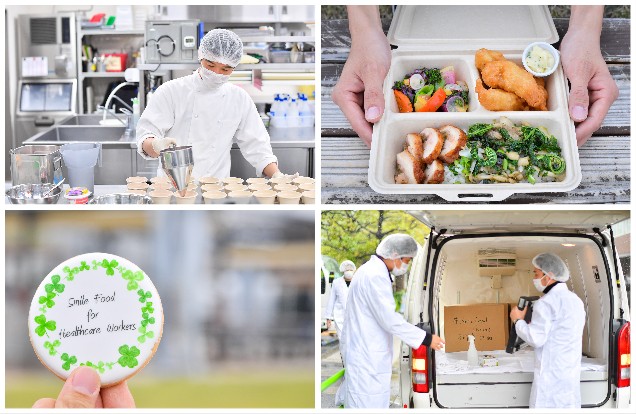 Ever since the project started on 13 April, the chefs and restaurants have sent out more than 15,000 bento boxes to medical workers in more than 40 hospitals around Tokyo. The boxes contained salads, rice rolls and more, all made using the freshest seasonal vegetables and ingredients from Japan.
The Smile Food Project provides approximately 200 lunch boxes for two to three medical institutions every week and Michelin and the organisers hope to continue the initiative until late July.
Find out more about the Smile Food Project here.