MICHELIN Guide Thailand 2020
Sri Trat
90 Soi Sukhumvit 33, Sukhumvit Road, Bangkok, 10110, Thailand
400 - 1,200 THB • Thai
MICHELIN Guide Thailand 2020
Sri Trat
90 Soi Sukhumvit 33, Sukhumvit Road, Bangkok, 10110, Thailand
400 - 1,200 THB • Thai
MICHELIN Guide's Point Of View
Trat is a province on the eastern seaboard of Thailand known for fiery seafood and curries, and the owners of Sri Trat brought this famed regional food to the capital to much fanfare. The star in the kitchen is the owner's mother – you'll find a funky mural of her in the dining room. The menu is a roll-call of her favourite recipes, including Thai-style chilli dips, homemade fish sauce, and stir-fried noodles with soft shell crab. Don't miss the Matsaman curry with young durian or the anchovy and minced pork chilli dip.
Show More
Show Less
‹ The MICHELIN Plate: Good cooking
ò Simple restaurant
Related Reads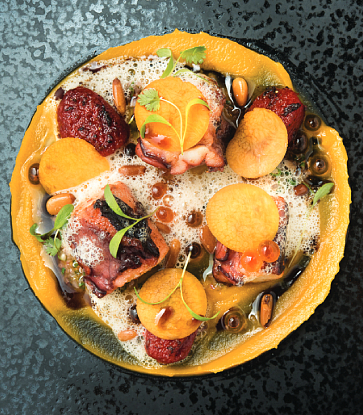 These restaurants offer a globetrotting taste experience without ever having to pack your bags.
The collaboration shows support for local restaurants while thanking healthcare workers for battling COVID-19.
Check out this tasty list of restaurants offering online ordering for takeaway or delivery to your door.
Subscribe to our newsletter and be the first to get news and updates about the MICHELIN Guide
Subscribe
Follow the MICHELIN Guide on social media for updates and behind-the-scenes information