MICHELIN Guide Thailand 2020
Eat Pad Thai
115/5 Dinso Road, Bangkok, 10200, Thailand
100 - 220 THB • Street Food
MICHELIN Guide Thailand 2020
Eat Pad Thai
115/5 Dinso Road, Bangkok, 10200, Thailand
100 - 220 THB • Street Food
MICHELIN Guide's Point Of View
= Bib Gourmand: good quality, good value cooking
ò Simple restaurant
J Street food
Related Reads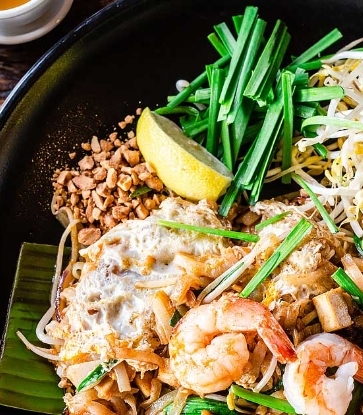 Unlock the delicious secrets from the chefs who make the best phad thai in the MICHELIN Guide.
The collaboration shows support for local restaurants while thanking healthcare workers for battling COVID-19.
When it comes to eating out, street food is high up on the list of preferred choices for Thais.
Subscribe to our newsletter and be the first to get news and updates about the MICHELIN Guide
Subscribe
Follow the MICHELIN Guide on social media for updates and behind-the-scenes information