Who says an actual visit to a restaurant is required for memorable moments of food and cocktails?

There's absolutely no limit when it comes to pairing food with drinks. The right choice of beverages can enhance or dilute the flavours of food when needed. Plus, great beverages often turn a regular meal into something extraordinary.

Let's jazz up your house parties and entertain your guests' palate with these amazing ideas for pairing cocktails with street food that will heighten your guests' dining experiences.


Salted egg som tam and Mekhong Thai Sabai. (© Anuwat Senivansa Na Ayudhya / MICHELIN Guide Thailand / Mekhong)
Som Tam (Papaya Salad): Somtum Der (Silom Branch)
Hands down, this humble street food joint has won the heart of the nation. So far there have been many delightful additions to the dish, for example, salted eggs and fresh corn. Somtum Der is among the many establishments that have helped popularise this refreshing salad in many parts of the world. The place was awarded the MICHELIN Plate in 2020, thanks to their full-flavoured, well-balanced som tam. And try the som tam with salted eggs for pleasantly pungent notes that will make you crave for more.

Pairing idea: Try Thai-style spiced rum as a base. Add some fresh-squeezed lime juice for that delightfully pleasing acidity and a little syrup for mild sweetness. Top it off with a splash of soda and a sprig of Thai basil for the unique aroma. A sip before or during the meal helps cleanse the palate and prepare you for the upcoming dishes. This Mekhong Thai Sabai cocktail, a signature drink of Mekhong, also helps tone down the fiery heat of som tam. Sounds good to you?


Fried chicken at Soi Polo and Mekhong Sparkling. (© Anuwat Senivansa Na Ayudhya / MICHELIN Guide Thailand / Mekhong)
Fried Chicken: Polo Fried Chicken (Soi Polo)
A som tam meal is simply incomplete without some fried chicken. Though there are countless awesome choices, many favour the deliciously crispy chicken of Polo Fried Chicken. For over half a century, the shop has served some of the most tempting birds in town, which eventually won them the MICHELIN Bib Gourmand award in 2020. Their scrumptious secret? No batter is used in the process. And when served with the aromatic fried garlic, the chicken is even more addictively delicious. These secrets are a legacy passed on within the family. What cocktail would go with some good-looking fried chicken with crispy garlic, a handful of warm sticky rice, some refreshing papaya salad, some fiery lab (northeastern-style spicy ground pork salad)... But doesn't that sound like a perfect meal already?

Pairing idea: Try something simple yet irresistible such as a Mekhong Sparkling by adding zesty lychee juice to your glass of Mekhong, then top with some sparkling wine.

Smoky phad thai with prawns with refreshing Mekhong Mantra. (© Anuwat Senivansa Na Ayudhya / MICHELIN Guide Thailand / Mekhong)
Phad Thai with Prawns: Eat Pad Thai
Who doesn't know this world-famous fried noodle dish? This very beloved recipe represents Thai street food globally. Chef Andy Yang of Table 38 opened Eat Pad Thai, an establishment that in 2020 won the MICHELIN Bib Gourmand award. In the fire-blazing wok, noodles are nicely glazed with aromatic, full-flavoured phad thai sauce. No wonder a decent phad thai with crisp, perfectly cooked prawns is one of the world's favourite noodles dishes.

Pairing idea: We recommend an herby cocktail which consists of Mekhong Thai spiced rum, ginger ale, and just a hint of fresh-squeezed lime juice. Try garnishing this alluring cocktail with some fresh-sliced ginger. Doesn't sound too difficult to make some at home, does it?



Legendary beef noodles paired with icy cold Mekhong Essence. (© Anuwat Senivansa Na Ayudhya / MICHELIN Guide Thailand / Mekhong)
Beef Noodle Soup: Ten Suns
Dreaming of tender, fall-off-the-bone braised beef and noodles in fragrant herbal broth? Ten Suns is among the most highly recommended places by our MICHELIN inspectors. Their delicious recipe dates back to the pre-World War Two era. If dining in doesn't quite satisfy your appetite, feel free to order some more to-go. Having won the 2020 MICHELIN Bib Gourmand award, Ten Suns continues to serve various choices of great quality beef, ranging from the tenderloin, ribs, shank, extra-fatty cuts, and chuck. The Kobe variety is also available. For hours, these cuts are cooked till tender in Chinese herbs-rich broth, so don't leave your soup unfinished!

Pairing idea: The dish's unique aroma makes it best to pair with a simple, effortless cocktail. Why not try Mekhong Essence by blending Thai-style spiced rum with fresh coconut juice? Et voilà, a perfect combination! The beef noodle soup's rich flavours need only the cocktail's bright and soft floral notes to match. The drink's cheery character gives a pleasant contrast to the dish.

100 Mahaseth's creative coconut ice cream is a perfect way to end your easy and homey meal. (© Anuwat Senivansa Na Ayudhya / MICHELIN Guide Thailand)
Coconut Ice Cream: 100 Mahaseth
Finish off your meal with some good old Thai-style ice cream. The classic kati, or coconut flavour, is the way to go. Yummy either on its own, with crispy cones, or some traditional soft and fluffy bread. The Bib Gourmand-awarded 100 Mahaseth has elevated regular ice cream to the next level. The extra-rich brioche keeps its shape even when topped with icy cold ice cream. The coconutty leading lady is served dotted with sweetened pumpkin slices, sticky rice, and roasted cashew nuts. Salted egg yolk is grated and sprinkled over à la minute to add the extra kick. Be sure to get everything in one bite!

Pairing idea: Go bold and pair your coconut ice cream with something similar yet not quite equivalent. Try whipping some homemade rum raisin ice cream or sorbet with delicately Mekhong Thai spiced rum. Your guests' pleasant surprises are definitely worth the time spent at the blender.

Don't want the trouble of making these at home? Pay a visit to Baan Suriyasai, where professional bartenders are more than happy to make you these delicious Thai cocktails without a sweat.

Bon appetit!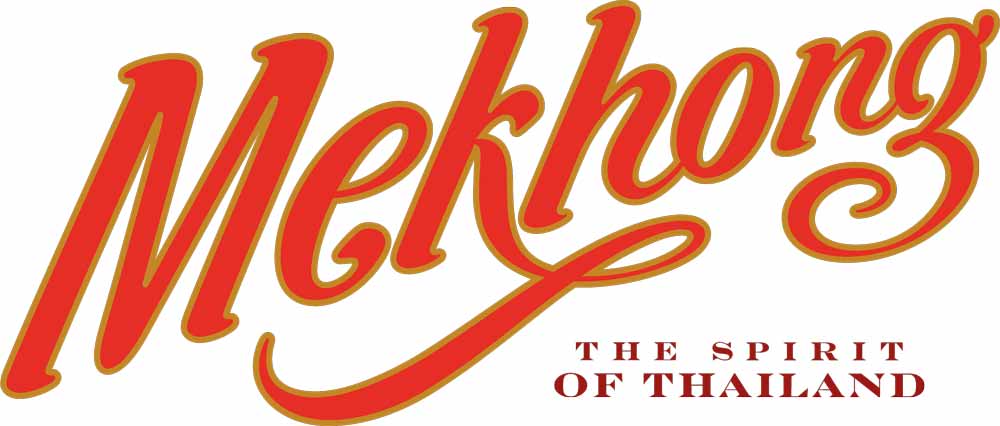 This post is brought to you in partnership with Mekhong