This time last year, industry pundits and passionate diners alike were abuzz with excitement, looking forward to the food trends of the new year—fashionable restaurants, photogenic new dishes, breakout cuisines, new-fangled plant-based proteins—but the Covid-19 pandemic sparked a year of disruption instead.

As 2021 approaches and we venture out into a restaurant landscape vastly different than the one we left behind, we take a look back at the trends and pivotal changes that happened in the wake of the pandemic this year.


Chefs all around the world took to sharing their recipes online as people sought solace in comfort cooking at home.
1. People sought out comfort food

Across the world, as fine dining restaurants felt the effects of shutdown notices in their countries due to the Covid-19 pandemic, one recurring theme seemed to surface—people were seeking out comfort food. In Singapore, several MICHELIN-starred fine dining restaurants departed from their usual modern menus to turn out nostalgic, wholesome dishes. Alma's takeaway lunch burgers were a hit during the circuit breaker and three-starred Les Amis churned out premium ice creams for the stay-home crowd while Labyrinth launched a casual sister concept serving elevated hawker cuisine.
Chefs took to social media during their restaurant downtime to share recipes and videos from their own home kitchens, whipping up family favourites and easy weeknight dinners for a worldwide audience. Even MICHELIN inspectors got in on the action, contributing their favourite home cooking recipes on the official MICHELIN Guide Instagram under the hashtag #michelinguideathome.


Alma's Basque burnt cheesecake (Photo: Alma)
2. Cake of the year: The Basque burnt cheesecake

As Singapore went into lockdown during the circuit breaker, circuit bakers emerged and the dessert du jour? Creamy, custardy, charred Basque burnt cheesecake. Even while home bakers were trying their hands at fail-proof recipes for this cake, chefs of MICHELIN-starred restaurants like Beni, Alma and Basque Kitchen were selling out of their own refined renditions, and sharing their secrets for the perfect bake.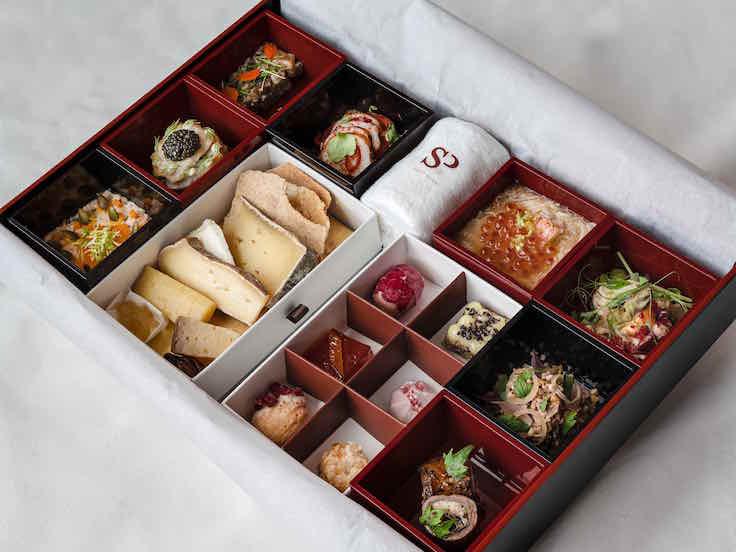 Dining rooms all around Singapore became fine dining restaurants for the night with innovative virtual experiences. (Photo: Saint Pierre)
3. Fine dining experiences went into homes

Singapore's restaurants were closed for dine-in for up to 11 weeks during the pandemic, causing widespread disruption to businesses and even the cancellation of the MICHELIN Star Revelation 2020 in Singapore. And even as fine dining restaurants were among the hardest hit, they were also quick to re-invent their activity and to develop takeaway and delivery concepts, bringing fine dining experiences into the very homes of diners.

Chef-owner Emmanuel Stroobant appeared in the dining rooms of many homes via Zoom with the two-MICHELIN-starred restaurant's Virtual Saint Pierre experience, while two-starred Zen set up virtual dinners for its guests with a premium champagne producer dialling in from France to introduce the pairing. MICHELIN-listed restaurants opened their cellar doors and offered their carefully curated wines for takeaway and delivery at special prices along with their food, while starred restaurants like Odette, Jag and Braci designed elaborate multi-course meals that could be finished and plated easily at home.


4. Restaurants stepped up to to the cause

The crisis also gave rise to unprecedented acts of generosity and kindness from the restaurant community as many chefs and restaurants stepped up to help get food to the people who need it. Among the first to take action: executive chef Haikal Johari who rallied his kitchen team prepare lunch boxes to thank the healthcare professionals on the front lines. Michelin and Food Bank Singapore partnered with 20 MICHELIN-starred, Bib Gourmand and Plate restaurants and hawkers to donate 2,000 portions of nutritious meals for families in need during Singapore's circuit breaker, while restaurants in Marina Bay Sands including MICHELIN-rated CUT and Spago, donated some 15,000kg of fresh produce and food to charity.

When the virus hit the migrant worker community, putting their dormitories on lockdown, many restaurants focused their resources on getting good, nutritious food to the foreign workers there. Despite being "completely stretched", popular MICHELIN Bib Gourmand eatery Muthu's Curry catered thousands of portions of Indian comfort food to quarantined foreign worker dormitories daily; The Lo & Behold Group—the restaurant group behind Odette and private members club Straits Clan—committed to preparing 450 meals per day, seven days a week to migrant workers at the Goldmine Energy Tuas FCD with its Straits Clan Community Kitchen initiative.


Fine dining restaurants and hawkers alike turned to tech (Photo: To Ricos Kway Chap Facebook)
5. F&B turned to tech and social media

A trend accelerated by the unprecedented crisis is the digitalisation of the F&B industry. The coming year will see restaurants continuing to stay nimble and ahead of the game through their forays into technology. Embracing the digital are restaurants like one-MICHELIN-star Ma Cuisine whose Ma Cuisine 3.0 app allows users to not only make reservations and order delivery from the restaurants, it also retails curated tableware, art and gourmet produce, alongside easy-to-navigate wine experiences.

The pandemic also pushed Singapore's hawkers young and old online and on to social media. A survey of the online presence of MICHELIN-listed hawkers shows that more have become increasingly active on social media, moving beyond regular updates on opening hours and delivery options, into content creation and creative marketing.


A selection of ready to eat meals from Grammi, a cloud kitchen concept by Il Lido Group (Photo by: Grammi)
6. Cloud kitchens are here to stay

A new type of restaurant has gained popularity this year, one that is all ghost and no guest. This year saw a number of MICHELIN star restaurants hop on the bandwagon to offer their food from cloud kitchens, which are commercial food production facilities optimised for food delivery rather than sit-down service. Beppe de Vito's Il Lido Group (including one star Braci) launched Grammi from its cloud kitchen, offering over 50 menu items as well as artisanal grocery items. Miss Vanda by one-starred Labyrinth enjoyed a highly successful run with its elevated take on Singaporean cuisine favourites while Garibaldi launched Burrata Joy and Gustavo Lapasta.

Banner Image by John Heng / DaPhotographer.