Never before has two of Bangkok's top culinary talents, from Two MICHELIN-Starred restaurants featuring different cuisines, joined forces for the MICHELIN Guide Dining Series collaboration dinner. Mezzaluna's Ryuki Kawasaki and R-Haan's Chumpol Jangprai invade the other's kitchen as they tell the stories of their extensive fine-dining experiences cultivated from across the globe. These 'Memories of Culinary Art' can only be experienced on four nights only.

With his personal philosophy, "When you start with the finest ingredients in the world, you don't need to do much to make them shine", Japanese chef Ryuki Kawasaki never stops showing the world the most refined version of his homeland's seasonal produce through classic French techniques. After 20 years journeying around the globe, with stints at Pierre Gagnaire's Sketch (Three MICHELIN Stars) in London and Paul Bocuse (Two MICHELIN Stars) in France, Kawasaki has landed at Mezzaluna, a contemporary French restaurant that has earned Two MICHELIN Stars since the first year the MICHELIN Guide arrived in Bangkok.



Ryuka Kawasaki of Mezzaluna.
Also with an impressive career path, from attending Blue Elephant Copenhagen at 18 years old to becoming a star of a Thai TV cooking show, Chumpol Jangprai is undoubtedly behind his restaurant's success, showcasing age-old Thai culinary traditions. R-Haan first received One MICHELIN Star and then became one of the first traditional Thai restaurants in the world with Two MICHELIN Stars a year later for Jangprai's impeccable fine-dining execution of traditional Thai cuisine.



The seasoned Chumpol Jangprai of Two-MICHELIN-Starred R-Haan.
"It's our duty to find balances," Kawasaki tells us about the challenge to maximise his culinary expertise and creativity to conceive dishes that will complement Jangprai's Thai courses. For Kawasaki, balanced flavours strongly connect with a well-planned progression of courses.

Jangprai easily agrees as he shares common experiences with Kawasaki, both collecting vast culinary knowledge from kitchens across Europe. "We were trained to work together to create the smoothest and most satisfying meal for our diners, not to compete with each other," explains Jangprai, who is known for his traditional Thai flavours. "So that's why Ryuki and I presented the 'Memories of Culinary Arts' theme. It speaks of values and thoughts we have in common."

Throughout this exclusive four-night event, expect selections of first-rate ingredients from two of Thailand's most celebrated chefs. Find out how premium local seafood catches like Phuket lobster star in the Thai chef's dishes. Or how Kawasaki transforms local Nakhon Chai Si pomelo into an exquisite and unique creation using only the finest French techniques.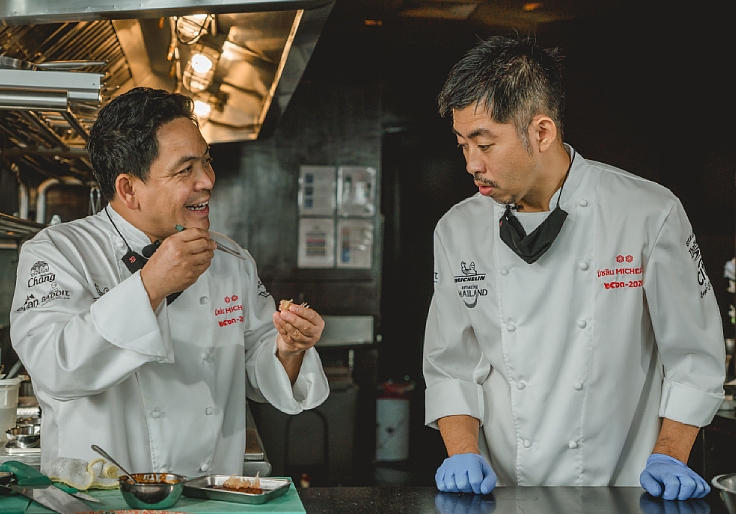 The duo first collaborated in Chef Chats Thailand miniseries.
Experience a starry night at the MICHELIN Guide Dining Series "Memories of Culinary Art", priced at 10,000++ THB a person, with wine pairing, on 27-30 October 2020 at Mezzaluna at lebua State Tower and R-Haan at Sukhumvit 55 in Bangkok on the following dates:
27 October at R-Haan (private)
28 October at Mezzaluna (private)
29 October at Mezzaluna (public)
30 October at R-Haan (public)
Reservations for Mezzaluna can be made at reservations@lebua.com or tel. 0 2624 9555.
Reservations for R-Haan can be made at reservation@r-haan.com, wisdom12groups@gmail.com, www.r-haan.com, or tel. 0 2059 0533, 09 5141 5524 and 06 4194 6416.
Kawasaki and Jangprai.
AMUSE-BOUCHES
Pomelo, Foie Gras, Sake (Mezzaluna)
Benja Chicken Crispy Golden Cup, Chardonnay Cream and Croquettes Blue Crab from Gulf of Thailand with Yellow Curry (R-Haan)
1ST COURSE (Mezzaluna)
Uni (Sea Urchin), Snow Crab, Cauliflower, Kanimiso
2ND COURSE (R-Haan)
Phuket Lobster, Tom Yam Bisque Jus, Andaman Ocean Cracker
3RD COURSE (Mezzaluna)
Himeji (Red Mullet), Langoustine, Mirugai, Jerusalem Artichoke
4TH COURSE (R-Haan)
A5 Korat Wagyu, Spicy Jungle Curry with Wild Basil, Chicons au Rice Gratin
DESSERTS
Virgin Pha-Ngan Coconut Ice Cream and Duo Thai Mango Parfait
(R-Haan)
Sweet Potato, Black Currant and 80% Chocolate, Shio Koji
(Mezzaluna)
Accompanied by evian and Badoit

Nespresso
Coffee Selections:
Espresso "Espresso Leggero", Cappuccino "Espresso Forte", and Decaf "Espresso Decaffeinato"
Here's What Our Inspectors Said About Mezzaluna (Two MICHELIN Stars)
Perched on the 65th floor of the Lebua Hotel, Mezzaluna offers sky-high and breathtaking views. Toast to the high life at Sky Bar before settling in for a gastronomic journey. The accomplished chef and his team deliver European delights with Japanese precision in a seven-course set menu, along with some surprises. The flavours are balanced and sophisticated, and the food is creative and technically precise. A wine list of substantial proportions and prices accompanies.
Here's What Our Inspectors Said About R-Haan (Two MICHELIN Stars)
Inspired by an old Thai poem "Nai Nam Mi Pla Nai Na Mi Khao" (In the river, there are fish; In the rice field, there is rice), R-Haan aims to reflect the way in which food has influenced Thai people and culture. Relax in the lounge with a cocktail before entering the main dining room, or book the private room for up to 20 guests. Food is authentically Thai, offering both regional and royal cuisine, using ingredients from all over the country.