Recognizing the best restaurants in Bangkok, Phuket and Phang-Nga, guests are invited to celebrate the 2019 Edition of the MICHELIN Guide Thailand with culinary talents locally and abroad.

With his Andaman grouper starring as a main course for the night, we catch up with Chef Ryuki Kawasaki (Mezzaluna, Bangkok – Michelin two stars) to ask him where he got the idea of this dish from.
Q: Before we get onto the dish, tell us about your cooking philosophy and training?
Chef Ryuki: In my cooking I emphasize the use of seasonal and natural ingredients with very simple taste and flavour extraction techniques. Once I've extracted the umami I try to blend different flavour profiles together to make a creative dish.

I joined the Tsuji Culinary Institute in Tokyo after finishing school and then went to France. I ended up receiving the award for 'The Best Chef in Class' for my school year, which was a dream come true for me as it gave me the opportunity to then go train at Paul Bocuse's restaurant in Lyon. After that it opened a lot of doors for me as I was able to work for the likes of Joel Robuchon and other restaurants in Tokyo, London, Paris and Las Vegas.

Q: Where did you get your passion for cooking?
Chef Ryuki: It all started at home with my mother and my grandmother. What started as a daily chore to help in the kitchen eventually became a passion and me deciding to go to culinary school.

Q: The theme for the gala is sea to stars, how does the sea inspire you?
Chef Ryuki: Since I like to work with natural ingredients, the sea is where the most fresh and inspirational ingredients can be found.
I come from a town by the sea (Niigata Prefecture), so working with seafood also reminds me of my home and keeps me true to my original passion.
Chef Ryuki Kawasaki of Mezzaluna, Bangkok (2 Michelin stars).
Q: Can you tell us about the fish you're cooking for guests at the gala?
Chef Ryuki: I plan to match the theme of the sea by using the Andaman grouper fish as a hero ingredient. The grouper is line caught by local fishermen. We then use the Ikejime technique (a Japanese technique of slaughtering fish to preserve freshness) to maintain its taste quality.

After that we brine and age it overnight, we remove the skin and roll it with olive oil and herbs. The fish is then sous-vide and preserved for 3 days.
Chef Ryuki filleting the fish.
Chef Ryuki: During the night of the gala, the fish is seared and rolled in dark miso powder before being baked, sliced and served.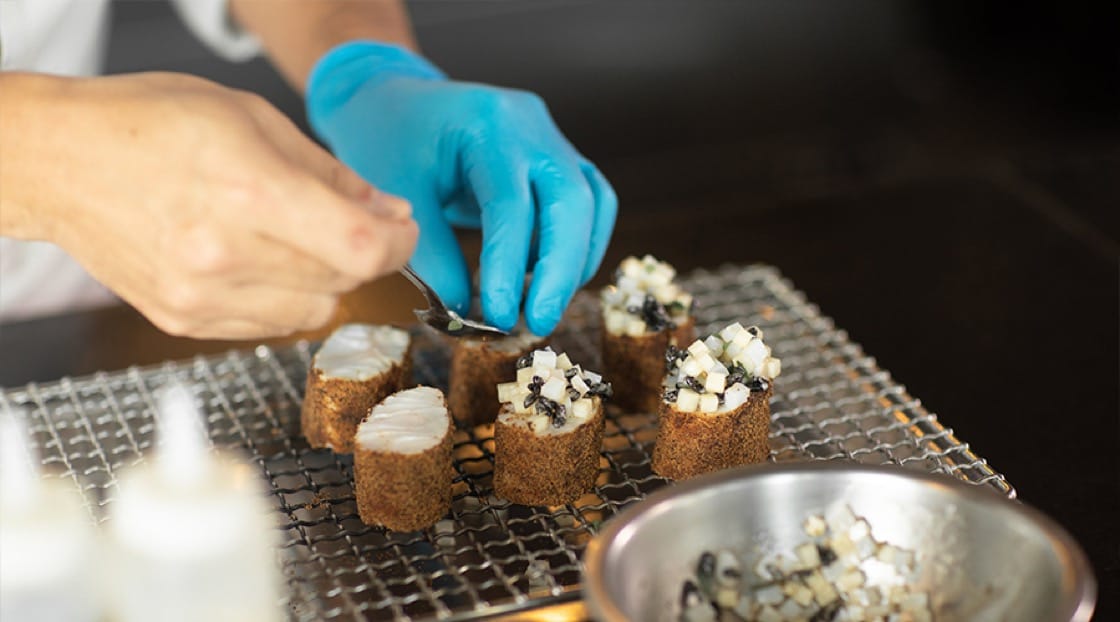 Grouper rolled in dark miso, topped with squid and wild herbs.
Q: What are some of the global trends you see happening in Bangkok?
Chef Ryuki: I think fine-dining customers in Thailand are becoming more mindful in terms of what they're eating these days. The connoisseur of good food is looking for creations with more local and natural ingredients that are healthier, lighter and come from fresh and sustainable sources.

Cuisine is also taking on the character of its creator so Chefs and their personal influences are starting to take more centre stage. Fusion cuisine remains important as long as it offers a sensory experience and not just taste. The look, the smell etc. become equally important to taste, and you see that happening more and more globally.

The finishing touch.
Q: What's the most satisfying part of what you do?
Chef Ryuki: Creating good food is incomplete unless contributions come from a team of dedicated and passionate chefs. I'm not working alone in the kitchen and I am most proud of my team, as we create these dishes together.
Q: What have you observed since the Michelin Guide's arrival in Thailand?
Chef Ryuki: As I said before, the mindfulness of the guest has increased substantially as more and more restaurants start to aim for Michelin stars. There are now more and more people traveling to Thailand for innovative restaurant experiences and that's a good thing.