What does describe yourself as a chef in Thai cuisine specifically?
I've been cooking Thai cuisine for almost 38 years now, but I also cooked European as well. However, Thai cuisine is definitely my main strength. It is in my blood.

Can you tell us about your philosophy and training?
I did not go to any culinary school. I'm self-taught. I learned mostly from my grandmother and my mum who were chefs. I grew up in the kitchen of a restaurant so I was exposed to cooking from the age of six. I moved to Europe briefly at the age of 18, took some classes and learned by doing and experiencing. Today, I'm still training myself every day.

What is the cooking philosophy at R-Haan?
I try to combine local Thai wisdom with my love for cooking. Most importantly, I have deep respect for nature. If you understand nature, you will understand Thai cuisine. At R-Haan, I have been using Thai produce and local ingredients for 10 years. I try to blend together love, nature and wisdom of Thai cuisine. My aim is to bring happiness to my customers when they eat my food.

Chef Chumpol in the embrace of Mother Nature.
How did you fall in love with cooking?
It all started at my grandma's restaurant – Sanguan Sri. She worked from 5 o'clock in the morning until 9 o'clock in the evening every day. I've been passionate about cooking since I was 10 years old. I helped my mum inside the kitchen since I was six years old. At 11, my mum taught me how to cook for customers, 100%. That was my starting point. Then I decided that I wanted to do nothing else and make it as a professional career when I was 19 years old. Now, I'm 46 and I'm still doing what I love most which is cooking.

Can you tell us about your connection with Chiang Mai?
I came to Chiang Mai for the first time when I was 11 years old. Ever since, I kept coming back, even when I was living in Europe. I love the mountains and being surrounded by nature. I moved back to Thailand in 2000 and I now get a lot of herbs from up north, especially from the Royal Project. I also cooperate a lot with the Tourism Authority of Thailand to work with the local community. Personally, I'm also a huge fan of northern cuisine. My brother and my sister live here.

What do you think of when you hear the word "Lanna"?
Lanna is a kingdom, a culture that doesn't just include Chiang Mai, but the entire northern culture. There is a unique culture, cuisine, ingredients, language… You can find so many fascinating ingredients here. Lanna, for me, is northern cuisine, because the Kingdom no longer exists but the cuisine still exists today.

Picking Assam tea leaves with a local forager for his kitchen.
Can you tell us a little bit about what you'll be cooking for the gala?
I will be cooking the second main course. I'll use 100% Thai produce and more than 95% of the ingredients for this dish will come from the north. We have Thai Angus beef marinated in mountain salt from Nan and Ma Kwaen, which are Sichuan peppers found in the north. We also have Hang Lay sauce, the most popular curry in Lanna cuisine. Local Assam tea from a northern village will be used to cook my dish too. I'll serve organic rice with the curry of the grilled beef. We want to present the spiciness and tastes of northern Thailand. To get closer to Lanna traditions, cooking techniques will be key to prepare the curry, grilled beef and rice. For example, in the ancient times, rice was cooked in bamboo case so I will do the same. I am responsible for the last main course so I want it to be very aromatic and that the guests have their stomach full.

Why did you choose Assam tea?
I want everyone to know tea leaves aren't just good for making tea, but also for cooking. There is a true culture and mindset behind cooking with tea leaves. Eating with tea leaves is new and I believe it can be explored as a way of life. Also, Assam tea leaves are high in anti-oxidants and taste amazing. I want to showcase this produce and the way farmers take care of it. They seed, grow and hand-pick the tea in a very natural way. It is purely organic.

Assam tea leaves are also good for cooking.
Where would you source them from?
The Royal Project (founded by the late King Bhumibol Adulyadej the Great) is growing Assam tea and which can be found in 4-5 provinces of Northern Thailand now. Good quality Assam tea leaves can only thrive in an altitude of 1,000 metres above sea level.

How will you prepare the Assam tea leaves?
Assam tea leaves can be fermented it with a bit of salt or not. There are two ways of doing this after steaming the tea leaves for 45 minutes to 1 hour. One is to use fermented Assam tea leaves for a couple of months so they can be used as seasoning. The second method is using leaves that have been fermented at least 1.5 years and use the young leaves or Bai Miang in cooking or stir-fried with curry or as a salad. It is like pickles tea leaves you can use to cook many types of dishes.

How do you source and select your ingredients in Thailand?
As I mentioned, I use 100% Thai ingredients. I try to select the best ingredients. I'm quite lucky because I work for community, corporations, Thai government and to visit many provinces in Thailand. Whenever I have free time, I'll travel across Thailand as well. I go and check everything by myself. How farmers grow, forage and take care of the produce. I also own a cooking school so I do a lot of research on the ingredients to be able to teach. Before I decide on an ingredient, I have to taste it and test each one out in the kitchen first.

Fermented Assam tea leaves.
For the upcoming MICHELIN Star Revelation event, we will focus on sustainability and food waste prevention. What does sustainability mean to you?
For me, sustainability is for the benefit of nature and humans. I always try to source environmentally-friendly products and I always ask myself whether this product can help the community grow or not. Environment and humans have to come together.

Do you try to make the most out of each ingredient to prevent food waste when you're cooking?
At my restaurant, we focus on using the best quality product so it is expensive. We also maximise use of every single ingredient. With leftovers, we can design another menu where we can make use of them. Some parts we don't use for the customers are cooked for my staff. Lately, I have been trying to turn food waste into compost for my organic farm in Pranburi. We also segregate what goes to the bin.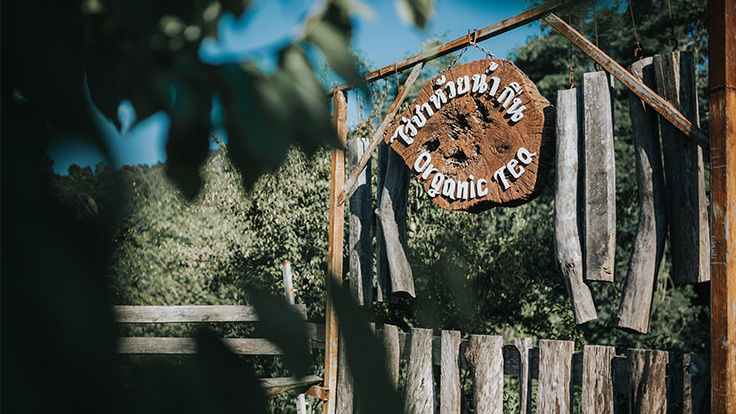 An organic tea plantation in Thailand's north.
What's so special and unique about northern Thai food? How would you compare it to cuisine of other Thai provinces?
Northern cuisine is quite different from food in the central, southern or northeastern regions, but I'd say it's closest to northeastern (Isaan) cuisine. Northern cuisine isn't too spicy, not sour and a little oily because it's the only one part of Thailand where the temperature can get very cold so enjoying oily food helps to warm you up. Lanna cuisine has a strong character defined by spices such as Ma Kwaen. If you find this spice in a dish, it means that it's northern cuisine.

What's your favourite northern Thai dish?
Gaeng Hang Lay. That's why I'm cooking Hang Lay for the gala dinner. Hang Lay, for me, is a particular favourite because I love the combination of fresh and dried herbs. I also love Larb Kua very much which is a spicy dry salad.

Chef Chumpol always learning something new about food.
Do you notice some global dining trends happening in Thailand, especially in Bangkok?
If you're talking about gastronomy in Thailand especially fine dining, compare it to the last five years, we see a lot of changes. We've seen a huge transformation in the food scene since the arrival of the MICHELIN Guide in Thailand. You can see fine dining, many creative cuisines, many creative restaurants opening up and I think it's good for the Thai people and also for tourism. Actually, for me and on behalf of Thailand and the Thai people, I really appreciate and am happy to see so many quality restaurants opening. I'm really happy because it's good for the customers. I have no enemies. Only friends. I've no competitor. I'll tell myself and staff, that you are your own competition.

How would you like to see Thai cuisine evolve, here in Thailand or abroad?
I expect to see more progressive, innovative elements about Thai cuisine. I also believe that we should be going back to basics. I wish to see both trends going. I hope to see more Thai fine dining restaurants, not just in Thailand but all over the world. I'd love to see more Thai restaurants getting a MICHELIN Star outside of Thailand.

What does MICHELIN Guide represent?
For me, it's like the Oscars of the food industry.

Has receiving a MICHELIN Star changed you in any way?
For me, of course, the MICHELIN Star is the highest honour of my life and career as a chef. But I'm still doing everything I used to do before I got a MICHELIN Star. I keep learning, exploring and exchanging ideas with my peers. In a way, the star has encouraged me to behave more. I respect what I get and what I give back to the people.

What's the key to your success?
I always tell young chefs, my students, and myself – when you cook, if you can eat it, then, you can give it to anyone. If you cannot eat it, don't give to anyone. I can rightly say that success comes with nothing else but hard work. You have to have an open mind. But if you are cooking for business, you have to see the happiness of your customer first. If you know what the customer's happiness is, that is the key to success.

Two MICHELIN Stars: Excellent cooking, worth a detour!
131 Soi Sukhumvit 53, Khlong Tan Nuea, Vadhana, Bangkok