From luxe to low-key, these top-end restaurants will help you plan your business meetings and occasions with confidence Whether you're looking for a spot to clinch the contract or celebrate your company's achievements, identifying the perfect restaurant to conduct your business in is a crucial part of the plan. The restaurant's professionalism and reliably excellent food are a must, while private rooms and a calm, conducive ambience are even better.
We highlight seven MICHELIN Star and MICHELIN Plate establishments in Singapore that are suitable for meals to celebrate staff anniversaries, company milestones or for courting important business clients.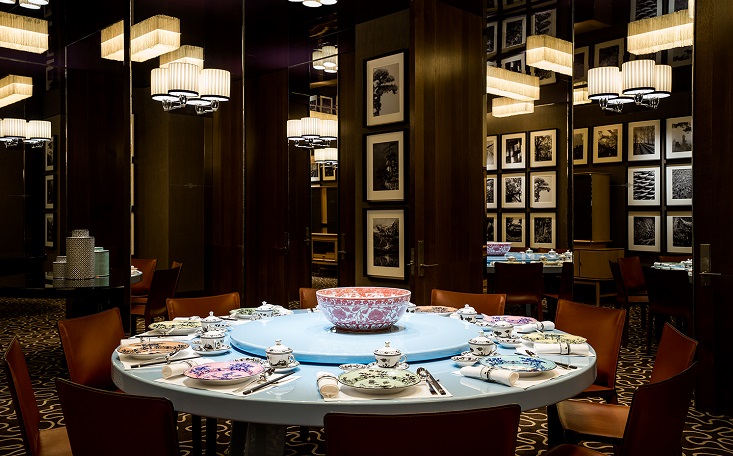 Private Dining Room (Pine) at Summer Pavilion. (Photo: The Ritz-Carlton, Millenia SIngapore)
Summer Pavilion
One MICHELIN Star, MICHELIN Guide Singapore 2019
For sophistication in spades, Summer Pavilion at The Ritz-Carlton, Millenia Singapore is the place to see and be seen. Its refined dining hall, fashioned as a summer garden, serves exquisite dim sum and modern presentations of traditional Cantonese fare on iconic hand-painted Italian tableware. The restaurant has garnered a one-star rating every consecutive year since 2016 under Chinese executive chef Cheung Siu Kong, who has been with the restaurant since 2003. "To make our cuisine more accessible and fresh, I have added new elements such as caviar and truffle to Cantonese dishes that offer more flexibility," he says. "We have also explored different presentation styles, that will allow closer interactions with our guests – beyond just taste, we need to engage in smell and sight too."
Private business meetings can be held in one of six posh private dining rooms - the Garden Suite, Wisteria, Plum, Pine, Elm and Bamboo. The Garden Suite is equipped with three built-in LCD projectors and screens while special menu requests and customisations will be handled with aplomb by the experienced service staff.
(Banner image: Summer Pavilion's Signature Poached Rice with Lobster)
Dim Sum Platter of Baked Chicken Tart Baby Abalone, Shrimp Dumpling Bird's Nest, Deep Fried Yam with Garoupa from Summer Palace. (Photo: Regent Singapore)
Summer Palace
One MICHELIN Star, MICHELIN Guide Singapore 2019

Located on the third floor of the Regent Hotel, Summer Palace impresses with its traditional oriental interior and fine Chinese art and antique accents that give the restaurant a classic feel, while floor-to-ceiling glass windows overlook lush greenery. The restaurant is lauded for its extensive selection of artistic dim sum (lunch and brunch only) and fine Cantonese cuisine, thanks to the culinary vision of Chinese executive chef Liu Ching Hai. Liu trained under famed master Chinese chefs Fok Wing Tin and Peter Tsang and has helmed Summer Palace for over 10 years.
The restaurant offers a la carte menus as well as a number of set menus such as a Chef's Tasting Lunch/Dinner, a Premium Daily Lunch Set, a MICHELIN Set Menu and an entirely gluten-free menu. All sets are highly customisable and individually plated unless otherwise stated. Two private rooms, with direct access to a private restroom, are available.

Reserve on HungryGoWhere
Private Room at Jiang-Nan Chun (Photo: Four Seasons Hotel Singapore)
Jiang-Nan Chun
One MICHELIN Star, MICHELIN Guide Singapore 2019

Visually sumptuous with intricate carved Chinese wooden panels, fish-trap chandeliers and luxurious leather bucket chairs, Jiang-Nan Chun at the Four Seasons Hotel is a Cantonese restaurant helmed by executive Chinese chef Tim Lam who has over 25 years of culinary experience in Hong Kong and Macau. Four private rooms, some with a 65-inch flat-screen TV, a private bar or access to a separate cocktail area with lounge seating, can be booked alongside their private dining room menu. Specialities include wood-roasted Peking duck with caviar and handcrafted dim sum.

Tagliatelle with spring lamb ragu on the set lunch at Gattopardo. (Photo: Gattopardo)
Gattopardo
MICHELIN Plate, MICHELIN Guide Singapore 2019
Helmed by Sicilian chef-owner Giovanni Mannino and chef-patron Kenneth Oh, Gattopardo's focus is on sustainable seafood and Sicilian-style cooking. Featuring seasonal ingredients such as white and black truffles, the restaurant currently offers only degustation or set menus although substitutions and vegetarian options are readily accommodated. Signatures include the impressive salt baked whole fish, which is ceremoniously cracked open and presented table-side. The restaurant, housed in a stylishly renovated 2-storey shophouse in Tanjong Pagar, can be booked out for up to 50 persons, while four rooms including outdoor sitting can be booked separately based on group size.

The private dining room is designed to look like a wine cellar at Osia. (Photo: Resorts World Sentosa)
Osia Steak and Seafood Grill
MICHELIN Plate, MICHELIN Guide Singapore 2019

Sizzling steaks and fresh sustainable seafood are the headliners at this modern Australian grill by celebrity chef Scott Webster. From adventurous kangaroo to lobster, the restaurant also features seasonal steak promotions such as three varieties of tomahawk steaks. Located at Resorts World Sentosa, the sunlit ground floor restaurant has a view of the open kitchen while the private dining room provides guests with a built-in sound system and projector. The private dining room, which seats up to 12 persons, is designed to look like a wine cellar, with exposed whitewashed brick walls and wooden ceiling beams that add warmth and style to the décor. A sommelier is on hand to advise on the restaurant's fine wine list, while hosted celebrations have included butler-passed canapes, shared platters as well as individually plated courses.
Choose from two private dining rooms (as shown) and two partitioned areas at Jade. (Photo: The Fullerton Hotel Singapore)
Jade
MICHELIN Plate, MICHELIN Guide Singapore 2019
Located within the historic and iconic The Fullerton Hotel Singapore, the equally elegant Jade restaurant is helmed by multi-hyphenate executive chef Leong Chee Yeng, whose pottery masterpieces are showcased within the pastel-hued interiors. Chef Leong, who is a master in Cantonese cuisine, is known for his artistic presentation of his dishes that are often accompanied by his intricate handmade gelatin sculptures of birds and other animals. Signature dishes include Peking duck and simmered egg noodles with Boston lobster and XO sauce. Dim sum, a la carte and set menus are available. Diners can opt for one of the two private rooms or two partitioned areas.

Braised Spare Ribs at Shang Palace. (Photo: Shangri-La Hotel, Singapore)
Shang Palace
MICHELIN Plate, MICHELIN Guide Singapore 2019

Launched in 1971 together with the Shangri-La Singapore, Shang Palace has the distinction of being Singapore's oldest hotel-run Chinese restaurant and is the forerunner of an international chain of 38 Shang Palace restaurants worldwide. It offers Cantonese fine dining and dim sum and is helmed by executive chef Mok Kit Keung, who previously helped to elevate Shang Palace Kowloon, its sister restaurant in Hong Kong, to its two-MICHELIN-star status in 2011. Chef Mok, who entered the trade when he was 14, is dedicated to preserving traditional flavours and offers three "menus" at Shang Palace, named Nostalgia, Signature, and Innovation respectively. His signature dishes include Sautéed Boneless Chicken Wing Skewered with Abalone and Mushroom and Deep-fried Whole Boneless Chicken Filled with Fried Glutinous Rice. Diners can choose between the elegant Chinese garden-themed red and gold accented main dining room or one of six private rooms.
This post is brought to you in partnership with HungryGoWhere