Julien Royer is a man of many titles: husband, son, friend, role model, mentor, and three-MICHELIN-starred restaurant chef. The mention of his name unspools a thread of emotions to great effect. Those who have worked with Royer have nothing but wonderful words to say about him, while those who have dined at his 3 Star restaurant, Odette in Singapore, wax poetic about its comprehensive gastronomic experience. According to our inspectors, Royer serves a graceful meal at Odette, which unfolds with culinary and artistic vision, and with unique combinations and exquisite plating that are matched by precise balance and contrasting flavours.
Royer's second restaurant in Singapore, Claudine at Dempsey Hill, opens its doors for lunch and dinner starting Nov. 16, 2021.
This Nov. 16, 2021, Royer's second restaurant in Singapore named after his mother, Claudine, is slated to open its doors at Dempsey Hill. At Claudine, French food is served à la carte with an extensive menu that includes dishes prepared with Royer's mother's recipes, traditional French cuisine with Royer's own twist on them, and plates that he personally loves to cook for friends and family.

In spite of the recognition, accolades, and grandeur, Royer has indeed come a long way, yet he remains grounded in his roots, always pivoting his focal point back to his home and family, where cherished childhood memories were formed in the great outdoors and gathered around the table of his family's home kitchen.


The rustic heartland of Cantal in Auvergne, France, where Royer grew up.
A Curious Kid from the French Countryside

"My family and myself, we come from the countryside. We didn't have much money when I was growing up. We lived humbly, but we would always eat very well because we have a big garden at home. We had prune trees, ducks, horses, and my mother had a goat which she made an amazing goat's cheese from," Royer shares. "My family and I spent a lot of time outdoors: hiking, fishing, and cycling. It was a very simple life filled with simple things and a lot of fun. During the winter, there is snow, so we would ride a luge or go skiing, and once spring comes, I would climb trees and plant vegetables with my family," he fondly reminisces.

As a child, Royer describes himself as "a bit cheeky". A self-confessed joker who laughed a lot, Royer also says that he was a "very, very curious kid". "However, I also liked to be alone sometimes. I would walk to the forest by myself or drive my little motorbike to somewhere quiet. The freedom of it felt quite amazing," he shares.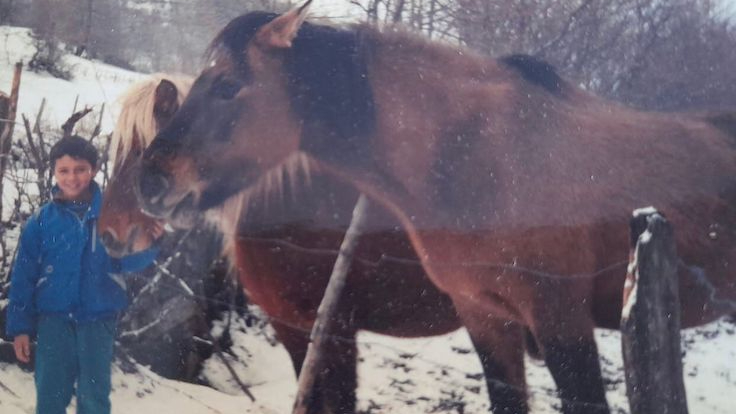 Growing up in Cantal, Royer took care of and fed the animals in their family farm.
Growing up in the rustic Auvergne region, which is also where the Michelin tire factories are located, Royer shares how Michelin has influenced him since young. "From my cooking school in Auvergne, I could see the Michelin factory!" he gleefully exclaims. "Especially when I started cooking school, Michelin has always had a big influence on me. Not only does Michelin have a huge impact on us as chefs, but also for my homeland. Michelin is the number one employer of Auvergne, so it is also the economic heart of my region."

A Mother's Love

"My mother Claudine," begins Royer, "she's the person that shaped me as an individual. She's the person who gave me my values in life, and mainly, she's the person that fed me. And it's this idea of feeding and gathering around the table that inspired me to start [restaurant] Claudine. In fact, this was what made me want to start cooking in the first place. My mother has a big heart, and you could feel it through her cooking. There's so much emotion that comes from a dish prepared with love. When this connection was realised, that's when it clicked — I decided that I wanted to cook for the rest of my life, and I feel so fortunate to be able to say that I get to do my passion for a living."

"Feeding is such a great act of love, and it's an act of natural connection. That's why we know that apart from the reason of survival, food is so important to us. Food brings people together regardless of race, religion, and nationality. It's a universal language, and that's the beauty of it."
"My grandmother and my mother, they are the foundation of what I do," Royer continues. "They taught me respect for the ingredients' provenance, humility, integrity, honesty, and conviviality. These are the values that I apply to my cooking, along with the use of high-quality produce, whether it's for high-end fine dining concepts like Odette or for a more casual setup like Claudine. I also impart these values to my team because it's important to me that we are all on the same page. There is so much joy and happiness found in the act of cooking for and feeding people as they gather around the table that I don't see myself doing anything else, honestly."


Truly, nothing can compare to a mother's love. When asked about his mother's first dining experience at
Odette
, Royer recalls that there were a lot of tears of incredible joy and pride that were shed. "She came with my dad and my wife, sat at table 15, right in the middle of the restaurant, and then, she started to cry. It was also very emotional for me, I felt like I was going to cry, too," Royer laughs. "It was such a memorable moment for us both, especially since she always cooked for me and fed me, and now, it was my turn to do that for her. She can't wait to come back and hopefully, soon."
Julien Royer and his mother, Claudine, in their family garden at Cantal, France.
In the MICHELIN Guide Singapore 2019 Star Revelation, Royer's mother tuned in during the live ceremony when Odette received its third MICHELIN Star. "There was so much joy, and she also reminded me to never forget where I came from," Royer shares. "When I was a kid, I was in charge of feeding the chickens, the rabbits, and the horses. We also have honey hives growing in our home garden in Cantal now, and we do the harvest every summer. These are the experiences I was exposed to, and remembering my roots keeps my feet on the ground."


The Dishes of Julien Royer's Childhood
"My grandmother and mother taught me to not waste anything and to try to use every single part of the fish or the meat or the vegetable. For example, the way we do roasted chicken at home is eat the chicken as it is on the first day, then make a soup with all the bones after. Then, we will take all the meat from the carcass and maybe make a salad or sandwich. So, it's like you get three different meals from this one roasted chicken," explains Royer.
L-R: Claudine Royer as a child and home-baked bread from the Royer's family kitchen in Cantal, France.
"One of my best childhood memories with food was during the winter. I helped my dad cut some wood for our fireplace. We spent hours in the cold, and then, we went back home for lunch. We opened the door, and we felt the warmth of the house and smelled the aroma of the food prepared by my mom," Royer fondly recalls.

The Chou Farci at Claudine retains Royer's mother's recipe, along with his own personal touch of foie gras.
Royer says that one of the dishes by his mother that hits home is chou farci, a traditional French dish popular in the central region of France, which comprises cabbage rolls stuffed with a pork filling. "Usually, my mother uses leftover pork from a small piece of ham or a small piece of pork loin. The cabbage rolls are cooked slowly in the oven, and then, they turn into a very rich and intense dish that's perfect for winter," shares Royer. "My mother makes chou farci with a special ingredient — dried prunes, and her version of a chou farci combined with mine will be a dish you will see on the Claudine menu."

According to Royer, chou farci is a traditional humble dish in Auvergne because of its simplicity in ingredients yet substantialness in flavour, but in Claudine, it receives a touch of luxury with the inclusion of decadent foie gras, but still keeping to his mother's recipe of adding dried prunes. "The magic of the prune is that it will absorb a bit of the fat from the meat, and it will also, and most importantly, add a sweet contrast and balance out the flavour, making the chou farci a lot lighter and a lot more elegant. It adds a feminine touch to this very masculine dish," explains Royer.

Other dishes in Claudine's menu that harp on traditional French food are a classic Vol-au-Vent, which is a puff pastry that reveals a creamy filling of veal sweetbreads, cock's comb, and morel mushrooms. A traditional potato dish in Auvergne called truffade, which is one of Royer's personal favourite comfort foods, can also be found on Claudine's menu as the Truffade de Claudine. "It's a very humble dish of potatoes sautéed with garlic, salt and pepper, and melted cheese. Claudine's version is topped with Cantal cheese from my region. It melts into the potato, and it is simply fantastic," says Royer.

According to Royer, there are a lot of classical French dishes that are unknown to the wider world, and his hope is to introduce more of them to eager and curious diners. In doing so, Claudine's menu will also feature seasonal specials such as a Pomme de Terre, which is a hearty and rich potato pie. Royer's mother's recipe is made with a homemade dough baked with a rich filling of potatoes, cream, pork, lard, tarragon, herbs, and a bit of anchovy. "This is one of my winter favourites. Back in Cantal, we used the potatoes from our garden that have been saved for the winter, and they have a sweetness and richness in them, especially when cooked with the cream," Royer shares.

"But ultimately, my favourite snack that my mother prepared for me when I was a kid was made from leftover bread that she would slice, heat up, slather with some fresh butter, and sprinkle with lots of grated dark chocolate. It was heaven in the mouth," Royer fondly remembers with a smile.


A Sense of Place

"I've lived in Southeast Asia for more than ten years now, and that is a long time," says Royer. "I believe a sense of place is very important when you build a menu or a dish. If you do Italian food, British food, or French food the same way as you do it in Italy, in England, or in France, you cannot exactly duplicate the same pleasure because the habits of people here in Southeast Asia are different. This is why I believe it's important to adapt our cooking to this principle."

Just as in Odette, Royer says that the dishes in Claudine will also be accompanied by little Asian twists such as Claudine's Kampot Pepper Steak Flambé, which is a classic steak au poivre (pepper steak) made with Kampot peppers from Cambodia, and a traditional French dessert of Baba Au Rhum, with Claudine's version soaked in a syrup of passionfruit and calamansi, and served with mangoes and calamansi zest. "This is a very classic French dessert with an Asian touch that I personally love," says Royer.

The Royer Family then and now.
"Claudine captures the story of my roots and the continuous unfolding of my journey. Whether it is the product or a technique, be it a spice or a flavour linked to a travel memory in Asia, the dishes at Claudine will still retain their French D.N.A., but with my personal sense of place."
The Claudine 'Bouillabaisse' is Royer's personal recipe that he prepares for family and friends at home.
In Royer's words: "The idea behind Claudine is all about conviviality, sharing, and generosity. There is an element of eclecticism to it; the menu is French with a different orientation. It's definitely home-style and some of the dishes are personal recipes that I love to make for my friends and family such as the Claudine 'Bouillabaisse', which is a hearty casserole of seafood that's inspired by a bouillabaisse. You place it in the middle of the table with garlic croutons, and it easily serves three or four people. There are prawn heads in there because people here like to suck them to get more flavour — something I've learned to do myself," he shares.

"In all of my restaurants, Odette in Singapore, Louise in Hong Kong, and now, Claudine in Singapore, they all achieve very different concepts, but I believe the simple link of values and purpose when it comes to cooking is what connects them together," Royer says. "Again, it goes back to the act of feeding people and bringing joy. It's all very personal to me, and it's very well-connected to each of our own stories. This helped me build the foundation of what I do and want to do."

"I believe that the memories weaved into food go beyond what we eat. It's the feeling of coming home and eating a dish that allows you to feel your soul and spirit."
"My mother always told me to never forget my roots, and while I did not have the fanciest shoes growing up, I have always been proud of where I have come from. Claudine is a reflection of what I personally believe French food should and could be. It is my personal take on the future of French hospitality, modernity, and of course, creating new experiences for our guests. The dishes in Claudine are derived from my French roots, but with my own personal touch to the dishes, and that is, with a zest of Asia, which has also become my home now," says Royer.
"The pandemic has tried to put walls in between people, but I believe it will soon be time to bring those walls down and get together again."
"At Claudine, I also hope to recreate that feeling of home through dishes made with integrity and always, always from the heart. It's a place of togetherness. It's a place of happiness. At Claudine, everyone is welcome. Just come as you are."

Special thanks to Julien Royer, Claudine Royer, the Lo & Behold Group for all the photos in this article.

Claudine will be open for lunch and dinner starting Nov. 16, 2021 and is located at 39C Harding Road, Singapore 249541. Make a restaurant booking here, or follow the restaurant on Facebook and on Instagram for updates.