When I first meet designer Bach Mai, it's summer 2020 during the height of the pandemic. New York's dining scene was still figuring out the right balance between staying open and providing delivery, but one of Mai's favorites, Atoboy was serving guests IRL—outdoors and safely distanced from others—and so we chatted about the confluence between fashion and food: the artistry, the delicate nature of composing a dish (or a dress), and how it all comes together in one cohesive package.
Dinners and discussion followed in the subsequent months, but ever present was Mai's focus and eye for detail. Mirroring the precision of a chef's plate, Mai's designs on the red carpets at the Golden Globe Awards, the Grammy's, and the Met Gala catapulted him as a name to know and watch, with everyone from the TikTok generation to old-world society clamoring for his pieces. It's similar to the dining scene at our fall outing at Joomak Banjum, where frenetic young couples mingled with the culinary cognoscenti prior to the restaurant earning its first MICHELIN Star.
For Mai, each dish is an expression of beauty, romance, and flavor, not dissimilar from the pieces he presents on the catwalk. Ahead of his fall 2023 collection—presented on Valentine's Day—we asked the rising talent on his tried and true spots in the Big Apple.
---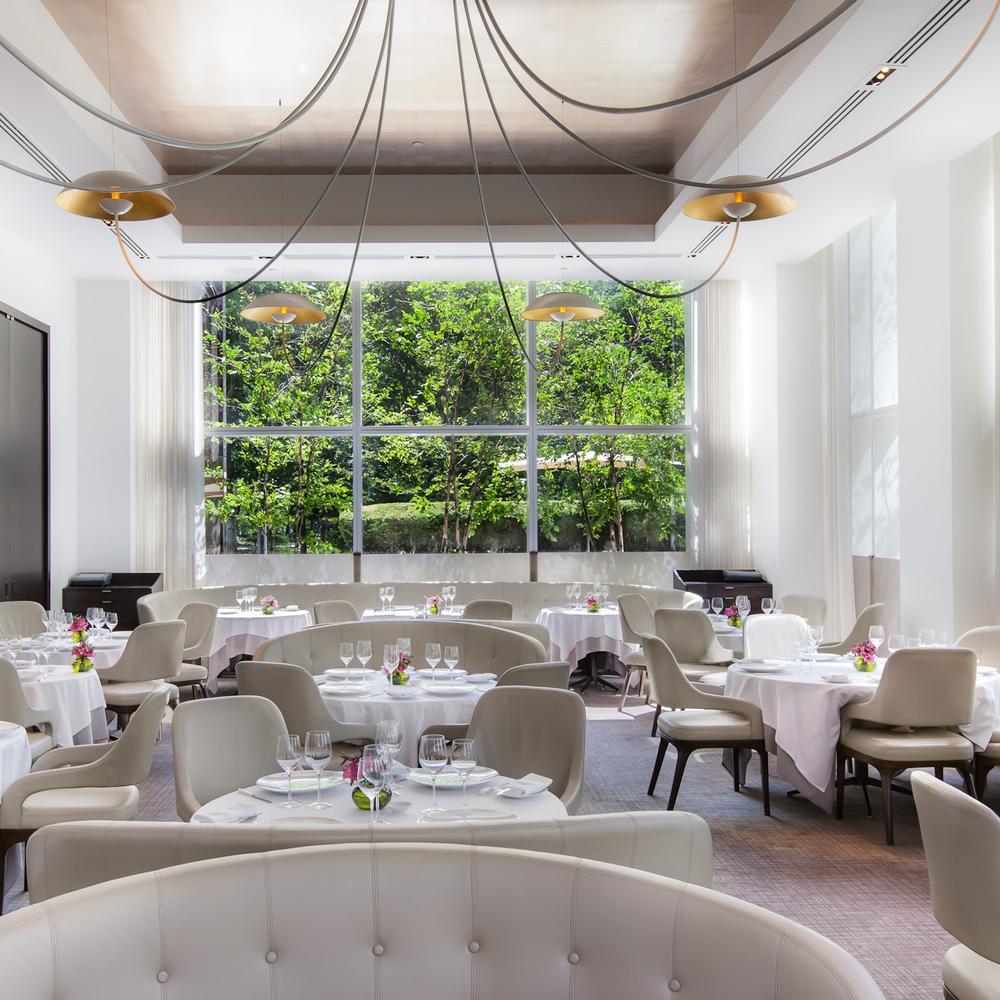 When did you first move to New York?

I moved to New York in 2007 to study at Parsons. I immediately immersed myself in the dynamic food scene. Coming from Houston, Texas, I was so excited to explore the culinary world in New York. This included a standing reservation every other Monday for lunch at Jean-Georges (always at table number 5). I ate my way through New York before going off to explore food in Paris (and also included some fashion related professional activities). After a six-year-long sojourn in Paris, I moved back to New York in 2019 with the goal of launching my brand.

How would you describe your label's aesthetic / vision in 3 words?

My label's aesthetic is, "Irreverent Glamour, Unabashed Femininity". (Four words…sorry!) I love that in New York anything and everything is possible. You can be whomever you want to be and achieve anything you set your mind to. I believe the adage that, "if you can make it here, you can make it anywhere" is very much true.

How would you describe New York in 3 words?

New York is…diverse, frenetic, incomparable.
What do you like most about New York?

New York is always evolving and changing with new things constantly. When I can tear myself away from the studio, you will often find me at Lincoln Center. I absolutely love attending the ballet, and an evening at the opera is also always a treat. While the grandeur of the Rose Main Reading Room at the New York Public Library is stunning, hidden all the way at the end is one of my favorite places to do research in the city, the reading room of the Arts and Architecture Collection of the NYPL, room 300. And when I'm missing Paris, an indulgent stop at Angelina Paris by Bryant Park (the original is located by the Tuileries) for a serving of their famous hot chocolate, especially on a cold winter's day. It always hits the spot.
What is your go-to casual spot? Why?

My go-to casual spot is Nobody Told Me uptown. They have the best fried chicken sandwich and burger in the city, hands down. And I'm willing to fight anyone on that! Plus, the kitchen stays open until 2am, so it's perfect for after late nights at the studio.
What is your go-to fine dining spot? Why?
I love Angie Mar's Les Trois Chevaux. Chef Mar and I have always connected over our love of French savoir-faire and technique, and how we utilize our French training through the lens of our unique cultural identities and nostalgia from our youth. Not only is the crab pithivier an incredible dish, but it always reminds me of Vietnamese pâté chaud, something I loved as a kid and often shared with my father.
What's your favorite hotel for family to stay at in New York? Why?
I selfishly always try to get my family to stay at the Mandarin Oriental because it's just down the block from my apartment. The St. Regis might have the most heavenly bed in the city which inspired my own attempt to recreate the magic at home. And for the epitome of downtown chic and discretion, nothing beats The Mercer.
What's your favorite hotel bar / cafe in New York? Why?
I love breakfast at The Whitby. The combination of whimsical china with fine silver is a charming and delightful way to start the day. Afternoon tea might be my favorite meal of the day, and the tea service at The Lowell is classic, elegant, and refined. Normally served in the absolutely lovely Pembroke Room, it's even more of a treat when I can request to have tea underneath the Cy Twombly (my favorite artist) they have in the Club Room, the most well-appointed and chic hotel lounge in the city. And I would be remiss not to mention Bemelmens Bar at The Carlyle. It is not only a New York institution, but I also have certainly ended my fair share of a fabulous evening there…and we'll just leave it at that…!

L to R: The Whitby Hotel, Firmdale Hotels, The Lowell, The Carlyle, A Rosewood Hotel
---
Hero image: Courtesy of Bach Mai
---