Choosing a Valentine's Day gift is one of the most stressful things. So why not leave it to a MICHELIN Guide chef? This February, for one night only, enjoy an elegant, romantically minded meal that will tickle your tastebuds. And the perfect pairing—beyond the company—is an equally entrancing spot nearby to celebrate the evening. Below, we share what chefs from coast to coast have planned and the hotels nearby. And if you missed it, check our our best-of guides, where we cover the most romantic restaurants in your area to places with the best view.
---
The Musket Room (New York)
Cuisine: Contemporary

Helmed by a chicly clad female-led kitchen team, One Star Musket Room combines easy service with hearty yet elegant plates. For Valentine's Day, the Elizabeth Street staple features an aphrodisiac themed night with nut and gluten-free food symbolizing love. And make sure to save room for dessert from their executive pastry chef Camari Mick.
Inspector notes: "To wit: uni toast with poached shrimp and Calabrian chili, or quail with za'atar and fennel. Desserts are also thought provoking; while cocktails and wine pairings work wonders for those with dinner party plans."
L to R: Nitzan Keynan and Emily Andrews © The Musket Room
Stay nearby: London-founded Firmdale Hotels are the mastermind behind the Crosby Street Hotel. Inside, the decor reads as English country house but with a modern, sophisticated bend. Rooms are equally elegant and guest areas are welcoming with wood furniture, overstuffed couches, and lots of framed paintings. Wholly as unapologetic as it is fabulous. Stationed just a few minutes away from The Musket Room, the Crosby Street is the perfect smallish and intimate service-oriented hotel to wind down. And for those who like the vibe but want an uptown location, check out their sister hotel, the Whitby located near Rockefeller Center.

© Crosby Street Hotel, Firmdale Hotels
53 (New York)
Cuisine: Asian
Next door to the Museum of Modern Art, 53 is the perfect date night stop after scoping out Guillermo del Toro's Crafting Pinocchio. A new addition to our MICHELIN Guide New York selection, this Pan-Asian restaurant delivers familiar Chinese and Singaporean favorites with fantastic precision.
Inspector notes: "Soup dumplings imbued with black truffle, kung pao quail with snap peas and hearty clay pots packed with crispy rice are easy favorites. Dessert is another point of pride here – we're partial to the housemade ice creams and sorbet. The polished service team rounds out an experience that feels distinctly New York."
L to R: David Oludele and Alexander Stein © 53
Stay nearby: Sister hotel to Crosby Street, The Whitby Hotel brings the warmth and coziness of English hospitality to Midtown. Located just six minutes away from 53 and a few blocks from Rockefeller Center, make sure to take in all the culinary delights in the area like newcomer Naro from Ellia and JP Park of Two Star Atomix and Atoboy.

© The Whitby Hotel, Firmdale Hotels
---
---
Bresca (Washington D.C.)
Cuisine: American
Ryan Ratino is the chef responsible for this One Star neighborhood treasure. Located on the busy 14th Street, Bresca stands apart from the sea of restaurants with a categorized menu mixed with a splash of casual yet ambitious cooking. For Valentine's Day, guests can enjoy a sumptuous six course spread of luxurious fare from February 10th-14th (Friday 10th to Monday 13th | $195 per person February 14th | $245 per person). Caviar and champagne available as supplements.
Inspector notes: "Find a clear sense of artistry in the likes of a foie gras "negroni" topped with Campari gelée or the agreeably priced and perfect pappardelle with lamb ragù. Cocktails, like The Daulphine St. Punch, may be relished in lieu of dessert."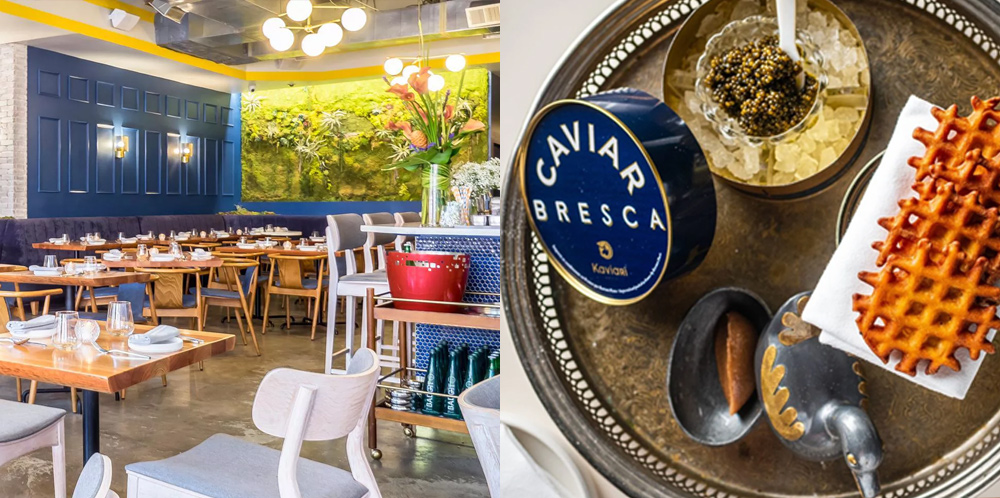 L to R: 2019 North America / Michelin and Rey Lopez © Bresca
Stay nearby: Located just ten minutes from Bresca, the Viceroy Washington D.C. isn't the capital hotel. Situated in the smart neighborhood of Logan Circle, the rooms are equally plush: 400-thread Frette linens, 65-inch flatscreens, and high-end bath products. Threading the needle between too-hip boutiques and too-normal business hotels, the Viceroy has the perfect mix of style and comfort that anyone can love.

© Viceroy Washington DC
Adorn (Chicago)
Cuisine: American
Stationed on the seventh floor of the Four Seasons hotel, Adorn relies on hues of silver and black as well as marble floors for its airy aesthetic. Equally glossy is the menu centered around global and midwest influences. Chef Richie Farina introduces his first tasting menu experience for Valentine's Day with unexpected ingredients and presentations.
Inspector notes: "Start with an edible candle made of aged beef suet with a selection of bread—the "candle" is lit to melt the fat beside the bread for dipping. If that doesn't speak to a unique vision, think of a peeled tomato tart with Carr Valley cheese or pickle-brined trout with purple shallot sauce. Dessert items may teeter on vague, but ask your server to fill in the blanks."
Matt Haas © Adorn
Stay nearby: Like its Washington, D.C. sister, the Viceroy Chicago is a clever mix of luxury-hotel extravagance and boutique-hotel tastefulness. The building, a gently undulating glass tower, is pure luxe modernity, but the lower floors blend effortlessly into Chicago's Gold Coast, thanks to the meticulously preserved façade of the 1920s-vintage Cedar Hotel. The rooms mirror this ethos and are full of subtle stylistic charms and a rooftop lounge, it's easy to see why.
© Viceroy Chicago
Spruce (San Francisco)
Cuisine: Californian
One Star Spruce is a local favorite, featuring an elegant take on Californian cuisine and a menu that is as casual during the day as it is elevated at night. Already one of the most romantic restaurants in the San Francisco Bay Area, Spruce is raising the bar with a specially curated Valentine's Day Menu. We don't want to spoil it too much, but just be sure to save space for dessert.
Inspector notes: "A starter of fluffy ricotta gnudi is bathed in a tangy sauce vierge and capped with crisp guanciale, displaying a keen sense of balance. A main course of roasted duck breast, crusted with coriander seed and pistachio, served with stone fruit gastrique, pairs bold flavors with careful technique. For dessert, a decadent crème fraîche cheesecake is thick and creamy with sweet vanilla flavor and a classic graham-cracker crust."
Ed Anderson © Spruce
Stay nearby: A little bit of a walk (17 minutes), we assure you the destination is well worth it. One of the few remaining places to enjoy the refinement and splendor of old Victorian San Francisco, Hotel Drisco gives guests the opportunity to see how the other half lives. With a fresh top-to-bottom renovation, it's the ideal balance of old meets new.

© Hotel Drisco
---
Hero image: Evan Sung © 53
---