There are few individuals as engaging and gregarious as David Grutman. Meeting the larger-than-life Miami-based impresario over Zoom, you immediately feel his faster than a speeding bullet energy and hyper laser focus. One moment he's describing the scene at haute club LIV down to the ensembles, the next he's onto the crowd at haute boîte Komodo. Throughout, you get a sense that Grutman's mission is to ensure everyone's having a good time and celebrating the everyday.
This ethos belies all of Grutman's endeavors whether its spreading the gospel of healthy Mac N Cheese from Goodles or sending his friends sweet treats from Los Angeles-based luxury cookie spot the Last Crumb. And with pals like Pharrell and the Beckhams to name a few, Grutman is decidedly bringing extra wattage to Miami. Below, we ask Miami's main man to share his plans for Valentine's Day with wife Isabela Rangel, what he considers the most romantic spot in Magic City, and what he plans to gift this year.
---
How would you describe Valentine's Day in 3 words?

Fun. Sweet. Busy!
You and your wife Isabela married in 2016 and have 2 children — what's the key to a successful relationship?

It's a good question. Deep love, patience, and support. Isabela is beyond supportive—we find ways to keep our family life separate from work, but we also fuse them when it makes sense.
What do you typically do for Valentine's Day?
Our restaurants are packed on Valentine's Day, but I try to scale back and lay low with my wife, Isabela. We'll do something, just the two of us.
How would you describe Miami in 3 words?
Bold. Magic. The best.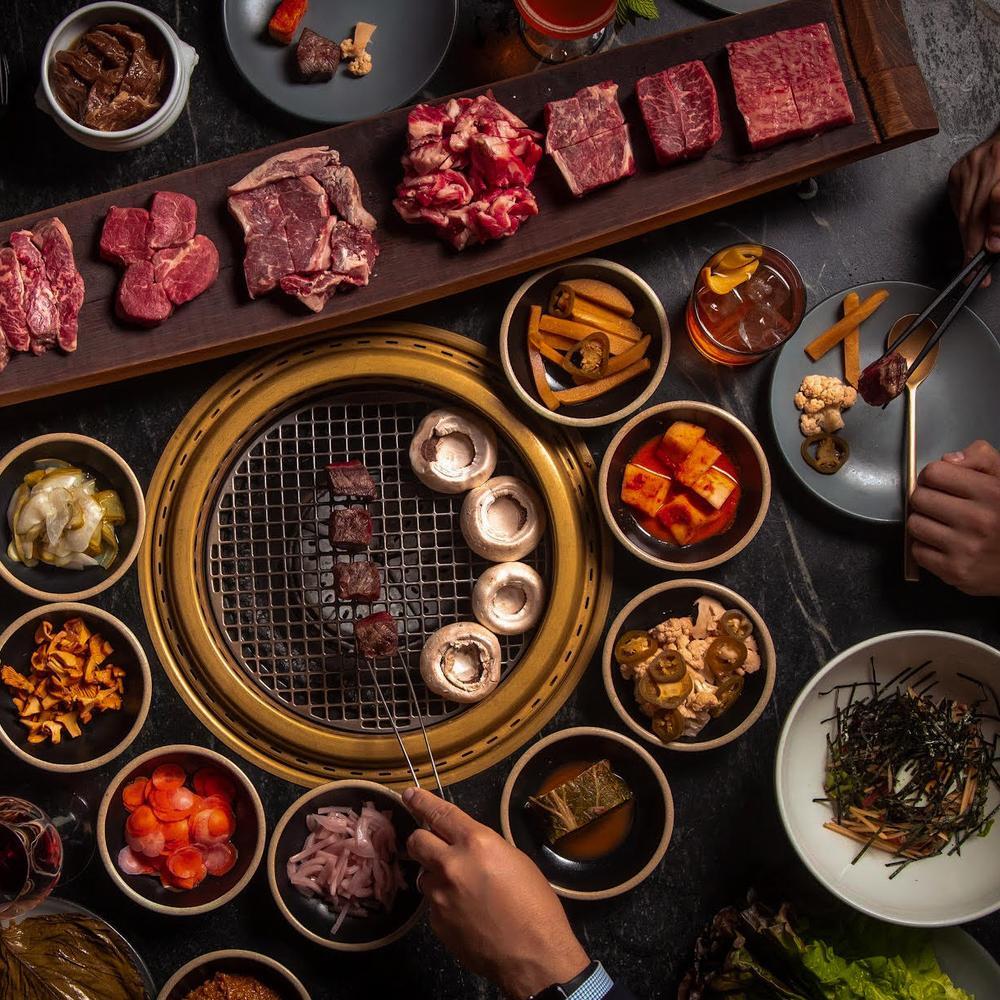 Gary He/Cote Miami
What do you most like about Miami?

I mean, I know I'm biased, but I really do think it's the best. It's the center of the country right now. The attention and investment we've gotten over the past few years, it blows your mind. It's incredibly diverse. It's beautiful. It's a good time.
What is your go-to casual spot? Why?
Boia De. It's casual—but it has a MICHELIN Star. It's located just above the Design District in a strip mall, but the food is… wow. The food is spectacular.
What's the most romantic spot in Miami?
For me, one spot would have to be Wynwood, which is a neighborhood just north and a little bit west of Downtown. It's where Isabela and I got engaged, and it's where we got married. Restaurant-wise, Cote is pretty romantic. It's dark and intimate and they have great food.
What's your favorite spot in Miami?
Honestly, right now it has to be Gekkō. We opened this past summer in Brickell. Bad Bunny is my partner on it. The opening party was insane, thousands of fans outside. Gekkō is a high-end, Japanese-inspired steakhouse. It has a lounge that we activate, too. It's truly one-of-a-kind and I'm really proud of it.
You have so many fabulous friends — what will you be sending them on Valentine's Day?
I'm sending my friends boxes from Last Crumb, the cult cookie brand that's based in Los Angeles. Actually, they're doing a dedicated Valentine's Day package. You have to try them. These cookies are incredible!

© Audrey Ma/Last Crumb
---
Hero image: © Pierre Snaps
---