The Musket Room
265 Elizabeth St., New York, 10012, United States
75 - 160 USD • Contemporary
The Musket Room
265 Elizabeth St., New York, 10012, United States
75 - 160 USD • Contemporary
MICHELIN Guide's Point Of View
Matt Lambert may as well be the de facto ambassador for New Zealand's bountiful cuisine. For a chef raised in a country famous for its rugged terrain and affinity for game, his contemporary cooking is surprisingly subtle and thoughtful. His warm and inviting dining room fits seamlessly into this neighborhood, with a 20-foot walnut timbered bar and exposed brick walls. Sure, the space is rustic, but in a stunning, well-designed way. Service is relaxed yet practiced, which complements the nature of this food. Chef Lambert's menu shows a mastery of all modern culinary techniques, and the ingredients are sourced both locally—sometimes as near as the restaurant's back garden—as well as from his motherland. Kick things off with impossibly addictive monkey bread with black Maldon sea salt. Next up, Ora king salmon, its richness counterpoised with apple gel and horseradish espuma. Patùànuku (or Mother Nature in Màori tradition) may then unveil quail with luscious blackberry and bread sauce, followed by Canterbury beef Wellington roasted to pink perfection. Sweet fiends won't be sorry after sampling such complex desserts as passion fruit pavlova, presented as a beautiful meringue filled with fruit curd.
Show More
Show Less
m One MICHELIN Star: High quality cooking, worth a stop!
ó Comfortable restaurant
Specialty
KAIMOANA-Diver scallop | PEI mussel | tapioca | dill
PAPATÙÀNUKU-Quail | blackberry | bread sauce | roasted onions
RANGINUI-Page mandarin | Makrut lime Valrhona chocolate variations | raspberry
Related Reads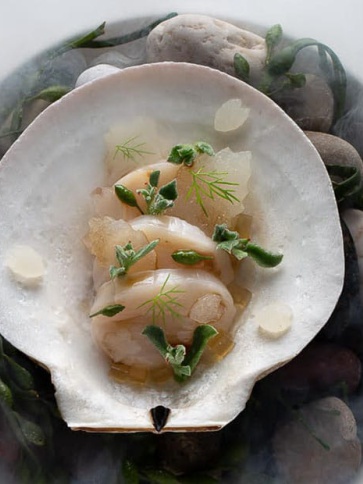 Blanca's Carlo Mirarchi, The Musket Room's Matt Lambert, and Faro's Kevin Adey are cooking alongside Carrie and Rupert Blease this week.
Chef and New Zealand-native Matt Lambert is donating all proceeds to the Christchurch Shooting Victims' Fund.
Chefs and diners around the world are celebrating with us.
Subscribe to our newsletter and be the first to get news and updates about the MICHELIN Guide
Subscribe
Follow the MICHELIN Guide on social media for updates and behind-the-scenes information