There is no need to stare blankly at your four walls if you are staying home to practice social distancing. Whether you're a movie buff or a serious foodie, these documentaries, feature films and drama series lift the curtains on the world of fine-dining and the workings of MICHELIN-star kitchens around the world, one sumptuous scene at a time.
Behind the scenes of André & His Olive Tree (Photo: Activator Marketing Company)
André & His Olive Tree
In late 2017, Chef Andre Chiang surprised the restaurant community when he abruptly announced the closure of Restaurant André, his two-MICHELIN-starred restaurant in Singapore, after intriguing diners for eight years with its Nouvelle French cuisine. The restaurant served its last meal on Valentine's Day, 2018. This turning point in the chef's life was recorded for posterity in Josiah Ng's documentary "André Chiang & His Olive Tree". The film unfolds slowly, and with grace, chronicling the interactions and relationships between Chiang and his restaurant team, family and mentors in eight chapters, mirroring the chef's famed 'Octaphilosophy' culinary approach. Intimate and riveting, the film follows Chiang's subsequent return to Taiwan and reveals his longing to reconnect with his cultural roots through his new restaurant RAW, which now holds two MICHELIN stars.

Michelin Stars - Tales from the Kitchen
What does it take to obtain the much coveted MICHELIN stars? This documentary filmed over a two-year period follows the lives of a diverse range of chefs behind MICHELIN-star restaurants such as three-star Guy Savoy and Alain Ducasse au Plaza Athénée in Paris, two-star Mugaritz and one-star Etxebarri in Spain as well as two-star noma in Copenhagen as they embark on their culinary endeavours. Vicariously traverse the globe, from New York City to Copenhagen, and San Sebastián to Tokyo, along with the global diners, food writers and even former MICHELIN Guide spokesperson Michael Ellis, who offer their insights as the filmmakers try and unravel the hard-fought journey to the stars.


A scene from The Inn At Little Washington (Photo: PBS)
The Inn At Little Washington: A Delicious New Documentary
Most chefs can only describe what it's like to receive the call from the MICHELIN Guide with news of their restaurant's award for that year's selection. But in 2018, chef Patrick O'Connell of The Inn At Little Washington allowed a film crew to document the moment so that it could be shared with the world. In The Inn At Little Washington: A Delicious New Documentary, audiences can experience firsthand the suspense and ultimately, the joy. The film traces O'Connell's journey from humble beginnings to establishing The Inn as a pioneer of fine American dining through a dynamic cast of front- and back-of-house employees whose real stories provide the twists and turns that make this show a riveting watch.
RELATED: Behind the scenes with Chef Patrick O'Connell on the eve of his television premier


Avec Eric
Chef Eric Ripert of Manhattan's celebrated three-MICHELIN-star Le Bernardin takes viewers inside his high-end kitchen and around the world in search of high-quality ingredients. Now into its third season, each episode is a journey from the restaurant to the source of Ripert's inspiration — and then to your home kitchen as the chef teaches viewers how to achieve elegant simplicity at home and elevate their food experiences.
RELATED: The First Day We Got Our Stars: Eric Ripert
Constructing Albert(Photo: Swallow Wings Films)
Constructing Albert
This documentary film traces the culinary journey of Albert Adria as he emerges from the shadow of his more famous sibling Ferran Adria in the wake of the closure of their groundbreaking three-star Spanish restaurant elBulli in 2011. A self-proclaimed outsider, Albert was undoubtedly the soul of the restaurant, leading the R&D department elBarri Taller and coming up the innovations and techniques of more than 1800 of its dishes. Constructing Albert opens a fascinating window on the challenges of meeting often rarefied expectations within haute cuisine circles as Albert embarks on a monumental challenge of establishing five new restaurants in Barcelona — MICHELIN-starred Tickets, Enigma, Pakta, Hoja Santa and MICHELIN Plate Bodega 1900— all within the span of a year.


El Bulli: Cooking in Progress
A treat for chefs and foodies, El Bulli: Cooking in Progress chronicles one year in the life of Spanish chef Ferran Adria and his creative team as they close the restaurant for six months of the year to prepare the menu for the next season. Filmmaker Gereon Wetzel goes behind the scenes for an elegant, detailed study of food as avant-garde art, exploring the methods and approaches that go in to creating the perfect 30-course menu that elBulli's guests will never forget.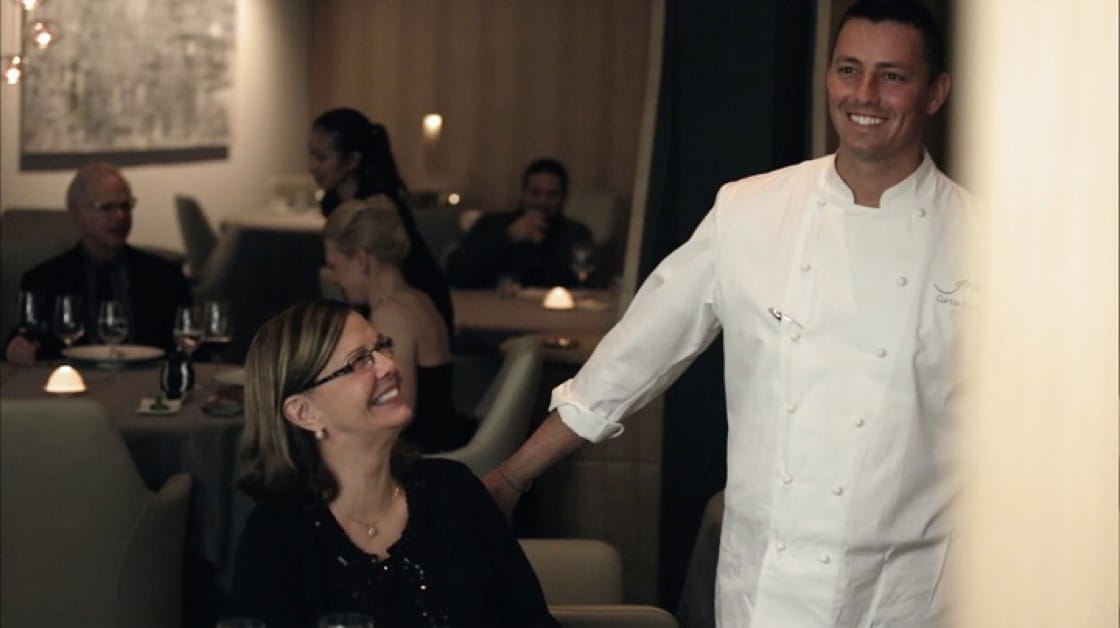 For Grace is an inside look on chef Curtis Duffy's tumultuous private life (Photo: Swallow Wings Films)
For Grace
Released in 2015, this documentary is the story behind three-MICHELIN-star Chicago restaurant Grace and how its chef Curtis Duffy made it an international success in the span of 18 months despite the nightmarish state of his personal life. For Grace revisits Duffy's turbulent childhood and his dark family tragedy — he lost his parents at 18 to a murder-suicide — that led him to seek refuge in the kitchen; and how cooking took from him as much as it gave, costing him his marriage and two young daughters in pursuit of making Grace the best in the country.

Though Grace closed abruptly in 2017 after the chef and general manager Michael Muser's fallout with its business owners, the duo are staging a comeback with Ever this spring, slated to be Chicago's most expensive restaurant. Relive Duffy's story before the highly anticipated opening.

Jiro Dreams of Sushi
This is the story of 85-year-old Jiro Ono, considered by many to be the world's greatest sushi chef. Though no longer listed in the MICHELIN Guide Tokyo 2020 since it does not accept general reservations anymore, Sukiyabashi Jiro attracted the world's attention when it became the world's first three-MICHELIN-star sushi-ya, despite being a tiny 10-seater tucked away in a subway station in the basement of a Tokyo office building. The film follows Jiro's lifelong quest to create the perfect piece of sushi as his son faces the pressures of stepping into his father's shoes and taking over the legendary restaurant.


A scene from Noma: My Perfect Storm (Photo: Pierre Deschamps, Swallow Wings Films)
Noma: My Perfect Storm
Tuck into this feature-length documentary film about the renowned chef René Redzepi set against the backdrop of his two-MICHELIN-star, Copenhagen-based restaurant noma as he strives to achieve perfection and concoct bold, exciting dishes for diners from around the world. The film is a snapshot of a tumultuous period in noma's development, which suffered a norovirus setback just as it reached its peak in 2013. Director Pierre Deschamps lived and breathed noma for two years and presents a visual feast of 28 of the restaurant's signature dishes in all their lovingly shot glory.


Alinea's Grant Achatz in Spinning Plates (Photo: Swallow Wings Films)
Spinning Plates
Spinning Plates weaves together the stories of three extraordinary restaurants and the incredible people who bring them to life. 150-year-old Iowa restaurant Breitbach's Country Dining is still standing only because of an unbreakable bond with the community and fledgling Mexican restaurant La Cocina De Gabby in Tucson struggles as its owners risk everything to survive and provide for their young daughter. Meanwhile, at three-star Alinea, world-renowned chef Grant Achatz competes for the ultimate restaurant prize in Chicago, while privately battling a life-threatening diagnosis of tongue cancer. Their stories of family, legacy, passion and survival come together to reveal how meaningful food can be, and the power it has to connect us to one another.
Grand Maison Tokyo (Photo: IMDB)
Grand Maison Tokyo
This popular Japanese TV series that aired last year won over foodies and drama fans alike, not only because popular Japanese actor Kimura Takuya stars in the leading role, but also because of the intricate characterisations and storylines in its plot. Conceited chef Obana Natsuki runs a two-MICHELIN-star French restaurant in Paris until he loses everything in an unexpected incident. At his lowest, he meets dejected chef Hayami Rinko, played by Suzuki Kyoka, and the couple set out to create the world's greatest three-star restaurant. Reel life meets real life as chefs Thomas Frebel of newly awarded two-star Inua in Tokyo and Shuzo Kishida of three-star Quintessence in Shinagawa lends their expertise for the design of the menu items served in the drama's titular restaurant.
RELATED: What The Inspectors Said About The New Star Restaurants in Tokyo
Bradley Cooper in Burnt (Photo: IMDB)
Burnt
His bright culinary future in Paris destroyed with drugs and diva behaviour, Adam Jones (played by Bradley Cooper) picks up the pieces of his career on self-imposed exile in New Orleans before attempting to restart his life in London with dreams of a three-MICHELIN-star restaurant. Plagued by his past and ingrained bad attitude, the plot follows his pursuit of redemption and the elusive three stars. Though its predictable plot is full of Hollywood tropes, the film is still a fun romp through a fictional MICHELIN-star kitchen, complete with fictitious imaginings of MICHELIN inspectors ordering half bottles of wine and dropping forks on the floor.
RECOMMENDED READING: A Day in the Life of an Inspector
Chef's Table
If you want a sneak peek into the kitchens of fine dining restaurants and understand what goes on under some of the greatest toques in the world, Netflix's Emmy-nominated series, Chef's Table, is the show for you. This is food cinematography at its finest, accompanied by a stirring score as it explores the origins and philosophies of chefs such as Massimo Bottura of three-star Osteria Francescana, Alex Atala of two-star D.O.M. in Brazil and Dominique Crenn of three-star Atelier Crenn in San Francisco.


Ugly Delicious
David Chang of the prominent Momofuku restaurant empire takes viewers on a mouthwatering, cross-cultural hunt for the world's most satisfying grub. On the way, the Asian American founder of two-star Momofuku Ko and popular casual Bib Gourmand eateries Momofuku Noodle Bar and Momofuku Ssäm Bar in New York and MICHELIN Plate restaurant Momofuku CCDC is joined by writers, activists, artists and other chefs who use food as a vehicle to break down cultural barriers and tackle misconceptions. Can't Korean barbecue be cooked on an American backyard grill? Is being allergic to MSG a legit sensitivity or an unacknowledged racial prejudice? For all the questions raised, one thing's for sure though: do not watch on an empty stomach.
David Chang pays René Redzepi a visit at Noma in Copenhagen (Photo: Still from The Mind Of A Chef)
The Mind of a Chef
The James Beard and Emmy-Award winning series produced and narrated by the late Anthony Bourdain is into its sixth season, which enters the mind of Chef Danny Bowien of raucous New York restaurant Mission Chinese. Viewers get to trail him from his home kitchen to destinations around the globe in search of ingredients, inspiration, and the perfect meal. Each season follows a different chef, or pair of chefs, and examines their beliefs and philosophies on cooking and the culinary arts. The first premiered in 2012 with host David Chang of two-star Momofuku Ko while subsequent seasons have chef such as Magnus Nilsson of now-defunct two-starred Fäviken in Sweden, Gabrielle Hamilton of popular Bib Gourmand restaurant Prune in New York and David Kinch of three-star Manresa in California.
This story is written by Rachel Tan, Mandy Li and Hsieh Ming-ling, with information from a previously published article by Alethea Tan.