With Singapore and most of the world in various states of lockdown and social distancing, families will need to get creative on how to celebrate Mother's Day this year. With most of the country now housebound, the usual treats like a meal out, a theatre show or a spa day may be off the table, but there are plenty of other ways to show your gratitude.

Whether you're living under the same roof as mum or having to keep a physical distance, we're rounded up some celebratory ideas so she still feels loved and pampered with food, wine and unique dining experiences from MICHELIN restaurants and hotels to be enjoyed in the comfort of home.


1. Have a special feast delivered by a MICHELIN-starred restaurant.
While taking mum to a fancy restaurant is off the cards this year, bringing a fancy feast to her is more than possible with a growing selection of delivery and takeaway services offered by MICHELIN-star restaurants across the island — many for the first time. Keep mum out of the kitchen and browse our selection of MICHELIN Guide-featured establishments with special offers and generous deals on takeaways and deliveries.

Create a multi-course experience from three-star French fine dining restaurant Odette at home; have one-star Garibaldi's Italian signatures delivered, or pick up a spicy Szechuan feast from two-star Shisen Hanten.

Just for this Mother's Day, two-MICHELIN-star restaurants Saint Pierre and Shoukouwa will also be joining hands in creating a special five-course bento box ($180++, pictured in banner) available for pick-up on 9 and 10 May. The meal features Saint Pierre creations like the Royal Belgian Oscietra Caviar with bonito and cream and mains of Western Australia Marron as well as Omi beef; alongside indulgent offerings by Shoukouwa – the Carabinero Prawn with Japanese spring vegetables and oba, as well as abalone with awabi, ikura and soy. For orders or enquiries, call +65 6438 0887 or email info@saintpierre.com.sg.


The L'Amore Di Mamma set from Regent Singapore (Photo: Regent Singapore)
2. Indulge in brunch from MICHELIN-listed hotels at home.
For $328 nett, Dolcetto by Basilico at Regent Singapore will curate signature items from its popular Sunday brunch into a special L'Amore Di Mamma set and deliver it free to your doorstep. The set is good for a family of four to five and features a slew of fresh salad starters with dark rye sourdough and main courses of slow-cooked salmon confit, grass-fed angus beef tenderloin with roasted vegetables and a ricotta raviolacci pasta, as well as dessert and gin and tonic to wash it all down.

MICHELIN-listed Mandarin Oriental, Singapore has also put together a five-course family-style brunch ($338 for two adults and two children) available for takeaway on 9 and 10 May with 24 hours advance notice. Brunch includes a generous seafood platter, main courses of King Prawn spaghetti, Angus Beef Sirloin or Australian Lamb Rack as well as a medley of desserts and a bouquet of flowers.


Preludio's Mother's Day Breakfast Box (Photo: Preludio)
3. Send Mum food-filled gift boxes from MICHELIN restaurants.
These gift boxes take traditional food hampers up another level for the epicurean mother. Two-star Nordic restaurant Zen has put together a bespoke gift hamper ($275) full of tasty treats: the basket contains seven jars of Zen's in-house condiments and relishes like truffle puree, yuzu kosho and Morello cherry jam, an assortment of cheeses, jamon iberico and Swedish caviar, as well as Swedish pastries, pear juice and a bottle of wine.

Preludio's Mother's Day Breakfast Box ($98) is also available for preorder now for delivery on 9 to 10 May. The gift box from the MICHELIN Plate restaurant features an array of breads and pastries to go with poached organic New Zealand eggs with roasted tomatoes and chorizo; avocado salad, granola, and selection of cheese and charcuterie; while fresh fruit, hot chocolate and tea make for a sweet ending.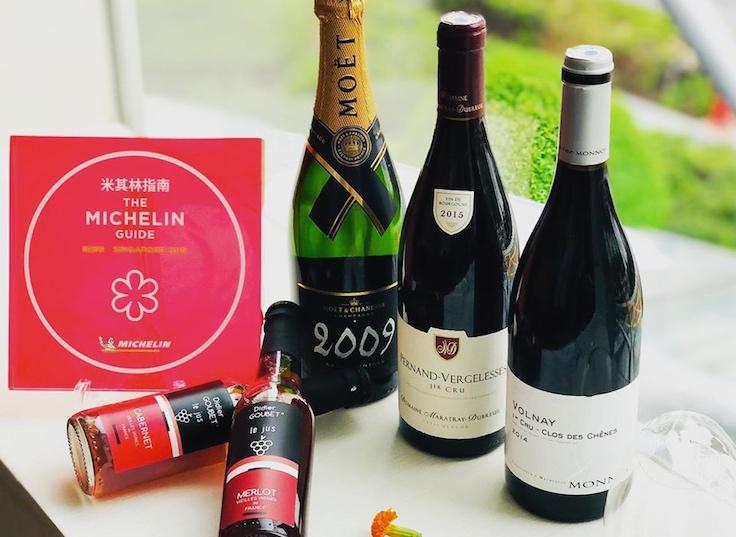 Beni's red wine bundle (Photo: Beni Facebook)
4. Offer a toast with special wine bundles from MICHELIN restaurants.
For the lady of the house who happens to be an oenophile, have a special tipple or two from her favourite MICHELIN restaurant delivered right to her door. One-star Burnt Ends will have sommelier Neil Claudio curate a special case of wines ($360/$680+) and deliver it free; Beni's special wine bundles knock off up to 30% of the usual prices of bottles and are a great value-for-money way to explore different labels, while Nouri offers bottled cocktails and a special label of sakes alongside wines by bottle on the Appetite online shop.


5. Dine with mum at a two MICHELIN star restaurant — virtually.
Here's a unique option for those who are not living with mum and unable to celebrate together in person during this Circuit Breaker period. Gather up the family members in different households for a virtual get-together hosted by chef Emmanuel Stroobant of two-MICHELIN-star
Saint Pierre
on the Zoom video meeting app. The restaurant will deliver an eight-course omakase meal ($180++ or $220++ per person) in a beautiful bento box to the various locations and when all the guests have gathered on Zoom, the chef himself makes an appearance to interact with his virtual guests and introduce them to the menu. A minimum of 15 people is required for
Virtual Saint Pierre
, though smaller parties may enquire with the restaurant for dates with available slots. For reservations, email info@saintpierre.com.sg or call +65 6438 0887. A minimum five- day advance notice is required.
Fairmont's Mother's Day Recipe Kit (Photo: Fairmont Singapore)
6. Cook together with recipe kits from MICHELIN restaurants and hotels.
MICHELIN-listed hotels Fairmont and Swissotel The Stamford have put together weekly meal kits with easy-to-follow recipes and pre-measured ingredients that can be whipped up in the comfort of your own kitchen. The special edition Mother's Day Recipe Kit ($228) serves four and is fun for the whole family with ingredients and recipe cards for a four-course meal including a tomato-strawberry salad with fresh vegetables from the hotels' own aquaponics farm, Hawaiian pizza, smoked miso seabass as well as desserts of cheesecake and cupcakes.

The Preludio Box (from $208, pre-order a day in advance) serves two to four and features riffs on the restaurant's signatures like the mushroom-glazed rye bread rolls with onion butter, a cooking kit for the signature La Cortina pasta, roasted wagyu beef shortribs that come with finishing instructions and Iberico Pork Presa. The box also comes with a bouquest of fresh fruit and vegetables with chef Fernando Arevalo's tips on how to prepare them at home.


Get cooking inspiration from the world's top chefs (Photo: Chef's social media)
7. Cook together with chefs of top MICHELIN restaurants on social media.
Pick up top tips and in-depth techniques from some of the world's top chefs in the free virtual culinary classes they're putting on their social media accounts. The top toques of MICHELIN-star restaurants around the world like Eric Ripert, Massimo Bottura and Guy Martin are taking to social media during their restaurant downtime to share recipes and videos from their own home kitchens. Find some culinary inspiration here to whip up a meal for mum, or better yet, indulge in some feel-good home cooking videos with her and cook together for some quality bonding time.