Be spoiled for choice when it comes to Indian cuisine in Singapore: our inspectors have sussed out some of the city's most delicious spots for tender tandoori, fiery, flavourful curries and naan to mop it all up. Whether you're looking for a comfortable family-friendly bistro or a swanky setting for a business lunch, there's a MICHELIN-recommended Indian restaurant for every occasion.
RELATED: What To Order At These 7 MICHELIN-Recommended Peranakan Restaurants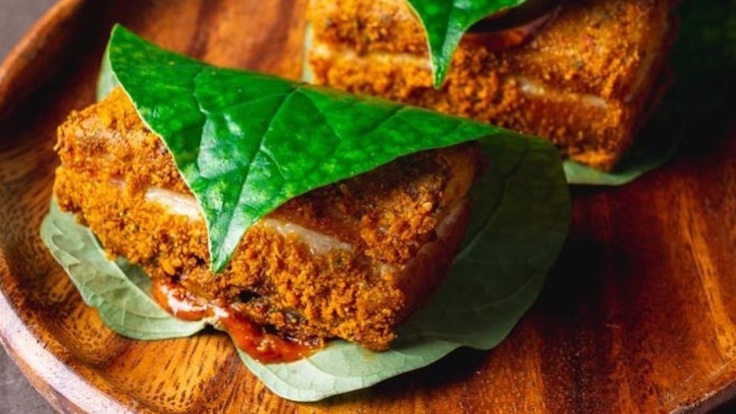 Crispy Pork With Sambal Aioli (Photo and Banner Photo: Thevar)
Thevar
MICHELIN Plate, MICHELIN Guide Singapore 2019

Modern Indian restaurant Thevar is a new entrant in Singapore's edition of the guide. Here, chef-owner Mano Thevar turns out creative interpretations of Indian flavours from the region in tapas-style sharing plates and snacks that allude to his Malaysian-Indian heritage. "The cuisine brings together my childhood and traditions by taking inspiration from my Indian roots. Incorporating European techniques picked up through my experiences, we deliver Indian inspired cuisine with a modern gaze," he explains. While the full experience is best savoured through the chef's menu, must-orders include the Chettinad Chicken Roti, Crispy Pork With Sambal Aioli, Tandoori Spiced Octopus, Tandoori Rack Of Lamb and the Frozen Carrot Halwa Kulfi.

What Our Inspectors Say: Taking over the space formerly occupied by Meta, this grill sports a bar and dimly lit dining room – with seats at a long black marble counter that overlook the open kitchen. Chef-owner Thevar applies his modern training and various Indian spices to the inspired creations. He sources the best ingredients from around the world and his signature tandoori baby lamb is not to be missed. Asian-inspired cocktails complement the cooking nicely.
RELATED: The Rise Of Modern Indian Cuisine

The fish head curry at Muthu's Curry (Photo: MICHELIN Guide Digital)
Muthu's Curry (Little India)
Bib Gourmand, MICHELIN Guide Singapore 2019

A visit to Muthu's is incomplete without ordering the signature fish head curry for which the restaurant is named when a customer in the 1970s complimented the curry, saying it tasted like muthu, which is Tamil for pearl. Pineapple chunks and vegetables like okra, tomatoes and brinjal are added into the gravy with meaty, succulent fish head and served in a claypot.

Take a walk along the gleaming food display and select from other popular mains that include masala chicken, chicken chukka, lamb chops, lamb rack ananas, masala prawns and tandoori chicken. Order these with a side of white rice or fragrant biryani, which will be served at the table, heaped onto banana leaf-lined trays with two complimentary vegetables.

What Our Inspectors Say: 'Muthu' means pearl in Tamil, which befits this gem (with three other branches) serving traditional dishes from both the Southern and Northern regions of India. Originally called Muthu Makkan, the owner expanded and renamed the restaurant in 1982. The signature fish head, South Indian-style, uses a secret blend of spices. Swimmer crabs, masala prawns, lamb rack and tandoori chicken are also big hits among diners. Ask about the monthly specials.
(Photo: Lagnaa)
Lagnaa
Bib Gourmand, MICHELIN Guide Singapore 2019

Owner-chef Kaesavan harnesses the six ayurvedic flavours of Indian cuisine in his dishes. Sweet, spicy, bitter, salty, sour, astringent, each dish plays on one or more of these flavour profiles in balance. Standout signatures include the palak paneer, a moreish gravy of mashed spinach with curd cheese, the bright and tangy fish curry which features premium threadfin, as well as the ever-popular butter chicken that veers on the sweet side.

What Our Inspectors Say: You always have the final say on the level of spiciness of any dish you order at this three-storey restaurant in Little India, though many come for the Chilli Challenge on full moon nights to push their limits (the record currently stands at level 9). The owner-chef tries to include sweet, sour, salty, spicy, bitter and astringent flavours. His monthly specials feature seasonal ingredients and most dishes come in two serving sizes.
Lamb shank biryani (Photo: Zaffron Kitchen)
Zaffron Kitchen (East Coast)
Bib Gourmand, MICHELIN Guide Singapore 2019

It's best to be eating in a group at Zaffron Kitchen so you can order from the array of curries on the menu and grilled meats from the tandoor. Start with a traditional street snack of Dahl Puri filled with delicious chutneys then move on to creamy Butter Chicken, Mutton Rogan Josh cooked low and slow, and Goan Fish Curry of fish, shrimp and calamari cooked in a fiery seafood vindaloo. Mop it all up with naans, rotis and parathas fresh from the tandoor or a helping of the restaurant's signature Zaffron Biryani with mutton or chicken cooked dum-style.

What Our Inspectors Say: This family-friendly bistro flaunts a faux-industrial look, complete with metal-framed chairs in coordinated colours, exposed brick walls, and an open kitchen. Despite the on-trend décor and tech-savvy iPad menu, the cooking is conventional Northern Indian, with dishes from the tandoor being particular highlights. Fresh ingredients are seasoned with the purest spices to great effect and the popular set lunch on weekdays offers excellent value.


Chicken Tikka Masala (Photo: Anglo Indian Facebook)
Anglo Indian (Shenton Way)
Bib Gourmand, MICHELIN Guide Singapore 2019

The cuisine at this casual joint spans cooking from the north to the coastal plains of India, resulting in a menu with an interesting variety from curries to seafood. While the inspectors recommend the chicken tikka masala, butter chicken and lamb dum biryani, signatures like the Anglo Specialty Tandoori Chicken, Anglo Indian Chicken Jalfrezi and Country Captain Chicken are also popular mainstays.

What Our Inspectors Say: If there's one dish that customers should expect to find in a restaurant called Anglo Indian it's chicken tikka masala – and sure enough it's a firm favourite of many here at this simply decorated spot in the heart of the CBD. The dining room may seat only 20, but there's a large outdoor terrace where everyone congregates for the well-priced cooking. Other popular choices include butter chicken and lamb dum biryani.


Dhuwandaar Lamb Chops (Photo: Rang Mahal)
Rang Mahal
MICHELIN Plate, MICHELIN Guide Singapore 2019

Established in 1971 at the now-defunct Oberoi Imperial Hotel in Jalan Rumbia, the stalwart Indian fine-dining restaurant serves up classic Indian cuisine dressed in contemporary flair at its elegant premises in the Pan Pacific hotel. Vegetarian offerings include classics like palak paneer with homemade cottage cheese as well as signatures like panko crusted peppers and goat cheese mousse on aapam, which are coconut rice pancakes. The Rang Mahal Signature Dal Makhani (slow cooked black lentils) is the perfect accompaniment for hearty mains like the Old Delhi Butter Chicken and and Dhuwandaar Lamb Chops which features tender chargrilled lamb chops smoked with applewood.

What Our Inspectors Say: If you want plush without the fuss, consider this Indian restaurant on Level 3 of the Pan Pacific hotel – the double-height dining room is tastefully furnished, comfortable and contemporary. At lunch go with the flow by joining the dozens of business people here for the impressively bounteous buffet; dinner is the time to investigate the à la carte menu. The kitchen displays a respectful knowledge of the vast repertoire of Pan-Indian cuisine.

RECOMMENDED READING: The Rise Of Modern Indian Cuisine