I
n the mood for tandoori lamb and dosai but also game for a flambéed leg of lamb or a mackerel dosai with tomato chutney? Indian cuisine is shedding its cheap-and-good image in a slew of contemporary restaurants across South-east Asia. From Bangkok to Singapore, there is a growing number of Indian restaurants, serving both modern and progressive styles of the cuisine, and revamping classic dishes such as chicken tikka, tandoori chicken and rasam in a whimsical array of textures and flavours.
Breaking new ground in redefining Indian cuisine is two-Michelin-starred
Gaggan
in Bangkok, which is synonymous with envelope-pushing progressive cooking that involves emoji-filled menus, inspirations from Indian street food and renowned dishes such as charcoal prawn Amritsari and yogurt explosion. Its chef-owner Gaggan Anand has also backed
Gaa
, which received a Michelin star last year for its innovative tasting menu based on time-honoured Indian cooking techniques by its up-and-coming head chef Garima Arora.
In Singapore, modern South-east Asian restaurant
Thevar
, which is run by the same owners of one-starred Meta restaurant, is receiving buzz for its creative interpretations of Indian flavours from the region. The stalwart one-starred Indian fine-dining restaurant
The Song of India
continues to keep a stable of modern Indian dishes alongside its signature dum biryani and malabar fish curry.
Modern Influences

Modern Indian cuisine carries varying interpretations. In the 1980s, the word "modern" was used in a superficial sense as it meant presenting food in elegant and refined ways to match the ambience of iconic restaurants, such as Bukhara and Dum Pukht in New Delhi.
According to The Song of India's director of cuisine Manjunath Mural (left), the next wave came in the mid 1990s when he recalled seeing dishes such as flambéed gulab jamun and grilled meat with brown sauce in hotel restaurants. He says: "These concept didn't take off in India as people there were still very much looking for food that was served at home and weren't adventurous to new food ideas."
With more Indian chefs returning from overseas stints, they brought back influences and experiences to fire up changes on India's food scene. With influences from French and Italian cuisines, flavours have become less intense and pungent, and dishes now take new forms in pizzas, burgers and tacos in casual eateries. Traditional Indian food has taken on various influences, from the French fine dining world that involves individual plating and using French-style sauces to the tapas-style small plates from Spain.
The scene is flourishing with successful restaurants such as
Indian Accent
in New Delhi by celebrated chef Manish Mehrotra, which has opened outposts in New York and London, and one-Michelin-starred
Junoon
in New York.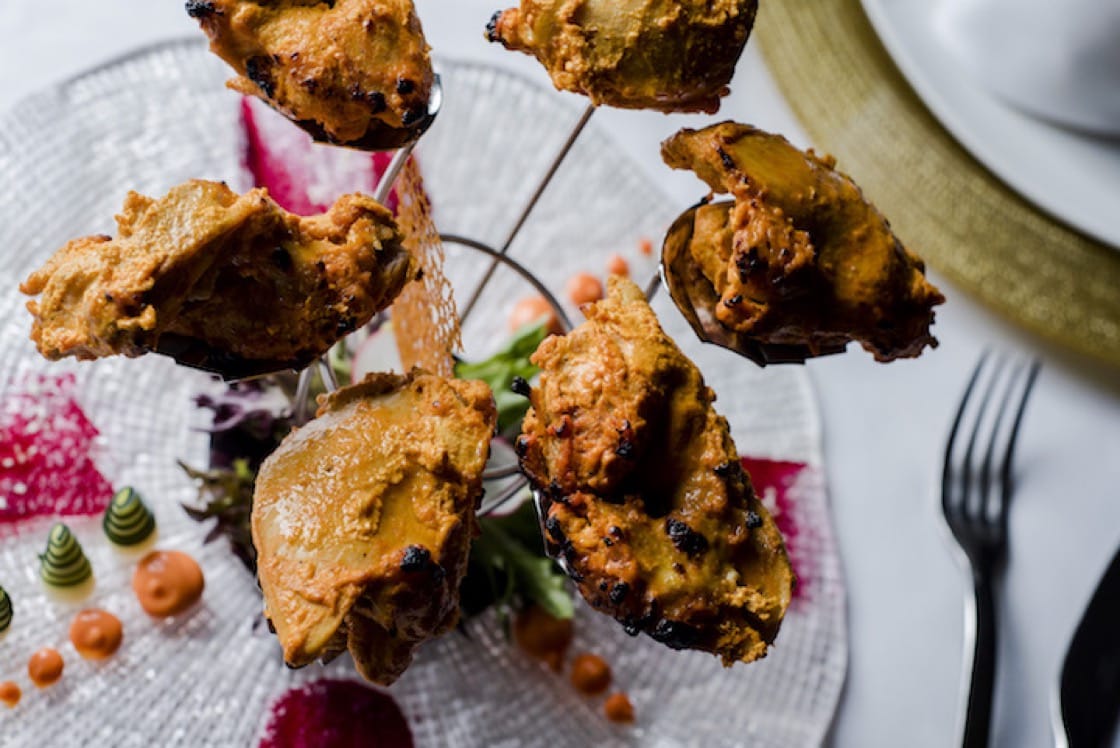 Laksa chicken kebab is one of the Singapore-inspired modern Indian dishes in The Song Of India. (Photo: The Song Of India)
At Singapore's The Song of India, well-known modern Indian dishes include the semolina-crusted foie gras, roast lamb shank spiced with cinnamon and nutmeg, and macadamia nut kulfi with Baileys Irish Cream. Mural says: "Modernising Indian food is about using ingredients and cooking techniques from other cuisines, but still retaining a touch of Indian flavours."

He also brings in food influences from Singapore, where he has been based since 2006. There are dishes such as sambal barramundi and laksa chicken kebab to cater to the local clientele. He says that this is also a strategy to keep his business sustainable in a competitive business climate. "These days, about 40% of the restaurant's diners are Chinese," he notes. "Diners want something tasty but in a package that they can still understand and identify with."
Chef Thevar creates smaller dishes and snacks in his casual eatery so that diners can sample a variety of flavours. (Photo: Thevar)
Bringing In New Techniques

Besides ingredients, technique plays a big part in shaping a cuisine. At four-month-old modern South-east Asian restaurant-bar Thevar in Keong Saik Road, head chef Manogren Murugan Thevar employs Western preparation and cooking techniques in his menu of tapas-style sharing plates and snacks that allude to his Malaysian-Indian heritage.

Highlights include creamy pacific oysters topped with a sour and punchy granita made from rasam, a broth brewed with tamarind and spices. The spicy deep-fried chicken dish, Chicken 65, is shredded and stuffed into a Chettinad chicken roti with caramelised onions and garlic. Mackerel and tomato chutney find their way into a dosai wrap. Sharing plates and snacks are served over a sleek bar counter in a chic, casual restaurant with upbeat music.
One of Thevar's chic tapas-style small plates is the Mackerel Dosai with Tomato Chutney. (Photo: Thevar)
The Penang-born chef says: "I wanted to bridge the gap in between a restaurant and a street food stall. It should be fun, friendly and casual so that younger people do not feel too intimidated to figure out which Indian dishes to order and they can taste a wider variety of flavours."
While most Indian dishes are slow-cooked for a long time, Thevar cooks with precision befitting of his 14-year career that was mainly spent in fine-dining restaurants. The 29-year-old has previously worked in American smokehouse
Meat Smith
and the now-defunct Guy Savoy, both in Singapore and
PureC
in the Netherlands. Specialising in a contemporary grill menu, Thevar brines and seasons his meats with spices such as cinnamon, star anise and cardamom before they are popped into the tandoor.
Thevar, who went on a month research trip around India before starting his restaurant, says: "With more room for flexibility in modern Indian cuisine, I am not pressured to re-create authentic taste so there can be more room for experimenting with flavours."
Delving Deeper

Moving beyond switching up ingredients and techniques, Gaa in Bangkok is delving deeper into redefining Indian cuisine.

Head chef Arora wants to shatter the stereotypes of Indian cuisine. She says: "My cooking is more of an intellectual exercise than simply putting things together. It is up to Indian chefs to dig deeper and asks the right questions. Indian cuisine is a modern intellectual cuisine that is so much more than comfort food."

At Gaa, she leverages on the pillars of Indian cooking to create "surprising tasting experiences".
At the moment, her biggest obsession is the concept of negative food pairing, which is a critical pillar in Indian cuisine. The concept puts together ingredients that have different flavour compounds together to yield a harmonious combination of flavours and textures.

She explains: "It amazes me that Indian dishes have such a high ratio of negative food pairings, but they give rise to a surprising roundedness and balance."

An example of a negatively paired dish on Gaa's menu is strawberry, caviar with how wor oil from Northern Thailand. "Each component of this dish only share one similar flavour compound, yet they still work very well together."
One of Gaa's signature main course is unripened jackfruit with roti and pickles. (Photo: Gaa)
Another tradition that she borrows from Indian cooking is extracting umami flavours from vegetables. "Indian cooks knows how to make vegetables taste so good," she says. "It is all about slow-cooking over fire, which caramelises the sugars in vegetables to give sweetness and a more rounded flavour."

Take one of the restaurant's signature meat-free main courses. The golden-brown slab of chargrilled unripe jackfruit is served with pickles and roti. She shares: "Growing up, my mum used to cook unripe jackfruit whenever we were craving for meat — it has the same texture and pull on your teeth."
Gaa in Bangkok received one Michelin star last year. (Photo: Gaa)
Moving Forward
With modern Indian cuisine growing in prominence, more chefs are optimistic that Indian food can make its mark on the world's dining landscape.
Arora is confident that Indian cuisine can be the future of modern cuisine in Asia. She draws parallels from her working experience at two-starred
noma
in Copenhagen. She notes that Nordic chefs start off with French techniques as their foundation to innovate.
She adds: "In Asia, Indian cuisine has the power to do the same. Indian cuisine is so steeped in history and most cuisines in Asia can be traced back to India. Indian cuisine can equip chefs with the tools and resources to make something completely new and modern. What French food did for the development of Nordic dining scene, Indian food can do the same for Asia."
For Mural, clinching one Michelin star for The Song of India has boosted his motivation to push the boundaries of modern Indian cuisine. To further his cause, he co-started modern Indian eateries
Heritij
in Brisbane last September and
Kokum
in the Gold Coast last November. Both eateries use native Australian ingredients in Indian dishes. Come June, he will open another restaurant in Jakarta. He says: "My dream is to expand the possibilities of Indian cuisine, it can be respected as more than just takeaway food and about curry. It has so much capacity to be widely acceptable around the world."