Although it has one of the world's oldest, richest and most sophisticated cultural traditions, much of the gastronomic wealth of China remains hidden within the behemoth country and in the eyes of many, Chinese cuisine has largely remained at the lower end of the global gastronomical hierarchy, dogged by a cheap, greasy stereotype, images of spring rolls and chop suey, and plating that always involves vegetable carvings and slices of cucumber.

But in the past decade, China's economic boom and its rise on the international stage have also increased its cultural clout — and significantly expanded the scope and meaning of Chinese food.

We look at the evolution and development of Chinese cuisine from the different perspectives of three vanguards of the Chinese cuisine renaissance: Alan Yau, forward-thinking restaurateur challenging the notions of Chinese cuisine in a Western context; Andre Chiang, award-winning classically French-trained chef, rediscovering his Chinese roots and translating that in a way the world can understand and appreciate, and Jereme Leung, one of the early pioneers of fine dining New Chinese Cuisine making change from within the behemoth country.

Revolutionising Fine Dining Chinese In The West

Born in Hong Kong, Alan Yau moved to the United Kingdom at the age of 13 with his family and spent his evenings and weekends working at his family's Chinese takeaway. As a young immigrant teenager in the early 1980s, he was struck by the negative perception of Chinese food that people held at that time.
"In those days, Chinese food was compromised or bastardised, partly because the skill sets and supply chain were not there and also because people at that time didn't have the palate to demand authentic Chinese cooking. Generally speaking, Chinese cuisine at that time was perceived to be a cheap offering, laden with MSG, greasy and unhealthy," he says. "The perception in the business community was that Chinese food could never be taken up to fine-dining level."
Alan Yau is on the forefront of revolutionising fine dining Chinese in the West (Pic: Madame Fan)
What others saw as an insurmountable barrier, Yau — by this point, a successful restaurateur who'd founded and sold popular noodle chain Wagamama — recognised as an opportunity. "The challenge was to find a way to go beyond the glass ceiling of the mid-market Chinese proposition and take it to a fine-dining level acceptable for a Western audience and, at the same time, be able to expand beverage options beyond Chinese tea and sell expensive alcohol products."
His platform was
Hakkasan
, which he opened in 2001 just off London's Oxford Street. An upscale modern Chinese restaurant with a multi-million-pound interior designed by French designer Christian Liaigre and prices to match the decor, Hakkasan was considered a revolutionary concept, placing Asian food at the forefront of glamourous fine dining. Hakkasan at Hanway Place received a Michelin star in 2003 which it has retained till today.
Yau then went on to open dim sum restaurant and patisserie tea house chain
Yauatcha
in 2004, which was awarded a Michelin star a year later, and was bestowed with the Order of the British Empire (OBE) in 2006 for his contributions to the UK's restaurant industry. The proliferate restaurateur has gone on to open and consult for restaurants from Moscow to Monaco, including
Madame Fan
in Singapore.
An assortment of dim sum at Madame Fan (Pic: Madame Fan)
While Yau has been successful in breaking the glass ceiling on Chinese cuisine in the West to some extent, he feels that it has some ways to go before it reaches the level of cultural prestige that French or Japanese cuisine has. "First is to have a defined ambitious career path in Chinese cooking like what the French chefs have, working in key restaurants and forming techniques. Second, there needs to be an application of the craft to a seasonal level like the Japanese. Third is to go beyond the restaurant and into people's homes, like Italian cuisine — people eat pasta and don't think of Italy anymore, it's just part and parcel of their diet."
But he is optimistic of seeing these things happen in the near future. "To achieve soft power through gastronomy, there needs to be a level of state intervention, high-level policies and economic inducements to galvanise the desirability and credibility of Chinese cuisine. Having the MICHELIN Guide in China now is a first step," he says, referring to the Shanghai edition launched in 2016 and the Guangzhou guide which debuted last year.
He hopes to see a new generation of chefs that will be able to take Chinese cuisine to the next transcendental level. "You need someone who is able to do a Bruce Lee, to go in from wing chun and learn boxing and everything else, absorb all the different crafts and develop their own identity and fighting form, where it becomes: 'The food is from me, from my heart, nothing else'. To get to that level is very important."

Pioneering New Chinese Cuisine From Within
A figure who might just fit the bill of Yau's analogous Bruce Lee is Shanghai-based chef Jereme Leung. In 2002, seeing the huge potential for growth in the massive Chinese market, the Singaporean chef took a gamble and left his cushy position as the Chinese executive chef at the Four Seasons Hotel to be the chef-owner of
Three on the Bund
in Shanghai.
"The opportunity of learning and developing my craft, and being exposed to the many ingredients and cooking methods that are not seen outside of China were also part of my reason for moving there," he says.
In the last 16 years, Leung has made a name for himself in China, opening 10 restaurants across the country and gracing millions of television screens as one of the three judges of MasterChef China for the past seven years. He says that these experiences, travelling across the continent, and interacting with and employing chefs from all parts of the country have allowed him to learn and exposed him to the eight main schools of Chinese regional cuisine.

That, and his staggering collection of over 15,000 cookbooks.
"I believe learning is a continuous lifelong process and it is almost impossible to be able to claim to have a complete knowledge of Chinese cuisine," he says. "Chinese cuisine is certainly not lesser than any major cuisine in the world."

From mastering the fundamentals of traditional Cantonese cuisine to learning the various taste profiles of South-east Asian styles of Chinese cuisines in his early career, and immersing himself in the rich heritage of regional Chinese cuisines, Leung has established his own expression of New Chinese Cuisine.

His culinary philosophy is guided by an emphasis on seasonal and Chinese regional produce, a direction he will be taking for his upcoming restaurant 兿 (yì) by Jereme Leung in Singapore's iconic Raffles Hotel, where he will present unique Chinese dishes rarely seen outside of China.
A dish from the upcoming menu at Yi By Jereme Leung in Singapore, the PUBEN Grander Nine Squares (Pic: Yi By Jereme Leung)
Beyond developing his own expression of Chinese cuisine, he says the current stage of his evolution is working on a global context where Chinese cuisine forms an important part of cultural exchange platforms between Asia and the rest of the world.

"In my personal opinion, after all the positive influence of modern presentations and global ingredients, it is very important for professional chefs to go back to their roots to embrace and understand Chinese culinary culture with an open heart. Improvements and changes need not necessarily come at the expense of traditional recipes or ingredients but rather respecting their authenticity and innovating in other ways."

Translating A Timeless Chinese Cuisine For The World

To be sure, only a glimpse of the extraordinary gastronomic wealth of China is accessible abroad. Realising that was one of the reasons that drove acclaimed chef Andre Chiang to shock the culinary world when he closed his two-Michelin-starred eponymous restaurant in Singapore last year and packed his bags for his home country of Taiwan to fully delve into his Chinese roots.
"It's always been at the back of my head that I knew so little about where I was from and my own Chinese heritage. I've been doing a lot of homework the past five years to rediscover my roots," says the classically French-trained chef who's spent a better part of his career in Michelin-starred restaurants in France and gaining global recognition for his expression of French cuisine.
For Chiang, there is a sense of urgency as he works to communicate Chinese cuisine on a global stage and train a new generation of chefs at his restaurants, such as one-Michelin-starred restaurant
RAW
in Taipei,
The Bridge
in Chengdu and the just-opened
Sichuan Moon
at Wynn Palace in Macau.
"I would say we are a generation in danger where old Chinese flavours and techniques have not been passed down to the next generation," he says. "The history and the complexity of Chinese flavours cannot just stay communicated only within the Chinese community."

Alongside holding the fort at his many restaurants, Chiang has invested a lot of his time into research and education, holding seminars in Taiwan and other parts of Asia, taking up speaking engagements in overseas conferences and teaching 20 to 25 classes a year at a local Taiwanese university. "Next year, I'll be working with international scientists on decoding and pairing flavour profiles in Chinese cuisine. In Europe, a lot of research has been done about that but not so in Chinese cuisine."

But he is not trying to be a master of Chinese cuisine. Chiang acknowledges the unique perspective that his Western training and international standing have given him and sees his role as that of a translator. "You can see the cuisine as a beautiful Chinese poem. When we read the poem, we understand the beauty of it, but not a foreigner. What I'm doing is not trying to change the poem or write a new one, rather to translate it into different languages so everyone can see its beauty. I always believe we cook Chinese cuisine for the world, not just the Chinese."
Peppercorn Flavored Duck Foie Gras With Mushrooms at Sichuan Moon (Pic and banner pic: Sichuan Moon)
He plans on doing that by bringing every dish into very fine detail, pushing the quality to a level that Chinese cuisine has never been presented before and looking at things like seasonality and sustainability. "We already have the richest cuisine in the world so there's no need to add anything unnecessary. So how do we bring the purest flavour that people will understand?" says the chef. "To me, what is timeless is attention to detail."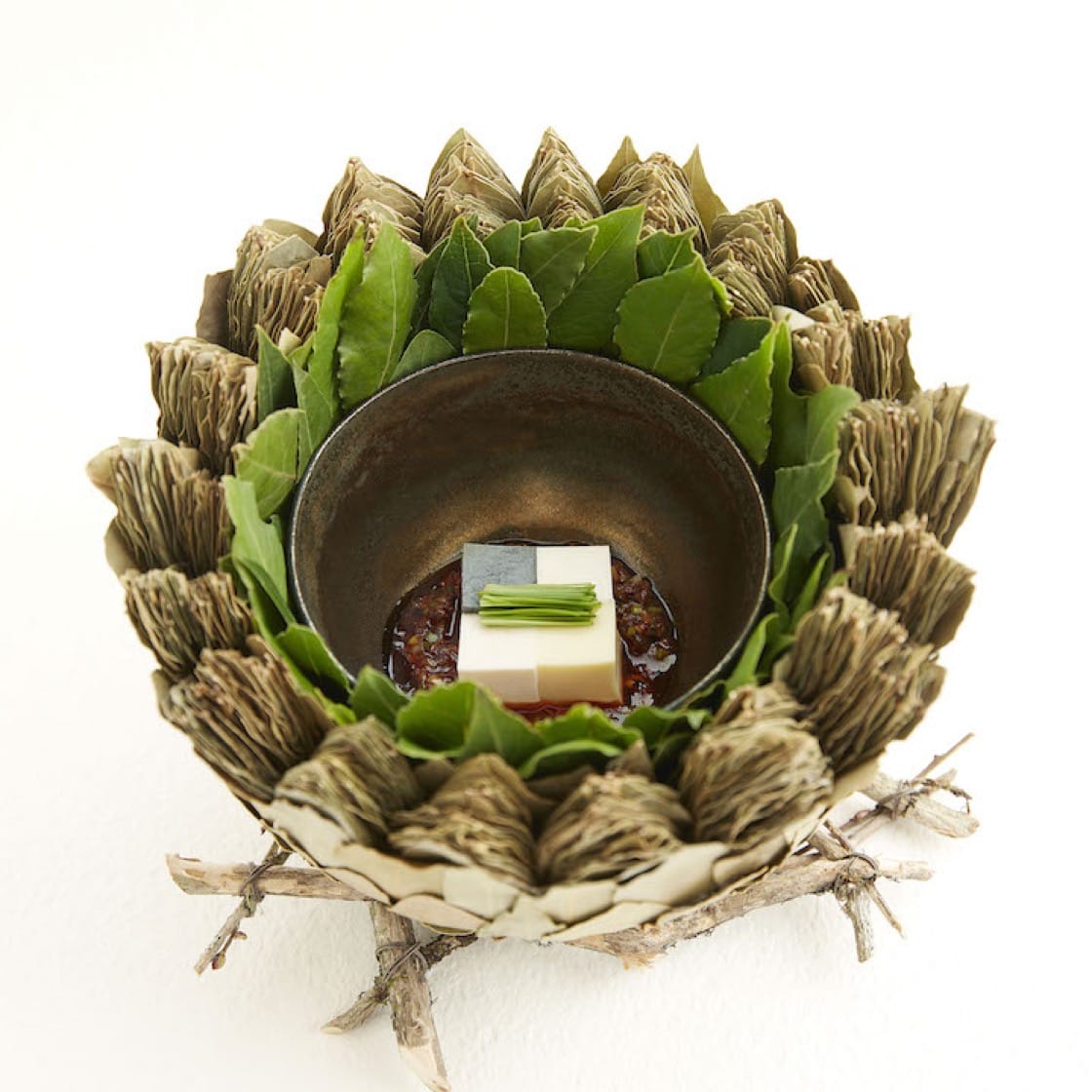 One of the courses in Chiang's elaborate Sichuan tasting menu at the new Sichuan Moon is a deceptively humble dish of mapo tofu (Pictured right). But his intricate take mapo tofu calls for four different types of bean curd — tender tofu, hard tofu, black tofu and Japanese egg tofu — each made with extreme attention to detail from technique to temperature. "For the sauce, we don't just focus on seasoning and wok hei (the smoky kiss from the wok) but down to the sourcing of every ingredient," he says. "And to increase the impact of the flavour on the dish, we had an artist in Taiwan hand-braid a thousand bay leaves into a bowl. That creates a flavour beyond what a traditional mapo tofu can deliver. People will never think mapo tofu can be leveraged to this level."
Noting that Chinese cuisine probably already has the widest coverage with Chinese restaurants to be found in every corner of the world, the goal of this generation should be how to take it to the next level on the world stage. He says with optimism: "Restaurant Andre was known worldwide for French cuisine and I've always thought that if it was possible, one day, I would love to be back on the world rankings with Chinese cuisine."