They may have spent a substantial part of their careers cooking Western and European food, but chefs Johnson Ebenezer and Sricharan Venkatesh, who both grew up in Chennai, have long felt a disconnect with their heritage. The two chefs are tracing back their roots in their latest stint at Nadodi, a contemporary Indian fine-dining restaurant that has been gathering buzz among gourmands in Kuala Lumpur since it opened in March last year.
Located at a stone's throw from the iconic Petronas Twin Towers in the Kuala Lumpur City Centre, Nadodi, means nomad or wanderer in Tamil and Malayalam, which are widely spoken across the Southern part of the Indian subcontinent that includes regions such as Tamil Nadu, Kerala and Sri Lanka.



Nadodi in Kuala Lumpur. (Photo: Kenneth Goh)
Popular South Indian dishes such as fish head curry, rasam (spiced tamarind soup), sodhi (pandan coconut curry), ishtu (Kerala potato stew), get contemporary makeovers. Some dishes feature modern European cooking techniques, transforming traditionally hearty stews, curries and soups into cutting-edge custard-like cubes, chic cups of fishhead curry espuma and spiced tomato broth that are served bubbling in a siphon coffee brewer.

The 70-seat restaurant, which only opens for dinner, offers two set menus, 13 or 15-mile journey (or courses) that is a tantalising tapestry of food memories that push the envelope of South Indian cuisine. A meal starts from RM450++ (S$151++). The food can also be paired with inventive cocktails – tamarind-infused vodka in panipuri or citrus-kissed white rum in a bottle – concocted by award-winning mixologist, Akshar Chalwadi.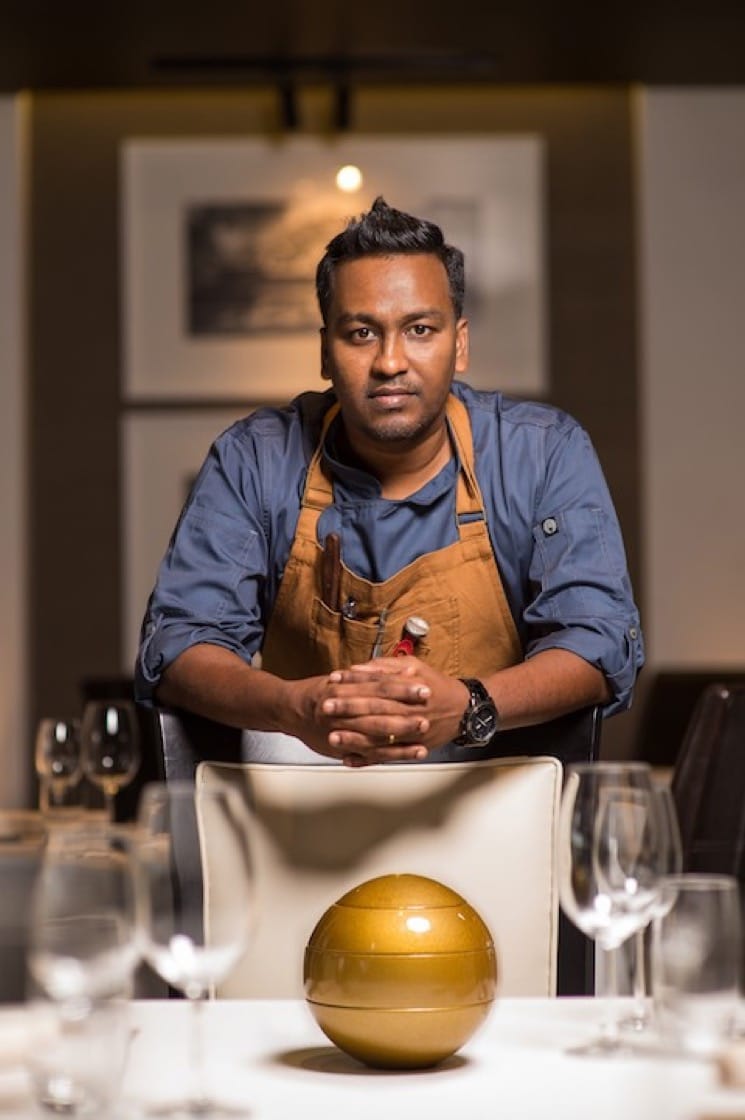 Starting Nadodi is a home-coming of sorts for the duo, who are cooking South Indian food for the first time as chefs. Executive chef Ebenezer (left) says: "We have grown up with South Indian food and understand the flavours. We combine culinary techniques that we have picked up from our careers with our food memories. It is not just about doing a brown sauce recipe".
Echoing this sentiment, Venkatesh, who is chef de cuisine, likens himself to "modern nomads". Like generations of Indians who have crossed oceans to Malaysia to seek their fortunes, the chefs also hope to make their mark since arriving in Kuala Lumpur a year and a half ago. They were surprised to find out that South Indian food is widely available in the city from the staggering amount of banana leaf
restaurants ("More than what we have in Chennai," enthuses Ebenezer) and that dosa and paratha in Chennai are known as dosai and roti canai, albeit with slight variations, in Kuala Lumpur.

Initial plans to start a French-Indian restaurant, inspired by the food in the former French colony, Pondicherry, morphed into a South Indian concept that is closer to their hearts. Ebenezer adds: "Malaysia and Singapore have lots of South Indian influences, which remind us of a home away from home. People here understand these flavours better than in other parts of the world."



Rasam is served bubbling in a siphon coffee brewer that offers a slice of theatrics. (Photo: Kenneth Goh)
The chefs delve deep into their home-spun food memories to craft the menu at Nadodi. Ebenezer has vivid memories of slurping on rasam as a warm, soothing treat during the monsoon season. At Nadodi, the humble rasam, which is one of the signature dishes, has been elevated into a consommé made with heirloom, vine and momotaro tomatoes and spices, and simmered for four hours. It is later dramatically infused with aromatics and crab shell in a siphon brewer that is usually reserved for brewing coffee, and served with shreds of sweet Alaskan crabmeat.
For Venkatesh, it is about cooking dishes that he misses from home. One of them is ada pradhaman, a festive sweet lentil soup. He has converted the stew's elements – coconut, jaggery and cardamom into an ice-cream. He says with a chuckle: "If my grandmother finds out, she will disown me."
It is with this whimsical sense of adventure and playfulness that he is injecting into South Indian food cuisine, building up on how fine-dining Indian restaurants around the world have broken the cliché that Indian food is merely bowls of curry and rice.

When it comes to designing the dishes, one of the challenges that Venkatesh (right) face is breaking out of the monotony of using ingredients such as coconut, curry leaf, peppercorns, yogurt and cumin that keep repeating in most dishes in Southern Indian cuisine. "Coconuts are everywhere, but you cannot find it in our dishes," says Ebenezer "They are camouflaged with the spices so you cannot really find coconut in our dishes, that's our cheat code."
For example, Adipoli!, which is inspired from avial, a Kerala coconut-based vegetable curry. It looks nothing like the original curry dish. Instead, the dish has been transformed in a chic custard-like cube that is made with thick first-pressed coconut milk, chillies and yogurt, while the vegetables such as spinach, carrots and beets, are embellished on the cube as minuscule slices.

The communal fish head curry dish, that is typically served in claypots, is condensed into a tall cup that is filled with cold-poached trout and fish curry espuma studded with lemon-infused puffed rice.
Adipoli!, which is inspired from avial, a Kerala coconut-based vegetable curry has been transformed in a chic custard cube. (Photo: Kenneth Goh)
How do the creative juices flow in the kitchen? For Venkatesh, it is about starting with a pre-fixed image of the final dish. He lets in:" I am constantly thinking an idea and building up upon it. I don't like reading books and recipes; numbers and words are my allergy. For me, it is a lot of drawing and drawing from life experiences.

Asked to sum up their cuisine in a word? "Disruption," he gamely ventures. "We destroy a traditional dish, but keep its soul intact so that people can still relate to Southern Indian food."

Despite receiving a warm reception (Chinese diners make up a considerable part of the clientele), the chefs admit that their biggest hurdle is getting people to accept the concept and their style of the food, especially when the original humble versions are already ubiquitous.

Venkatesh says: "When people drink our rasam, they are subconsciously thinking about the original dish, we need to think of how to create a memory for them to go "wow" and still be contented with this version that they have tried." To do so, the chefs emphasize the importance of staying true to the flavours of a dish. "Once diners remember the authentic taste of the original dish from tasting our version, it would be a win," he adds.

Ebenezer adds: "If the French kept their food at home, it would not have come out. It is time to show that our South Indian food can be made in different ways."
Nadodi is located at 183 Jalan Mayang (off Jalan Yap Kwan Seng), first storey, Kuala Lumpur.
RELATED: Is Kuala Lumpur Southeast Asia's Next Gourmet Destination?