Michelin is pleased to unveil the selection of restaurants highlighted in the fourth edition of the MICHELIN Guide Seoul. This 2020 edition confirms the richness and dymnamism of the culinary scene in the Korean capital, with the addition of 2 new two-star restaurants and 7 new one-star establishments, plus the emergence of new styles of contemporary cuisine.

Gwendal Poullennec, International Director of MICHELIN Guides, comments: "Our inspectors walked the streets of Seoul and discovered new gems that enrich the selection of starred restaurants. Year after year, our inspectors are delighted to see the increase in high quality cuisine offered by the establishments of the city. We have also seen an evolution in the styles of cuisine offered, with chefs that do not hesitate to break the codes to broaden their customers' culinary experiences."


The fourth edition of the MICHELIN Guide Seoul recognised a total of 31 starred restaurants.
While Gaon and La Yeon retain their three-star status again this year, 2 establishments join the list of establishments that serve cuisine that is 'worth a detour', by being recognised with two Michelin stars.
After their first star last year Mosu continues its rise, and continues to surprise its guests and stand out by the diverse creations of chef Ahn Sung-jae, always guided by the respect of the seasonality of products. The equally innovative cuisine of chef Seo Hyeon-min, following experience gained in the kitchens of several starred restaurants in New York, allows L'Impression to enter directly into the list of two-star establishments. These additions bring the two-star count to seven.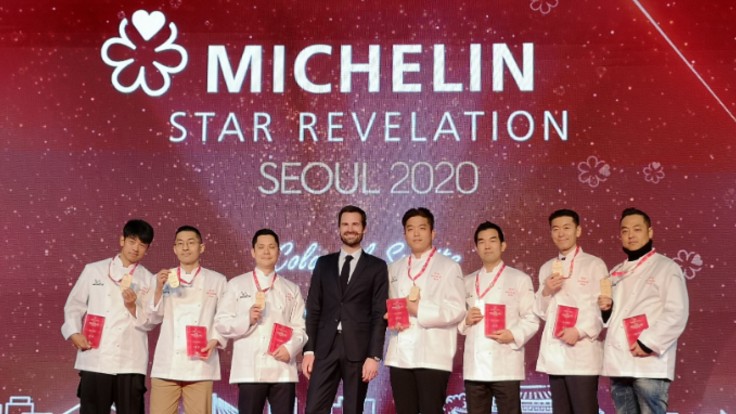 Mosu and L'Impression join the total of 7 two-starred restaurants in Seoul.
The family of one-star restaurants, which according to Michelin's inspectors are 'worth a stop', is enriched by 7 new additions.
French traditions are in the spotlight with the integration of restaurants Auprès (Lee ji-won), Votre Maison (Kim min-jae) and Pierre Gagnaire (Frédéric Eyrier), the last two well known establishments of the city having reopened their doors after renovation or relocation. The dishes at Terreno, which also evoke thoughts of travel, revolve around vegetables and herbs grown by chef Shin Seung-hwan. Myomi offers modern Korean cuisine, marked by a wonderful alchemy of flavours and the creativity of chef Jang Jin-mo. Evett is also distinguished by the innovative abilities of its Australian chef Joseph Lidgerwood who puts his inspirational touches to local products.
Finally, Onjium, which is both a research institute on Korean culture and a restaurant, puts the spotlight on local flavours thanks to its chef Cho Eun-hee, who joins two other Michelin-starred women at the head of restaurants Poom (Noh Yeong-hee) and Hansikgonggan (Cho Hee-sook)

Onjium culinary studio. (Credit: Onjium Facebook page)
The MICHELIN Guide Seoul 2020 selection, which highlights the attention paid by restaurants to sustainable development and healthy food, plus the development of natural wines, also highlights the restaurants which offer 'quality at an affordable price' with the presence of 60 establishments in the Bib Gourmand category, including 4 new additions.

The complete selection of the guide MICHELIN Seoul 2020 is available on the MICHELIN Guide Seoul website.

The MICHELIN Guide Seoul 2020 selection includes:
- 2 three-star restaurants
- 7 two-star restaurants (including 2 new additions)
- 22 one-star restaurants (including 7 new additions)
- 60 Bib Gourmand restaurants (including 4 new additions)