With a Michelin Star or two under their belt, these chefs are at the top of their game; so if it's cooking inspiration you're after, best hit follow.

We're not just here for the food pictures though, saliva-inducing though they are. Scroll on for an insight into the daily life of a top chef; the running of their restaurants; the procurement of their produce; the view from their front door and their daily exercise. Oh and there are dogs – lots of dogs.

Clare Smyth - @chefclaresmyth
CORE by Clare Smyth, London
Two Michelin Stars

Clare spent more than a decade cooking at Three Michelin Starred Restaurant Gordon Ramsay before opening Core in August 2017. The love she has for her team is plain to see on her Insta feed, with plenty of pictures from the pass as well as front of house. In fact this behind the scenes peek at Clare's craft takes in everything from the farmers from whom she sources her produce to the ingredients themselves; how dishes are created and evolve and the beautiful finished plates.

Paul Ainsworth - @paulainsw6rth
Paul Ainsworth at No.6, Padstow
One Michelin Star

From his Michelin-Starred restaurant to his Drive and Dine theatre and his new cooking school, Paul's is a feed packed with ideas and innovations; all springing from his positive thinking mantra #makeithappen. Paul's personality shines through as he posts about what's most important to him: the Cornish coast, his charity work, his daughter and his dogs; Michelin-Starred lunches with his mates – and a fair bit of fishing too. We hear about the highs and lows of his journey, the stories behind his dishes – and the people behind the scenes making it all come together.

James Sommerin - @jsommerin
James Sommerin, Penarth
Restaurant now closed

A fair bit of James' feed during lockdown concerned his laudable efforts to #feedtheheath – as he produced thousands of portions of food and delivered them to University Hospital of Wales in Cardiff. The talented chef has been devastated by the Covid-induced closure of his eponymous restaurant, but we are excited to watch his feed for news of what's next for him – and his daughter Georgia, who seems to be following in her father's footsteps. Expect posts about the Welsh coast, what (and who) inspires him and meals at other Michelin-Starred restaurants.

Simon Rogan - @rogan_simon
L'Enclume, Cartmel: Two Michelin Stars
Roganic, London: One Michelin Star
Rogan & Co, Cartmel: One Michelin Star

He's passionate about the connection between food and nature and his Instagram feed reflects this, so pictures of produce are plentiful, including many from his own farm in Cartmel, where they rear sheep, cows and chickens, and grow vegetables, fruit, herbs, edible flowers and microgreens. Other posts include beautiful plates of food from his various restaurants in Cartmel, Bowness-on-Windermere, London and Hong Kong, and pictures of his people behind the stoves and front of house, as well as the occasional celebrity guest.

JP McMahon - @mistereatgalway
Aniar, Galway
One Michelin Star

Championing Ireland and its impressive larder is the owner of Aniar in Galway, with posts of home-grown produce, foraging trips, trial dishes, research and menus. Aniar will not reopen now until April 2021, but the chef is keeping himself busy with Cava Bodega, which has a Michelin Plate, and Bib Gourmand-awarded Tartare, as well as running home cooking demonstrations and classes – and writing his PhD thesis! Follow him for info about his annual chef symposium, Food on the Edge, beautiful black and white photos of Galway and a cute dog called Sam.

James Knappett - @jknappett
Kitchen Table at Bubbledogs, London
Two Michelin Stars

As Knappett says, you need to start with the best to achieve the best, so photos of top-class produce punctuate his Instagram feed along with details of their origins: anchovies from Cornwall; game from a rough shoot in Norfolk; a wild mushroom found by his sister whilst walking the dogs. Then come the dishes themselves and pleasingly Knappett doesn't merely provide a picture but also a description detailing exactly how each dish has been created. His wife, Sandia, his baby and his dog also make an appearance – and there's a smattering of football too.

Alex Greene - @chefalexgreene
Eipic, Belfast
One Michelin Star

He doesn't post very often but, when he does, you are almost guaranteed to salivate. During lockdown, he kept us entertained with action shots from the Great British Menu, where he prepared two courses for the final banquet. Pre-Covid, you were more likely to see pictures of foraged ingredients, as well as simple seasonal dishes served up by this head chef at Michelin-Starred Eipic in Belfast. He also likes a good hashtag, some of the most memorable including #forallthesausagelovers and #ilikemyeggrunnyhowaboutu.

Angela Hartnett - @angelacooking
Murano, London
One Michelin Star

The unstoppable Angela Hartnett has friends in high places and her fingers in many pies, making her Instagram feed a very interesting scroll indeed! Expect posts about her travels around Britain and further afield, including team trips to visit their farmers and producers; TV appearances; date night meals with husband Neil Borthwick and her generous work for various different charities. Not forgetting lots of lovely pasta, delicious-looking dishes, dancing – and Otis the dog!

Billy Boyter - @billy_boyter
The Cellar, Anstruther
One Michelin Star

Billy Boyter opened The Cellar in 2014, ten minutes from where he grew up. It gained a Michelin Star in 2016. Lockdown led to lots of posts about sourdough and some interesting origami; follow Billy for a feed full of foraged finds; freshly picked and delivered ingredients from his suppliers and meetings with producers and their livestock; as well as trial dishes, dishes on his menu and dishes he has enjoyed at other Michelin-Starred restaurants. There's a bit of football and some cute rabbit pics to boot.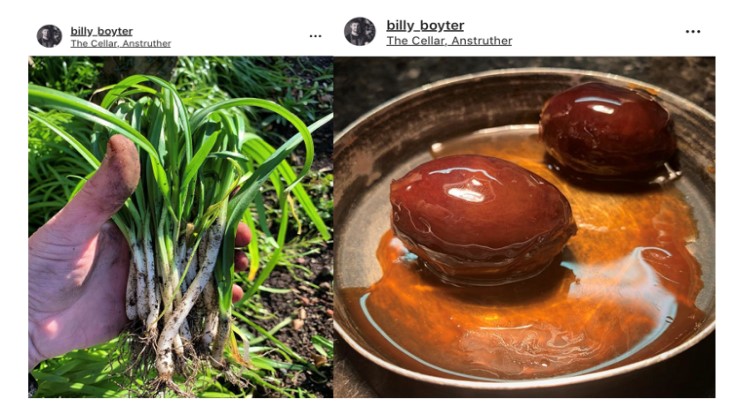 Jason Atherton - @ _jasonatherton
Pollen Street Social, Social Eating House, City Social; London
All One Michelin Star

With over 130,000 followers on Instagram, Jason Atherton isn't a chef who really needs flagging up, but we couldn't not include the king of the lockdown cookery video. These food preparation tutorials, dubbed 'Social Kitchen Isolation', feature insider tips from Atherton as he cooks at home in his kitchen; sometimes with the help of his daughters, sometimes with his baby crying in the background and sometimes for charity; he even does the occasional dance! Ask a question and Atherton will always answer; from the ingredients he's using to the clothes on his back.