It is 2pm but chef Justin Quek has already had a long bustling day. The 57-year-old headed to stock up on fish and vegetables after helming the kitchen during lunch service and squeezed in time to interview someone for a service staff position after that.

Quek's hectic schedule is understandable given that he has recently opened two restaurants in Marina Bay Sands (MBS). This dual opening comes about a year after his modern Asian fine-dining restaurant Sky On 57 closed after 7 years of operation.
Justin is a "canteen for Singapore classic dishes", says chef Justin Quek on the casual eatery that caters to the masses. (Credit: JustIN)
In May, Quek started JustIN Flavours of Asia, his all-day casual restaurant that is "like a canteen that serves Singapore comfort food". The 72-seat restaurant, which faces MBS' nightly light and water show, has an all-day menu that starts from $8.

For breakfast, there is mee siam, abalone porridge and kopi peng; these dishes make way for lunch sets such as nasi campur and prawn noodles. Come dinner time, it morphs into a zi char eatery serving white pepper crab, wok-fried lobster Hokkien mee and fanciful dim sum items such as foie gras xiaolongbao.

A starkly different scene awaits diners one level down at Chinoiserie, a posh fine-dining restaurant that serves Asian food with haute French culinary touches. The prix fixe menus revolve around seasonal ingredients include signatures such as poussin stuffed with claypot rice, Nam Yu braised beef short ribs with sautéed duck foie gras and chestnuts, and starters such as Fin de Claire oysters topped with zesty ginger flower dressing and Lu Shui consomme jelly.
Casting His Net Wide
Quek is also capitalising on the wide range of people that visit MBS, such as exhibition and convention participants, office workers, tourists and families who have a choice between JustIN and Chinoiserie. "You cannot get everybody to spend $100. Some people just want to spend $20 on food. Either I go high-end or cheap," he says candidly.

Chinoiserie, which is designed by home-grown firm Asylum, is anchored by stately wooden and black decking, grey upholstered booth seats and matching grey walls with whimsical art pieces by Chinese artist Lin Hairong. Inspired by a French-style brasserie, Quek has installed a cooking station at the heart of the restaurant, where he can whip up canapes and light bites while interacting with diners.
Chinoiserie resembles more of a intimate private kitchen than a showy fine dining destination. (Credit: Chinoiserie)
Unlike the gargantuan 120-seat Sky On 57 that was built to impress, the 70-seat restaurant feels more like an intimate private dining hang-out as the bulk of the sitting are in the five private rooms. And the menu reflects this — only two or three prix fixe menus are available (from $150++).

Quek has kept the menu tight so that he can focus on the produce that is imported twice a week from all over the world. They include Manjimup black truffles, kinki and ayu fishes from Japan, French turbot and brown crabs from Brittany.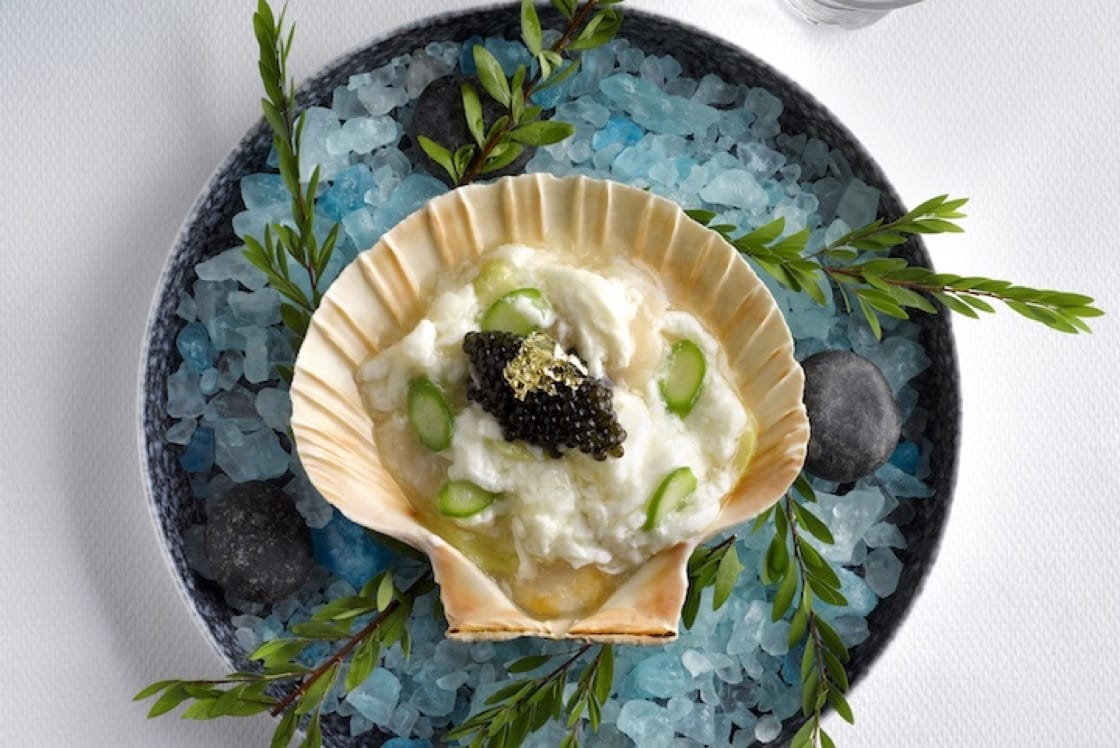 Chinoiserie's Scallop Har Gow Appetiser. (Credit: Chinoiserie)
Cooking European Ingredients With An Asian Style
On how the food at Chinoiserie is different from Sky On 57, Quek says that the menu is more prominently Asian.
He adopts an unorthodox approach: cooking ingredients that are not typically associated with Chinese cuisine with Chinese cooking methods. For example, wild challans ducks from France are fried in a wok, Chinese-style, to medium rare and served with black truffle and foie gras. He also uses a wok to fry vegetables such as asparagus and artichokes, which are typically not cooked this way.
Quek explains: "Chefs should open their minds. Traditionally, people cooked with ingredients available near them. Now, we can fly in ingredients from all over the world. Japanese fish need not remain in sushi restaurants. Why can't we cook Japanese fish in a Chinese style?"

He pipes a scallop mousse into a pan-roasted amadai tilefish "like a yong tau foo" and steams kinki fish Cantonese-style.

"When I was younger, I was trained by the French, but I understand my style of cooking better now," he says. "My techniques may be French but the flavours are Asian."
Chef Justin Quek believes that European ingredients can be cooked with Asian techniques like in a wok. (Credit: Justin Quek)
Surviving In A Tight Market

In a sluggish dining climate that is marked by the recent closures of several fine-dining restaurants, Quek remains cautiously optimistic about having just opened one.

He says: "It is tough to survive as a fine-dining restaurant these days. You need to have your own following. If you tell me to open in another location, I wouldn't have it. It is because I am in MBS where there is a lunch and dinner crowd, and festivals and events always happen here every month."

Quek laments that the diners have a wide variety of restaurants to choose from, on top of cheap and widely available hawker food.

He says: "People who understand fine-dining are getting old, the millennials here are not brought up with fine-dining. They only save up to go to these restaurants a few times a year for special occasions." Hence, he needs to be tactical on targeting the right type of diners.

"Many are well-travelled and they tend to go for semi-fine dining restaurants that offer good food in a relaxed environment," he adds.
""Chefs should open their minds. Traditionally, people cooked with ingredients available near them. Now, we can fly in ingredients from all over the world. Japanese fish need not remain in sushi restaurants. Why can't we cook Japanese fish in a Chinese style?" - Chef Justin Quek"
Branching Out
It helps that he also has his hand in other food businesses. In 2016, he opened luxe South-east Asian restaurant Xingzhou Laoye and Just In Modern French restaurant in Beijing. He also produces sauces and recipes for eateries in Shenzhen. He says: "China is a big market that you can't ignore. You need to plant a seed for your presence there."

Back in Singapore, he will team up with a vending machine company to dispense ready-to-eat meals such as chilli crab capellini and fish curry rice. His line of sauces, JQ, that includes satay, curry, sambal, and sweet and sour sauces, will be sold in supermarkets here in August.

When asked if he has any other projects in the pipeline, Quek, who sports spiky salt and pepper hair, responds with a loud laugh: "At my age, I already have a lot on my plate already."
---