A usual scene in the Tim Ho Wan kitchen would typically involve a flurry of flour-dusted hands. As these hands press, shape and mold dumpling skins, rows of siu mai, shrimp dumplings and Chiu Chow-style steamed dumplings begin to emerge. Among the chefs stands Mak Kwai Pui, founder of Tim Ho Wan, who still works at the kitchen whenever he is in Hong Kong—after all, the kitchen is the place where he feels the most at ease.

Chef Mak still works in the kitchen whenever he is in Hong Kong.
The story of chef Mak is a familiar tale in the local food community: a seasoned dim sum chef, he left three Michelin-starred Lung King Heen nine years ago to start Tim Ho Wan to pursue his own expression of Cantonese dim sum. And not long after the joint opened, it was awarded one Michelin star. Since then, Tim Ho Wan has taken the Asian market by storm.

At the end of 2016, Tim Ho Wan ventured into the U.S. market with the opening of it's 45th location in Manhattan's bustling East Village neighborhood. The media and hungry diners took the news by storm; hours-long lines formed on the 4th Avenue block day after day. Chef Mak brought a much-needed sigh of relief to New York City, as nothing on the menu is over $6—something unheard of in a city like New York that is saturated with many good eats, but many of which are not that affordable.

Adhering to the Traditions

Chef Mak attributes the popularity of his dim sum dishes to two key words: traditionality and freshness.

"Nowadays, the younger generation loves surprises in their food. I always aim for the opposite—I want my food to be honest and original," Mak says.

Mak is not timid to declare that he is no avid supporter of innovation, even though we are in the age where new creations are celebrated. "Innovation is good, but it's very hard to do it well," he says.

He takes presentation as an example—in order to deliver both an aesthetically-pleasing and good-looking dish, a lot of things may be compromised in the process. For instance, you may have to create a thicker dumpling wrapper to hold the shape of what's inside. Change of this kind is the last thing chef Mak wants in his dish: "I am not doing this at the expense of the quality of the dim sum."

The best of the MICHELIN Experience in your inbox
Stay on the top of the best restaurants, offers, lifestyle, and events recommended in our guide cities.
Subscribe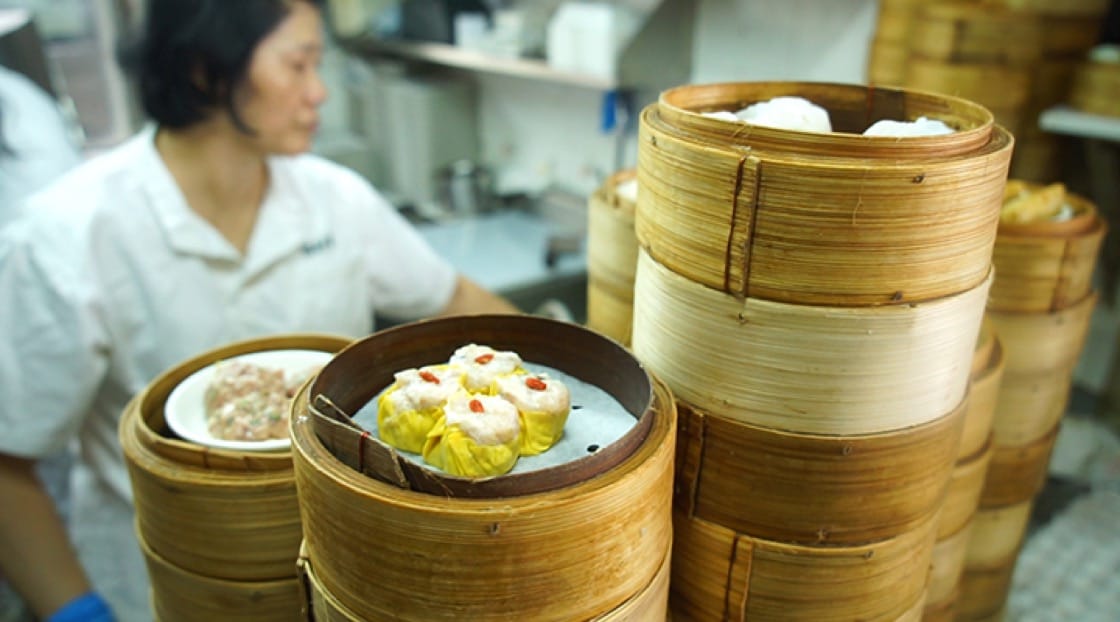 Tim Ho Wan's menu has always been small and houses only classic dim sum dishes.
Keeping the Freshness

Another thing chef Mak will never do with his dim sum: use extravagant ingredients. In this way, Mak is able to keep the price wallet-friendly, and in turn, garner a bigger crowd and generate better traffic. With good traffic, the ingredients will go fast and, as a result, the ingredients stay fresh.

"Here we cook to order and serve it to the customer immediately, so they can enjoy the dim sum at its best," Mak says.

This explains why Tim Ho Wan's signature baked char siu bao is so sought-after. While the seasonings and ingredients do not have a game-changing difference from its counterparts, all buns are baked to order and never re-heated, so the puff pastry covering the bun is at its flakiest state and the stuffing smells fragrant and fresh, not to mention it always arrive at the table piping hot—a quality the Cantonese consider most important when it comes to Cantonese cuisine.

The highly-sought after baked char siu bao.
Improving on the Existing Items

Although Tim Ho Wan's operation seems fairly stable, chef Mak is not resting on his laurels. Instead, he is constantly reviewing his current dim sum selection.

"To me, there's always room to improve every dish, and I prefer to spend my time on making them better and better."

Under Mak's direction, Tim Ho Wan has always boasted a small menu housing only classic dim sum dishes. "If you ask me for newfangled dim sum dishes, I can tell you frankly that we do not offer them, and I believe this is the charm of the restaurant," Mak adds with a satisfied smile.

Watch the full video below.