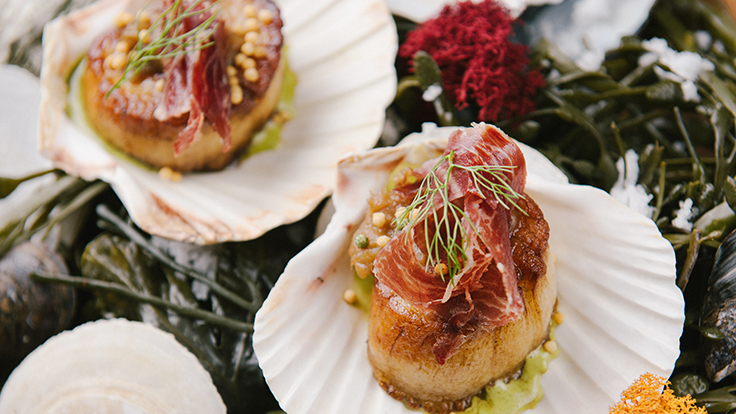 Mama Delia. Photo courtesy of Bonhomme Hospitality
Jason Vincent of Bib Gourmand
Giant
and chefs Aaron Kabot and Tom Scodari are behind this wonderful and enjoyable Chinese-American throwback in Bucktown where nostalgia is at the forefront of the concise menu.
The portions here are hearty, the flavors bold, and the pastas made in-house. Don't miss the lasagna Bolognese rotolo.
This Italian kitchen in West Loop contrasts ingredients and textures in such comforting plates as cacio e pepe finished with Sichuan peppercorns and lemon rind.
Munno Pizzeria & Bistro. Photo by Luca Pontarelli, courtesy of Munno Pizzeria & Bistro
Chefs Genie Kwon and Tim Flores, both formerly of
Oriole
, offer a contemporary Bucktown restaurant dedicated to Filipino cuisine and spectacular pastries.
The kitchen team is focused on cooking that is both ingenious and satisfying. To wit: pulpo canario is served with confit baby potatoes and chicharrón-infused olive oil.
The Neapolitan-inspired pizza here may not be made in the traditional wood-burning oven, but those electric deck ovens still manage to turn out deliciously puffy and lightly charred crusts.
Soulé's fried catfish. Photo by Rob Sese, courtesy of Soulé
Chef Andrew Lim's forte lies in his contemporary take on familiar Korean food. Here you will find tables spread with delicious banchan tailed by Waygu beef tartare accented with Asian pear.
Chef-owner Bridgette Flagg's excellent version of fried chicken is crisp, juicy, and well-seasoned.
Chef Carlos Gaytán and his team craft creative Mexican dishes that at once feel traditional and inspired.
Nepalese executive chef Min B. Thapa is no stranger to the Chicago dining scene. His cooking is replete with wonderfully, rich flavors and unique methods.
Vajra. Photo by Neil John Burger, courtesy of Vajra
Hero image. Kasama's fruit tart. Photo by Mike O'Bryan, courtesy of Kasama
Presented in partnership with S.Pellegrino