Congratulations to Soulé, in this year's Washington, D.C. MICHELIN Guide as a Bib Gourmand, sponsored by San Pellegrino! Chef-owner Bridgette Flagg sat down with us to talk about the importance of feeding and supporting her community, Soulé's best-selling fried catfish, and the must-have Soulé secret seasoning.
Soulé's fried catfish. Photo by Rob Sese, courtesy of Soulé
What kind of cuisine does Soulé specialize in?
Soulé is a boutique-style soul food restaurant, creole-infused. We serve Southern-style dishes like mac and cheese, fried chicken, shrimp and grits, and New Orleans-style barbecue shrimp.

What's your favorite dish that you serve at Soulé?
My favorite dish at Soulé is our fried catfish. It's our number one best-seller. It comes in fresh, daily and is seasoned with our house blend of Soulé secret seasoning, then battered and deep-fried.
What's an ingredient you you love using?
My favorite ingredient to use is the Soulé secret seasoning. It's a blend of seasonings I concocted, and I use it on everything except for my sweet potatoes; from mac and cheese to lamb chops, it's an all-purpose seasoning.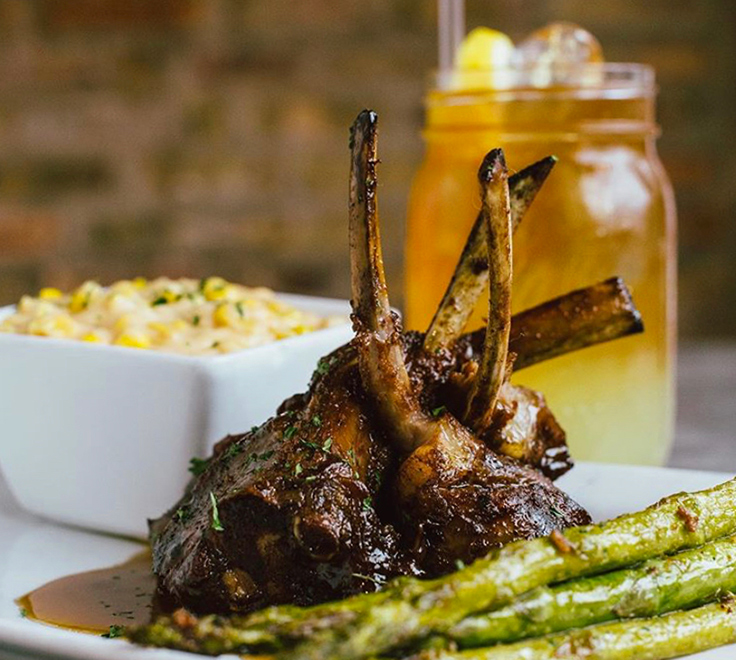 Soulé's lamb chops. Photo by Rob Sese, courtesy of Soulé
How did you decide you wanted to be a chef?
Once my parents passed away, I started cooking. I'd have get togethers and Sunday dinners for my family and friends. They said, "Hey, we love the food, you should open up a restaurant." Being a hair stylist and tax preparer, I didn't know anything about a restaurant, so I started selling plates on Instagram to see if people would love the food, and I got a great response. I was selling 50-60 plates from my childhood home. Seeing everyone coming together, the love, the family, the food, it inspired me to want to be a chef, step out on faith, and open up Soulé.
What is your restaurant's mission?
My mission for Soulé is to reintroduce family back into our community. When I was growing up, we all sat down as a family and ate dinner every Sunday. Here at Soulé, all my cooks are men, young and old. Some of these cooks have been incarcerated before. I want to give them a second chance. I don't remind them of their past. These guys are really hard workers and they appreciate the job. I'm teaching them how to cook their pain through food because that's how I started cooking. I had a lot of pain from the loss of my family, so I started cooking. And when I say these guys can cook, they can cook!

What inspires you to get up in the morning?
My community and my employees—feeding my community, and keeping my employees off the street. I have a lot of people riding on me, and that inspires me to get up every single morning.



Hero image: Soulé chef-owner Bridgette Flagg. Photo by Shaun Andrew, courtesy of Soulé

Presented in partnership with S.Pellegrino