A MICHELIN Star is awarded for outstanding cooking, but a MICHELIN Green Star is awarded to restaurants that are highly sustainable—working with local farmers, growers, and fishers, utilizing seasonal ingredients, avoiding waste, reducing or removing entirely single-use plastics, and generally working to have a lower environmental impact. For UN Sustainable Gastronomy Day and every day, 11 MICHELIN Green Star restaurants where being kind to the environment is as important as the food.

Stone Barns Center for Food and Agriculture sets the national conversation for healthy and sustainable food systems.
Chef/co-owner Dan Barber asked, "
How could we support the bottom line of small, independent farms? What exactly did a menu that delivers on the economic viability of farmers and the ecological viability of their farm look like?
" These question carry onto the bone ash china gracing the tables and kitchen scraps transformed into charcoal. Meals begin with an onslaught of clever bites, mostly vegetables plucked from the property's greenhouses and farm. The kitchen infuses even the most unlikely ingredients—sourced from 60+ local farmers—with magic, like zesty green gazpacho paired with surf clam and radicchio; or dry-aged golden beet "steak" adorned with beef-studded jus.
Blue Hill at Stone Barns. Photo by Alice Gao
Embellished to the very last inch, this dining room resembles a jewel box lined with patterned carpets, lush wallpaper, and shimmering fabrics.
The Inn has been serving regional American cuisine utilizing indigenous products from local farmers, ranchers, and the Inn's own garden for 43 years.
Chef-owner Patrick O'Connell says, "
The importance of conscientious stewardship for our surrounding land of Rappahannock County adjacent to Shenandoah National park has become a strong movement. Our staff is working diligently on reducing plastic consumption and recycling and we continue to enhance our practices daily.
" Each menu has a unique focus, as in the "Gastronaut" and "The Good Earth" offering superb vegetarian items. Sauces work a particular magic, as evidenced by the truffle-infused tartar with morel "crabcake."
The Inn at Little Washington. Photo by Gordon Beall
This Hollywood darling pleases with creative cocktails and delicious Italian cuisine while
upholding chef-owner Nancy Silverton's commitment to sustainability
. There are low-flow faucets in the bathroom and kitchen prep sinks, to conserve water in a draught-prone state.
"We've always been very, very conscientious as to the purchasing of our vegetables and proteins, to make sure we understood how they were grown and who we were buying from,"
Silverton says. The team here strives to show you around the corners of Italian cooking, so dive right in to the calf's brain ravioli with burro e limone. The crispy chicken leg is pure and simple comfort food; and pastas are unsurprisingly phenomenal—try the orecchiette with sausage and Swiss chard.
The carnivorous heart of Nancy Silverton's "Mozzaplex" aims to uphold the same sustainability standards as Osteria Mozza. It's intimate, engaging, and expensive—a place to splurge on date night with a special vintage and view of the bustling wood-fired oven and grill. The result is a modern Italian take on the old-school steakhouse, with the focaccia di recco and bistecca alla Fiorentina being some of their key indulgences.
Osteria Mozza. Photo by Anne Fishbein
The French Laundry. Photo by Deborah Jones
SingleThread farmer co-owner Katina Connaughton and chef co-owner Kyle Connaughton. Photo by Roman Cho
This crowning dining room is perched on a bluff, surrounded by craggy cliffs, the crashing Pacific, and a spectacular sunset. This is cooking that is highly original, driven by impeccable technique and devotion to sustainability.
Chef Matthew Kammerer is devout when it comes to hyper-local and foraged ingredients; his efforts include utilizing produce sourced from their organic farm, hydrated with the restaurant's gray water. Rather than relying on delivery trucks, the team forages for seaweed in nearby tidepools, along with mushrooms, edible weeds and other low-impact ingredients.
Bread service includes slices of fantastic sourdough, flecked with seaweed. Then, seaweed may return in the form of ice cream with bay nut, quince, and shiso—flaunting an ingenious union of sweet and savory tastes.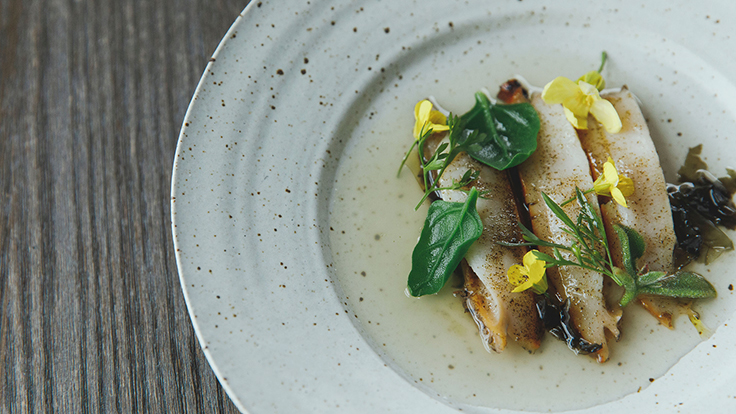 Harbor House. Photo by Harbor House
Farm-to-table dining has spread far and wide, but credit Chez Panisse and chef-owner Alice Waters with birthing the farm-to-table movement in America.
Since 1971, the restaurant hasn't wavered in its dedication to serving nothing but California's bounty on a plate (all produce is sourced from a 50-mile radius).
Moving beyond words like local and in-season, Chez Panisse has become a proponent of the "slow food" movement that requires regenerative methods of growing, raising and cultivating ingredients. For Waters, it isn't simply a matter of superior taste, but an obligation to future generations. Diners here are privy to one nightly fixed menu of four rotating courses starring peak-season produce—from fresh peas, asparagus and black truffle in a spring risotto, to sweet corn and squash blossoms served with a summer preparation of pork loin.
Chez Panisse chef-owner Alice Waters. Photo by Amanda Marsalis
Chef Dominique Crenn. Photo by Jordan Wise
Like its sister next door, Bar Crenn adheres to the same sustainability tenets. Designed with an eye on Paris during Les Années Folles with a splash of speakeasy, this room is a flea market-chic amalgam of lounge furniture, glinting chandeliers and vintage accents. The classic French cooking strives to recreate many of the century's great dishes, but the concise menu evolves with the seasons—think Fleur de Courgettes Farcies, a squash blossom filled with ground spot prawn, or the tarte a la tomate with a delicate, golden-brown crust filled with parmesan custard and topped with red and golden cherry tomatoes.
Bar Crenn. Photo by Kimberly Zerkel
Quince chef Michael Tusk at Quince at the Farm. Photo by Dora Tsui
Hero image: Harbor House chef Matthew Kammerer tidepooling along the Elk coast. Photo by Joe Weaver
---
Subscribe to our newsletter to stay on the top of the MICHELIN Guide's best restaurants, plus chef interviews, recipes, travel stories, and more.
---