What are chefs without their tools? With all of the focus on ingredients these days, it's easy to overlook technique. That of course, would be a big mistake. From heritage stone tools to the most modern appliances, Bangkok's top chefs reveal their kitchen must-haves.

Tandoor - Chef Amit Kumar, Indus (Michelin Plate)
"Indian cuisine changes its taste, flavour, and aroma every hundred kilometres you travel in the country. Being a chef, I have chance to learn and showcase this with conviction. The history and civilisation of Indian cuisine is yet to be explored and I see myself as very fortunate to be an explorer in this case! The one kitchen tool that I cannot survive without is the tandoor. In my kitchen, it is not only an essential utility, but also a one-point solution for combination methods such as char-grilling, broiling, roasting, baking, braising and smoking. The tool gives phenomenal consistent results and the diners can enjoy this outcome."

Chef Amit Kumar has a particular dish that shines with the help of the tandoor, "to cook a succulent and juicy piece of big meat is always a difficult task. It requires a certain skill set, expertise, as well as patience. The Raan that we cook at Indus is a showpiece. The meat is marinated and braised for several hours before it is served to our guests."

See what our Michelin Inspectors said about Indus (Michelin Plate) here.

Chef Amit Kumar of Indus. Tandoor photo source: Shutterstock.
'Hoak' Ladle - Chef Ball Yau, Mei Jiang (Michelin Plate)
"My family is from Hong Kong so Cantonese cuisine is in my DNA. As far as I can recall, my first meal was a Cantonese-style soup cooked by my mother. My observations from childhood of my mother's cooking allowed me to learn various traditional cooking techniques. When I decided to pursue a career as a chef, there was nothing better for me to focus on. In my kitchen, I personally consider the 'hoak' (a ladle)—which is regularly and traditionally used in Chinese and especially Cantonese kitchens—an essential utensil. With only this spatula, I can make soups, sauces, stir-fries and deep-fried dishes, as well as measure ingredients. When we start using this utensil, we find that only with this one tool, you can cook efficiently.

I enjoy using the hoak for making for sauce or gravy for food glazing. This tool can help you smoothly blend all ingredients when you stir them repeatedly in the wok, because its shape perfectly matches the form of the wok. The dish that I most enjoy cooking with it is Braised Abalone with Shiitake Mushroom and Green Vegetables."

See what our Michelin Inspectors said about Mei Jiang (Michelin Plate) here.

Chef Ball Yau of Mei Jiang. Hoak photo source: Shutterstock.
Steam Convection Oven - Chef Shigeru Hagiwara, Yamazato (Michelin Plate)
"I admired a Japanese chef in a television drama and wanted to be like him, but I always enjoyed cooking even before becoming a chef," says Chef Shigeru. On the tool that is essential to his Kitchen, he says, "It's the steam convection oven. It makes it possible to cook at low temperatures and to cook overnight. We use it to make our Buta Kakuni Yamazato Fu (Yamazato original simmered pork belly in sweet soy sauce by Chef Shigeru Hagiwara). The pork is simmered for 12 hours overnight."

See what our Michelin Inspectors said about Yamazato (Michelin Plate) here.

Chef Shigeru Hagiwara of Yamazato. Steam oven photo source: Panasonic.
'Krok & Saak' Mortar and Pestle - Chef Chalee Kader, 100 Mahaseth ( Bib Gourmand)
"Born and raised in Thailand, with parents who enjoyed eating, cooking and "criticising every dish that was sweet", it was only normal for Kader to have an innate love for Thai cuisine and cookery. Having a highly critical mother who cooked Thai food at home made it more of a challenge to actually take on Thai cooking rather than encourage it. "But it made sure that if I was going to do Thai of whatever style or region, it had better be on point and a reflection of what I enjoyed eating growing up."

"The 'krok & saak' or mortar and pestle is the most essential tool in the Thai kitchen. The krok is the beginning of many recipes, used in our daily lives to grind spices, rice, and herbs or to make dough, dips, relishes, and curry paste. Whether it will be the krok krabue, krok mai (wood), krok din pao (clay), or krok hin (stone), they have evolved through time and purpose, and has been engraved in our culture for a very long time."

When asked what his favourite dish to make with a krok was, Kader responded, "Prik Gaeng (curry paste) because no blender or food processor can bring out the flavours and textures of ingredients like a krok can."

See what our Michelin Inspectors said about 100 Mahaseth (Bib Gourmand) here.

Chef Chalee Kader of 100 Mahaseth.
Cocotte - Chef Arnaud Dunand-Sauthier, Le Normandie (2 Michelin Stars)
"French cuisine is deeply embedded in my roots. My menu is inspired by my home region of Savoy in the French Alps. French food is my passion and my identity. The diversity of products we get in France is without a doubt one of the best you can find in the world. I like to talk with my local producers and to create a really close relationship with them in order to get the best out of them," says Chef Dunand-Sauthier of Le Normandie.

In order to take advantage of these fine French products, Chef Dunand-Sauthier turns to a tried and true cooking tool. "I like to cook with big 'cocotte', an old-fashioned pot like Staub. I like it because you can do almost everything with one simple item from sauces to roasting meat, slow-cooked stews, almost anything is achievable! My favourite thing to make with the cocotte is a nice piece of meat like chicken. You can start roasting with garnishes and afterwards, in the same cocotte you can finish slowly in the oven to get all the flavours perfectly blended."

See what our Michelin Inspectors said about Le Normandie (2 Michelin Stars) here.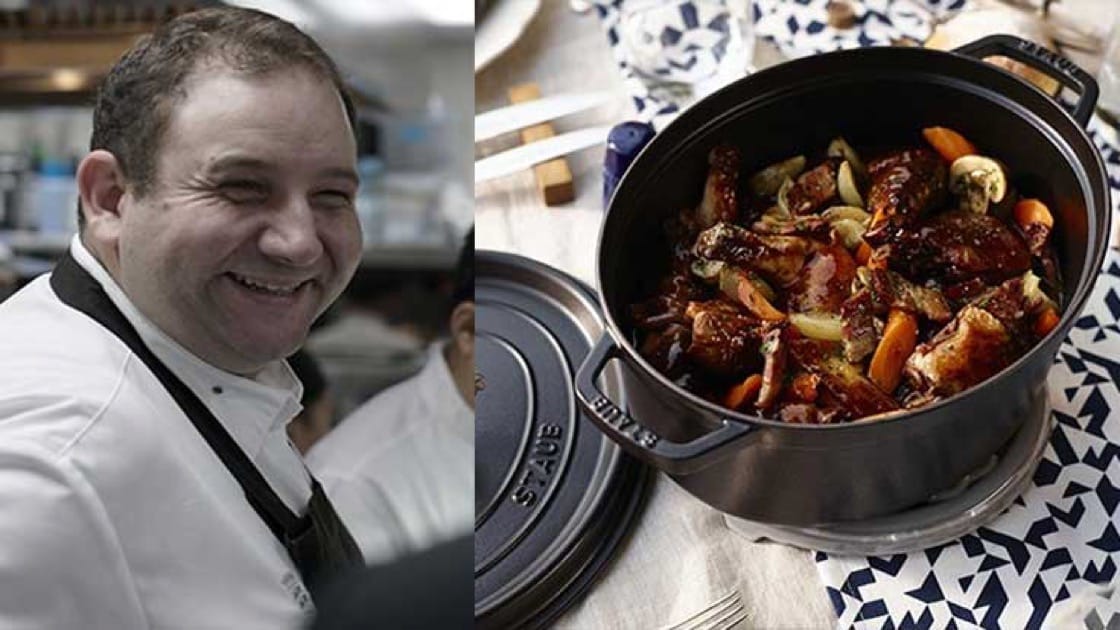 Chef Arnaud Dunand-Sauthier of Le Normandie. Cocotte photo source: Staub.
Sous Vide Machine - Alessandro Frau, Acqua Phuket (Michelin Plate)
"My cuisine is influenced by my childhood in Italy, from the taste of my mother and grandmother's food, from our traditions and our ingredients. Using my memories and life experiences, I finally created my own style of evolved Italian cuisine using today's techniques, tools and new ingredients with a very strong connection to the base of Italian food culture.

One of the best tools I use is the sous vide machine. It allows us to slow-cook ingredients keeping almost all the natural properties, most of the juices, weight and colour, but at the same time, maintaining their amazing tenderness and better preservation. The extremely precise temperature control and timing helps to achieve consistent results. Probably the most interesting and pleasurable item on my menu to cook with the sous vide machine is our signature Sardinian-style Suckling Pig. The meat is cooked for 24 hours at 61 degrees, so it is amazingly tender and juicy. Another very good thing is that we can cook a whole baby pig. Whenever our customer orders it, we will complete the dish by cooking it at high temperatures in a wood-fired oven which gives the suckling pig a perfect crispy skin. The regular time to cook a suckling pig is at least two hours. With sous vide, we can serve this dish anytime to our customers"

See what our Michelin Inspectors said about Acqua (Michelin Plate) here.

Chef Alessandro Frau of Acqua. Sous Vide Machine Photo: Shutterstock.