"I'm actually heading to Taiwan tomorrow," says Chef Thithid "Ton" Tassanakajohn with a smiley emoji over a text message when I reached out to organise a call with him.

Due to the pandemic, it has been years since the Thai chef, known for his one MICHELIN Star restaurant Le Du, as well as the MICHELIN-listed Baan, Samut, and Nusara, last visited the island. In Taiwan, he also operates a restaurant business that promotes Thai cuisine.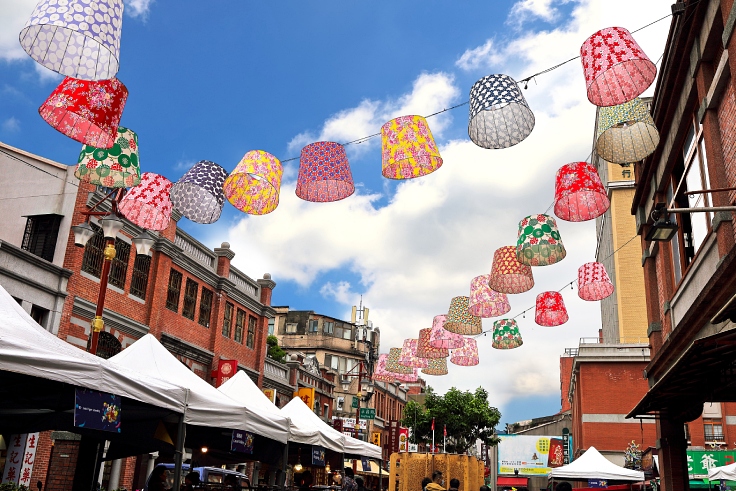 Dihua Street in Dadaocheng, the first Chinese settlers came to the area in the mid-1800's during the Qing Dynasty. (© Shutterstock)
To the 36-year-old chef, it's not only the warm kindness and generosity of the Taiwaneses that often reminds him of his fellow Thais, but also the vibrant and affordable culinary scene that is reminiscent of his homeland. Moreover, Taipei's delectable street food keeps calling him back beyond work commitments. From streetside hot dumplings to luxurious fine-dining delights, the jetsetting chef cannot get enough of Taiwan.

As he manages to take some time off from his journey to chat with me, he shares his favourite spots in Taiwan.



Chef Thitid "Ton" Tassanakajohn in Taipei. (© Thitid Tassanakajohn)
Where to return to
"I often find myself wandering around Dadaocheng to visit the century-old Xia Hai Temple. Then, you can always find good street food around the temple as there are so many vendors. I don't remember the names but I do remember that there are many good ones."
Where to have an unforgettable experience
"
Mume
(MICHELIN-listed, MICHELIN Guide Taipei, Taichung, Tainan & Kaohsiung 2023) is hands-down my number one place to go. It's somewhere I've always admired and enjoyed visiting for a long time. They are one of the most creative restaurants in the country. The place is cosy. The food is spectacular with finesse.
"Though Taichung is not as big and happening as Taipei,
JL Studio
(two MICHELIN Stars, MICHELIN Guide Taipei, Taichung, Tainan & Kaohsiung 2023) is somewhere I find myself, fascinated by their highly-skilled craft that deserves their two MICHELIN Stars. It has become a fine-dining destination that serves great food while showcasing second-to-none kind of techniques."
JL Studio by Chef Jimmy Lim Tyan Yaw. (© JL Studio)
Where to go for a night out
"There are two bars that I like. Indulge Experimental Bistro is a bar in central Taipei where I always have a great time with their creative cocktails. Draft Land is also very cool when it comes to innovative drinks."

The prestigeous Mandarin Oriental Taipei and the swanky W Taipei. (© Mandarin Oriental Taipei, W Taipei)
Where to stay
"
Regent Taipei
is very convenient due to its location. You can walk around to shop, eat at various good places nearby, especially a beef noodle shop on the floor below. I also like the impressive service at
Mandarin Oriental Taipei
.
W Taipei
is also a good choice as it's very near Taipei 101."
Where else to go
"I would highly recommend paying a visit to
Yilan
. It's a small and laid-back city that you can drive to from Taipei. You can also drop by
Kavalan Brewery
on the way to see how they make a local Taiwanese whiskey brand too."
Ilustration image © Thitid Tassanakajohn, Shutterstock, W Taipei, Mandarien Oriental Taipei, Mume
---
---