Mention national dish, and it's easy to pinpoint Thailand's pad Thai, Taiwan's beef noodles or Indonesia's nasi campur as the defining food of those countries. But in Singapore, more is more, especially when there's a melting pot of cultures that have contributed to the development of our palates over the decades.
A national dish is defined as the culinary creation that best represents that country. It can be an unofficial favourite dish or an officially declared one, but whichever the case, it is strongly tied to the cultural identity of its people.
Visitors to Singapore have a checklist that often include chicken rice and chilli crab, but why stop there? We expand the list to eight must-eat items, each one significant for its contribution to our culinary pride, and include recommendations on where to eat different renditions of the same dish.
From light meals and main courses to dessert, here's where to start.

168 CMY Satay (Pic: MICHELIN Guide Digital)
Light meals
Satay
The pleasure of satay lies in the trifecta of charcoal grilled meat, Malay-influenced spice marinade, and the cool contrast of peanut dipping sauce. Although its origins are likely from the Arabic skewered meat tradition, this dish has been thoroughly adapted to Indonesia, Malaysia and Singapore, where it hails in chicken, lamb, beef and pork variations. A unique local touch is seen in the addition of tangy and sweet pineapple puree to the peanut dip, which you will find at both MICHELIN Plate stalls 168 CMY Satay and Chomp Chomp Satay.
Conveniently located in central Chinatown, 168 CMY Satay is so named for its stall number (168) as well as its supplier Chun Man Yuan Food Supplies, a well-known 3rd generation satay manufacturer. Its satay is available in chicken, mutton and pork, and cooked-to-order to tender, grilled succulence.
Tucked away in the famous Chomp Chomp Food Centre in the heartlands estate of Serangoon,
Chomp Chomp Satay
opens only at night serving up chargrilled sticks of pork, chicken and mutton satay. The care taken in achieving that grilled exterior while keeping its meat juicy has earned it a MICHELIN Plate distinction since 2018.
Roti prata (file photo)
Prata
From breakfast to supper, prata is a national culinary icon well-loved by people of all ages. This Indian flaky flatbread is crisp from being fried, and fluffy on the inside, ideal for dipping into curry or eaten with a sprinkle of sugar. MICHELIN Plate Springleaf Prata Place offers many more modern variations with one thing in common: the prata itself is always reliable and handmade at the live station. Try it with egg, cheese, mushrooms, red bean, banana or simply plain. The full-service restaurant also dishes up Northern and Southern Indian cuisine for a bigger meal.


Tian Tian Hainaese Chicken Rice
Chicken rice
Don't underestimate the humble plate of chicken rice – Singapore's unofficial national dish inspires daily devotion and can be found everywhere, from humble hawker stall to the top hotels. Comprising slices of chicken, aromatic rice and fresh tangy chilli, chicken rice can trace its origins to Hainan island, where a version called Wenchang chicken first hailed. Its adaptation in Singapore includes the use of younger, more succulent chicken, while the chilli must have the right blend of spicy and sour.
Boon Tong Kee is a brand synonymous with chicken rice with multiple outlets, but its MICHELIN Plate is awarded to the original restaurant, established in 1983, at Balestier Road. Its poached white chicken is silky smooth and the rice is perfectly suffused with chicken stock and aromatics.
With a Bib Gourmand rating, Tian Tian Hainanese Chicken Rice is one of the most famous stops for chicken rice in the bustling financial district. Each element is in harmony, from the tender chicken and secret housemade dressing for the chicken, to the aromatic rice.
Pepper is the hero ingredient in Song Fa's pork rib soup, made with fall-off-the-bone tender pork ribs and Sarawak peppers roasted in-house. Photo: Nicholas Ee
Bak kut teh
Its name translates to 'meat bone tea', alluding to the main ingredient in this pork rib stew. Bak kut teh is thought to have been introduced to Malaysia and Singapore through Fujian's Hokkien immigrants. There are three main traditional styles of the soup, from dark and herbal to clear and peppery.
At Bib Gourmand eatery Song Fa Bak Kut Teh, the queues are long for its famous peppery pork rib soup. It first started out in 1969 as a pushcart stall, but expanded under the second generation before opening overseas outlets in Indonesia, China and Thailand.
For the dark, herbal version, MICHELIN Plate Hokkien Street Bak Kut Teh ticks all the right boxes with its Hokkien style broths as well as braised offerings.
BEHIND THE BIB: Song Fa Bak Kut Teh
Hawker-Owner Daniel Soo is the face you'll see dishing out laksa and mee siam at the stall
Laksa
With Chinese and Malay origins, laksa can be found in many regional variations across Malaysia and Singapore. It is a one-bowl meal, comprising a rich spicy coconut-laced soup, rice noodles and ingredients such as fishcake and prawns.
For a taste that relies less on coconut milk, head to Bib Gourmand hawker stall Famous Sungei Road Trishaw Laksa in Chinatown. Owner Daniel Soo instead adds more flavour through the use of dried scallops and dried oysters to boost the seafood umami.
RELATED: Hawker Guide To Hong Lim Market and Food Centre
Over at another Bib Gourmand venue,
Depot Road Zhen Shan Mei Claypot Laksa
, a more traditional creamy gravy can be found. The slow cooked broth features fresh squeezed coconut milk, blue ginger, turmeric, belachan, shrimp paste and chilli, which is served bubbling and piping hot in a claypot.
Main Meals
Chilli crab

Proudly originated in Singapore, chilli crab gets its delectable flavours from a combination of chilli sauce, tomato paste, sambal and egg, along with tweaks and variations across the many seafood restaurants that serve it.
(Left image: Roland Seafood)
Go straight to MICHELIN Plate-recognised Roland Seafood, a second-generation restaurant in the eastern part of Singapore, where founder Madam Cher Yam Tian is said to be the creator of the dish in the 1950s, and her son Roland currently holds the secret recipe that envelops Sri Lankan crab cooked to red-hued perfection.
Steaming platters of chilli crab adorn most tables at Sin Hoi Sai, a MICHELIN Plate-rated live seafood restaurant specialising in crab. Prior to COVID-19, the restaurant had regular shipments of specialty crab such as king crab, snow crab, Dungeness crab and meaty Sri Lanka ones. Celebrities, local and overseas, can be spotted tucking into the dish, which is always made up of your choice of crab ladled over with a more viscous version of the chilli gravy.
Curry fish head
Another dish created in Singapore, curry fish head brings together two cultures: curry from south India, and the fondness for fish head from the Chinese. Served in both Indian and Chinese eateries, the unique curry can be more piquant with use of tamarind or richer in spices with a spicier paste base.
At a regular-looking coffeeshop in Jurong, Bib Gourmand eatery Zai Shun Curry Fish Head has been operating for close to 40 years. They have a fierce following for the stall's star dish – curry fish head using wild caught red snapper in a lighter style tamarind-tinged gravy (right image). The stall also specialises in seafood, as well as other popular cze char dishes.

Muthu's Curry, which has a Bib Gourmand rating, serves its fish head curry in a posh restaurant, but still holds true to the cooking that was established in 1969 by the founder, Ayyakkanu. His sons now oversee the secret recipe of their spicy, robust curry paste, with added pineapple chunks and typical vegetables of okra, tomato and brinjal.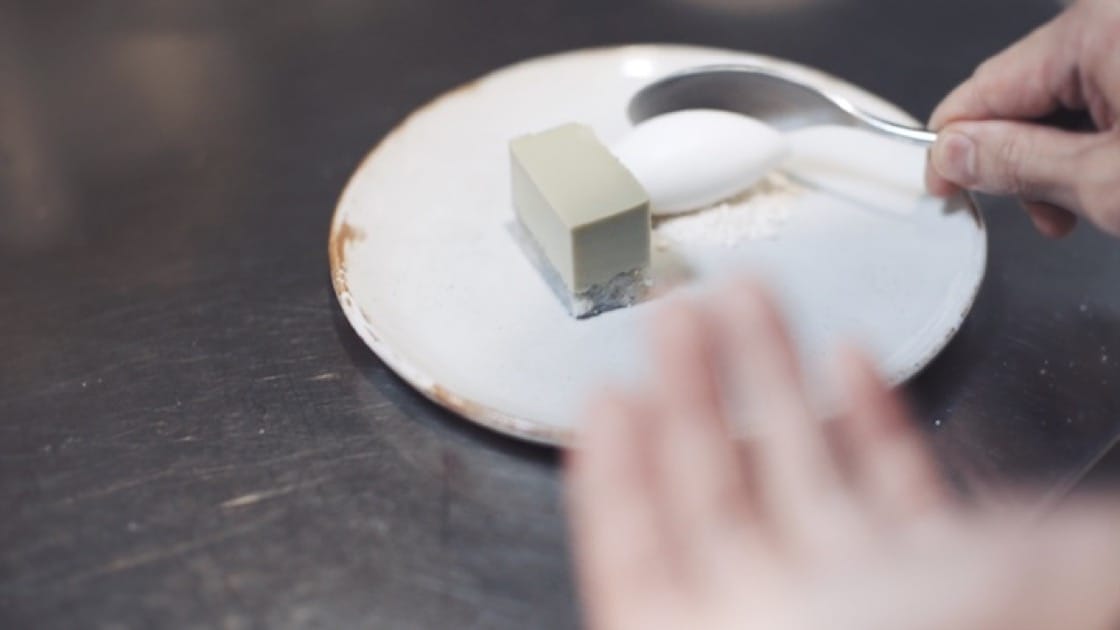 One MICHELIN star Candlenut's kueh salat
Dessert
Kueh salat
What's old is new again. Kueh salat, also known as kueh seri muka, is a Malay and Peranakan steamed two-layer cake comprised of glutinous rice and pandan custard. Of all the tempting kuehs in the Malay and Peranakan lexicon, it is kueh salat that has trended in Singapore and which can be found at hip bakeries and restaurants alike.
You'll find a traditional version that's hard to beat at Bib Gourmand-rated Hjh Maimunah, located in the Arab quarter of Singapore. This coconut kueh is made daily from fresh-squeezed coconut milk for its unbeatable fragrance and richer flavour.
For a modern rendition of the cake, one-MICHELIN-star restaurant Candlenut has a remake that's heavy on the pandan custard and light on the glutinous rice, accompanied by glutinous rice sorbet. There're only 20 freshly made portions a day. Tempted as you may be to scarf the aromatic sweet treat quickly, take a minute to read about chef Malcolm Lee's thoughtful inspiration for the dish here.