The Bib Gourmand category was created in 1997 and granted by MICHELIN's inspectors to the addresses that offer diners very good value for money, with a complete and high-quality menu priced at a maximum of SG$45. In Singapore, these establishments run the gamut of restaurants, street food outlets and hawker stalls.

These hawkers are the lifeblood of Singapore's food scene and they have been among the hardest hit by the Covid-19 pandemic and the nationwide circuit breaker measures. While we look forward to the day we can dine in the hustle and bustle of our favourite hawker centres, here are some popular Bib Gourmand hawkers who will deliver their delicious fare right to your doorstep.
A Noodle Story
Amoy Street Food Centre, 7 Maxwell Rd, #01-39
What you get here is a bowl of Japanese ramen reimagined and reengineered, Singapore-style. They serve only one style of noodles in varying portions; for delivery, customers can choose from sizes small ($9.20) and medium ($12.20). The noodles are prepared in the style of a Hong Kong wanton mee and accompanied by their take on char siew – the pork is sous-vide for 36 hours before getting lightly smoked in wood chips, and finished with a homemade sambal and fragrant dried shrimp. Add-ons include shrimp wonton in soup ($6.20), potato-wrapped prawn ($4.60) and hot-spring egg ($1.60).
How to order:
Orders for delivery will open
online
at 2pm for following day's delivery and close when all delivery slots are taken up. There is no minimum order with flat-rate delivery fees of $6 within 6km and $12 beyond 6km of Amoy Street Food Centre. Islandwide delivery for A Noodle Story is also available on
GrabFood
.
A Noodle Story (Photo: MICHELIN Guide Digital)
Koh Brother Pig's Organ Soup
Tiong Bahru Market, 30 Seng Poh Road, #02-29

A new entrant into the MICHELIN Bib Gourmand 2019 selection is this non-descript stall in the foodie haven of Tiong Bahru Market and Food Centre that specialises in zhu zha tang, or pig's organ soup. The Teochew-style clear soup is made from boiling pork bones and offal with tangy salted preserved mustard vegetables. The peppery soup, brimming with liver, tripe, intestines, fatty pork belly and meatballs, is served with rice and a piquant chilli sauce. For delivery, only the large bowl is available and prices range from $6.50 to $7.50 depending on your choice of offals with rice for an additional $0.80.

How to order: Koh Brother Pig's Organ Soup is available for islandwide delivery on GrabFood and the delivery fee varies by distance.

(Photo: Koh Brothers Pig's Organ Soup Facebook)
Alliance Seafood
Newton Circus Food Centre, 501 Clemenceau Avenue North. #01-27

Alliance Seafood is a 30-year-old seafood institution at the popular Newton Circus Food Centre that featured in the 2019 hit movie Crazy Rich Asians. Available for drive-through takeout and islandwide delivery are its signature seafood items like stingray, sotong, la la and gong gong ($12, $15 or $20) as well as chilli and black pepper crab at $40 per crab.

How to order: Visit the Facebook page for the full menu and WhatsApp Desmond at 9643 7234 to place an order. Orders begin at 3pm daily. Delivery fees vary from $8 to $12 across the island; delivery is free for orders above $60.


To-Ricos Guo Shi
Old Airport Road Food Centre, 51 Old Airport Road, #01-135/136

Another new entry in the MICHELIN Guide Singapore 2019 Bib Gourmand selection, To-Rico's Guo Shi specialises in kway chap, a classic Teochew dish that comprises an assortment of soya sauce-braised offal served with a separate bowl of slippery flat rice noodles in soup. Customers can order kway chap sets for 1-5 persons ($12-$50) which come with a mix of intestine, pig stomach, pork belly, tenderloin, taupok and egg. The rice noodles come uncooked with simple instructions for boiling at home so you get the best consistency.

How to order: To-Ricos is only available for lunch time delivery between 11am-1.30pm daily with a day's advance order from 4pm onwards. WhatsApp Vincent at 8923 0892. Delivery fees vary across the island from $2-6. Visit the Facebook page for more details and updates. Islandwide delivery for To-Ricos Guo Shi is also available on GrabFood.


(Photo: To Ricos Kway Chap Facebook)
Shi Hui Yuan
Mei Ling Market & Food Center, 159 Mei Chin Rd, #02-33

While the original Mei Ling Market stall is only open for takeaways from Thursdays to Sundays, Shi Hui Tuan's central flagship at Lau Pa Sat is open Monday to Friday with islandwide delivery for its famous herbal hor fun. Flat rice noodles are smothered in the stall's signature sticky, savoury collagen-rich gravy and topped with ingredients like braised mushrooms ($5.80), chicken ($6.30), duck ($7.30) or a combination ($8.30-$8.80).

How to order: Islandwide deliveries for a flat rate of $4.90 are available Monday to Friday from 8am to 9pm with one day advance order with a minimum spend of $30. Click here for the menu and to order, or visit the Facebook page for more details. Islandwide delivery for Shi Hui Yuan is also available on GrabFood.



Lao Fu Zi Fried Kway Teow
Old Airport Road Food Centre, 51 Old Airport Road, #01-12

There's only one dish on the menu at this three-decade-old institution, and that's a wok-kissed hearty plate of char kway teow studded with sweet Chinese sausages, cockles and beansprouts. The fried noodles come in small ($5), medium ($8) and large ($10) portions with a spicy and non-spicy option.

How to order: Islandwide deliveries are available Monday to Friday with one day advance order (11.45am-11pm). Delivery fees are $6 within 5km of Old Airport Road Food Centre and $10 islandwide, with no minimum order required. WhatsApp 8614 9191 to order.



New Lucky Claypot Rice
Holland Drive Market and Food Centre, 44 Holland Drive, #02-19

Even before Circuit Breaker measures, this popular claypot rice stall at Holland Drive Food Centre drew notoriously long waits for its dishes, cooked to order over charcoal stoves. Islandwide delivery now means you can wait in the comfort of your own home. Three variations of the claypot rice are available for delivery: chicken, Chinese sausage or a mix of chicken, Chinese sausage and salted fish ($15 for 2 persons, $20 for 3 and $25 for 4) with a maximum order of 8 packets per location.

How to order: Check in on the Facebook page for new delivery slots every week. WhatsApp your preferred delivery date to 9369 7922 and you will be contacted 2-3 days before the delivery date for payment and order confirmation.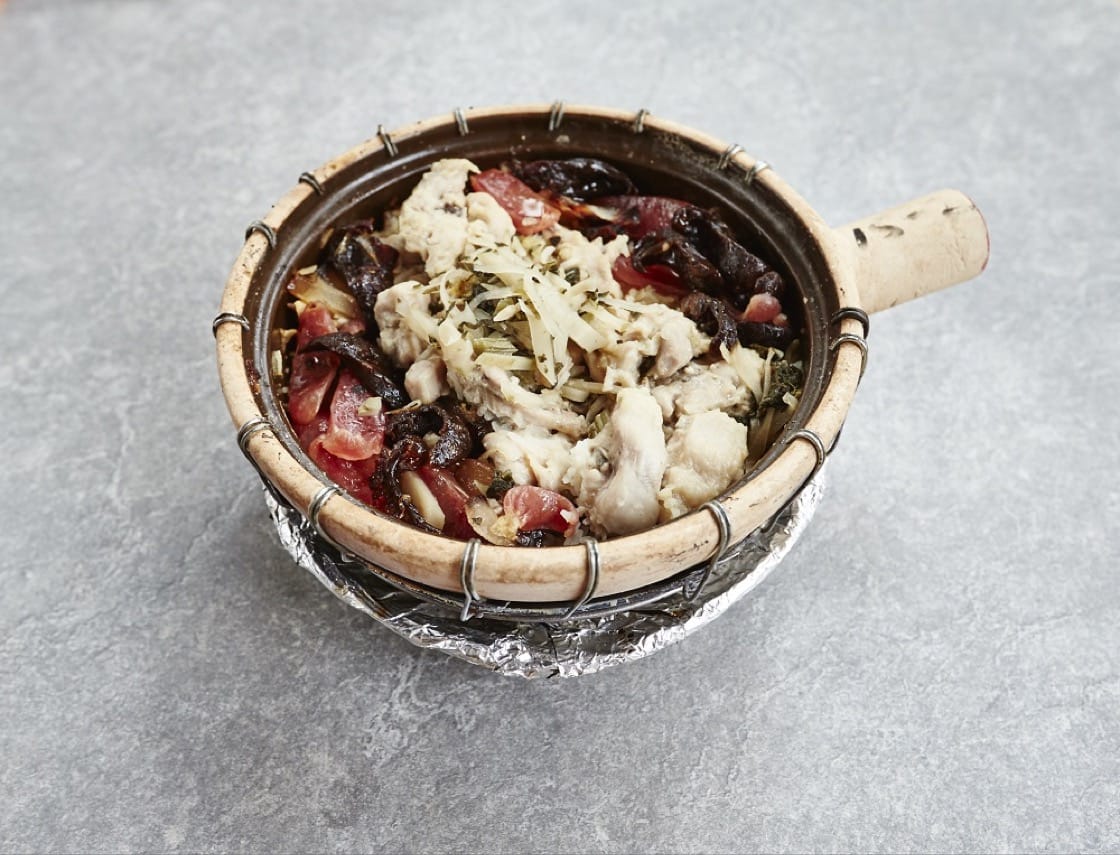 New Lucky Claypot Rice (Photo: MICHELIN Guide Digital)
Banner image courtesy of various hawkers.