63-year-old Choong Yee Hong began learning the art of cooking claypot rice from the time when he was a young boy, and is now the proud owner of
New Lucky Claypot Rice
which first received a Bib Gourmand nod in 2017.
Preserving Tradition

He started out in 1971 as a helper at Chinatown's famous Big Fortune Claypot Rice, quietly watching and learning the techniques as he toiled over the stoves.

In 1979, he decided to set up his own stall at the now defunct Margaret Drive Hawker Centre and christened it New Lucky Claypot Rice. It quickly drew a loyal following for its traditionally-cooked claypot rice, even as it moved several times over the years before settling at its current location on Holland Drive.
Owner Choong Yee Hong and his son Edmund Choong
14 years ago, Choong's son Edmund, now 38, joined his father's business and now manages the stall on his own. Even so, the senior Choong is still a constant presence at the market, so close is the business to his heart. He says: "I've always believed that if you do things with heart and persevere, you will stand out from your competitors and you will succeed."

The technique of charcoal cooking

And persevere he has, even in the face of changing times and the pressure to modernise his way of cooking. While most hawkers have moved on to using gas which is faster and more convenient, Choong still insists on cooking his rice over charcoal fire because he says that it imparts a smoky flavour that cooking over gas just cannot replicate.

According to Choong, the hardest part of charcoal cooking is heat control. He has to control the temperature of the fire by manually adding or moving the charcoal pieces around. There is also a fan by the stoves to circulate oxygen and maintain the live embers. "Charcoal is a living sort of fire that changes when you add or take away a single piece coal. Even the type of charcoal used changes the taste of the rice. The ones we use are considerably more expensive."
Using charcoal to cook has another disadvantage: a lengthy waiting time. Each claypot takes upwards of 20 minutes to be ready and is a test of the customer's patience. It is no wonder then, that there is a sign on the stallfront declaring the 20-30 minute waiting time which increases to 45-90 minutes during peak hours.

Ordinary ingredients made extraordinary

The ingredients that make up the claypot look ordinary enough: rice, chicken, Chinese sausage, salted fish, waxed meat and a preserved vegetable called da tou cai. But behind the simplicity of these ingredient is a world of practice and preparation.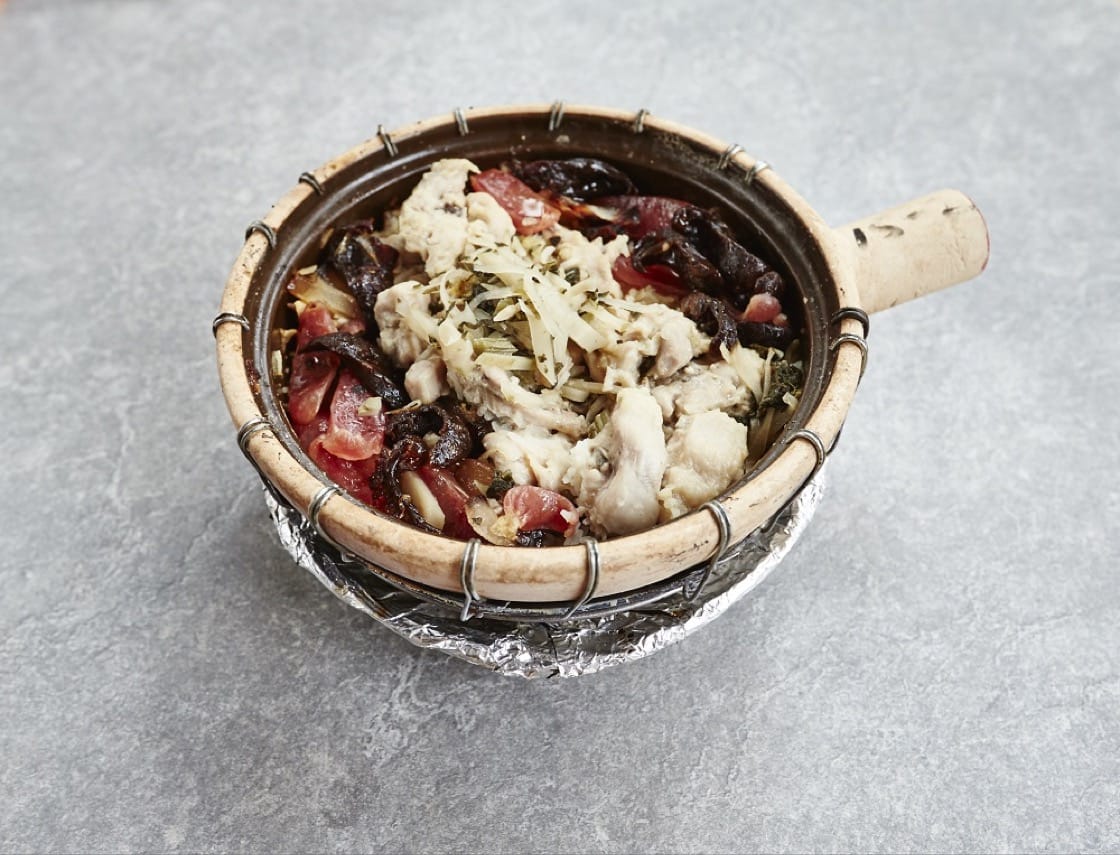 Take the rice for example. Choong uses a specific mix of old rice and new rice, the former is rice that's been kept longer and does not burn easily, and forms a textural contrast to new rice that forms the crispy charred crust that we so love about claypot rice.

The soul of claypot rice comes from the waxed meat and Chinese sausages, both of which he sources from a local maker whom he has worked with since he started his stall in 1979. When Lunar New Year rolls around, Choong makes a premium version with waxed duck, liver and drumstick from the same sausage maker which sells out despite the higher price.

Even the condiments that the claypot rice is served with are carefully chosen by Choong. He says that the dark soya sauce he has used since the beginning is chosen to bring out the aroma of the rice, while the spring onion oil is 35% derived from fragrant chicken fat.

On top of all that, great care goes into choosing, seasoning and maintaining the claypots that he uses. The heart and effort of his life's work is encapsulated in every steaming, fragrant pot of rice.
New Lucky Claypot Rice
44 Holland Dr, Holland Drive Market and Food Centre #02-19
---
This article was written by Wu Xiao Jun and translated by Rachel Tan.