Tucked away in the labyrinth of Chinatown Complex Market & Food Centre is
168 CMY Satay
, a nondescript stall hawking perfectly-charred skewers of marinated meat to be eaten with a chunky peanut sauce topped with a dollop of pineapple pulp.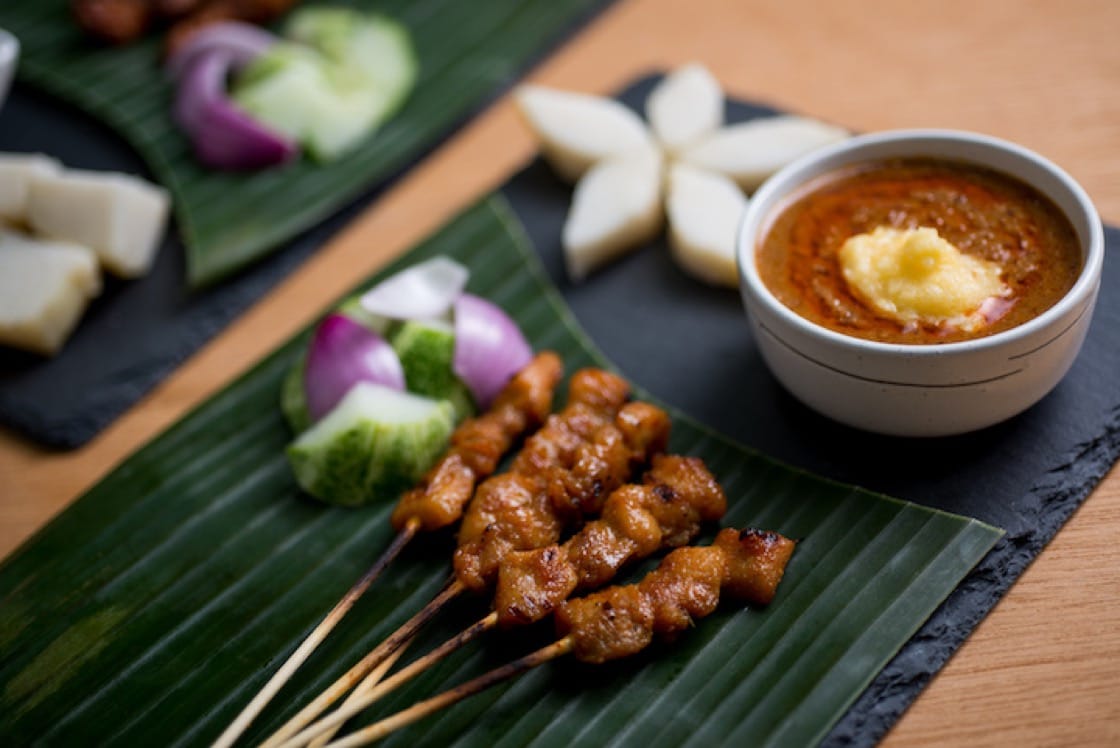 In 2017, 168 CMY Satay was listed in the
MICHELIN Guide Singapore
, and over at the central kitchen of
Chun Man Yuan Food Supplies
, second-generation business owner Bettifer Lee received a phone call from the excited stall owners in Chinatown. "We have been supplying the satay to 168 CMY Satay for more than a decade, and when they called me to tell me our satay was in the MICHELIN Guide, I was so happy! It felt like all our years of hard work was being recognized."
A Humble Beginning
Today, CMY Food Supplies is one of the largest satay manufacturers and suppliers in Singapore, with a spin-off Halal subsidiary called
Spring Ocean Food Supplies
. But it all began at a humble satay stand in a coffeeshop at the foot of Block 163 in Potong Pasir in 1985.
"Back then, our family was very poor, and at the advice of some of our neighbors, my mother decided to set up a small stall selling satay," said Bettifer in Mandarin. "My sisters and I would go and help out after school, grilling the satay and fanning the charcoal, serving customers. It was hard work and I hated it because it was so hot and smoky."

Though at first using satay from a supplier, Bettifer's entrepreneurial mother started experimenting and making her own satay from scratch.
Soon, customers began encouraging her to sell her satay wholesale. As demand grew, production was moved to a central kitchen in Ubi. She recalled: "I remember the very first machine we bought from a Japanese salesman. My mother personally flew to Japan to look at this automated conveyor for skewering meat. It was meant for yakitori, but it really changed the way we were producing satay. We still keep the machine because it was the thing that first helped us make money!"
Next Generation Satay Makers

Bettifer was in her early 20s when she began learning the ropes of the business from her mother—it was an uphill task. "My mother was from a generation that didn't write down recipes. It was all agak-agak ('more or less' in Malay), and I had to do a lot of research to standardize the proportions of ingredients and recreate the taste and texture of her satay for production."

Ten years ago, CMY Satay moved to a bigger premise at its current location in Bedok North. The mother-daughter duo built up the business together while raising Bettifer's young children. Her older son, Andy Chua, 28, recalled: "My mother and grandmother were busy at work all the time, there was nobody at home to take care of us, so they would take us to the office."
Bettifer Lee (center), with her children Eileen and Andy Chua.
Last year, Andy joined the family business as its business development manager. "I saw how hard my mother has worked to build this company, and I want to help her continue this family legacy," he shared. Another young, fresh face at the company is Andy's sister, Eileen Chua. The 25-year-old joined CMY Satay upon graduating from university as a marketing manager.
Come the weekend of 25 March, the Chua siblings will be at the
MICHELIN Guide Street Food Festival
where 168 CMY Satay will be showcasing its wares, along with 14 other Michelin-listed restaurants and eateries.
Get a taste of 168 CMY Satay at the MICHELIN Guide Street Food Festival 2018.
Among these are the pride of Singapore's vibrant street food scene: Bib Gourmand eateries such as
A Noodle Story
, which purveys Singapore-style ramen and
Bismillah Biryani
, a heritage restaurant serving up authentic Dum Briyani, as well as popular hawkers such as
168 CMY Satay
,
Traditional Haig Road Putu Piring
and
Zhong Guo La Mian Xiao Long Bao
.
The regular tickets are sold-out, but you can purchase tickets to the VIP Sessions
here
. The VIP package comes with a dedicated seating area with service staff, tasting portions of food from all stalls, a welcome glass of Champagne, free-flow beers, and still and sparkling water.