Teochew cuisine, which originates from the Chaoshan region in the eastern part of China's Guangdong province, emphasises natural flavours. The region encompasses the cities of Chaozhou, Shantou (formerly Swatow) and Jieyang. Teochew cooking is also influenced by Hokkien and Cantonese cuisines due to the geographical proximity of Fujian and Guangzhou.
Known for its delicate flavours, which depends much on the freshness and quality of the ingredients, Teochew food employs lighter cooking methods like poaching, steaming and braising.
While everyday Teochew fare might consist of a few dishes accompanied by a
watery rice porridge called muay
or a one-dish meal of Teochew fishball noodles or
bak chor mee
, Teochews have more festive banquets for special occasions like reunion dinners or weddings which they call
jiak dok
, which translates as "eat table" in the Teochew dialect. At such banquets, the tables groan under the weight of a myriad of classic dishes: braised shark fin soup, steamed pomfret, glistening whole suckling pig and pork trotter aspic, ending with the quintessential Teochew dessert of
orh nee
(yam paste) for dessert.
Here are six Teochew restaurants in Singapore where you can go to
jiak dok
with the whole family.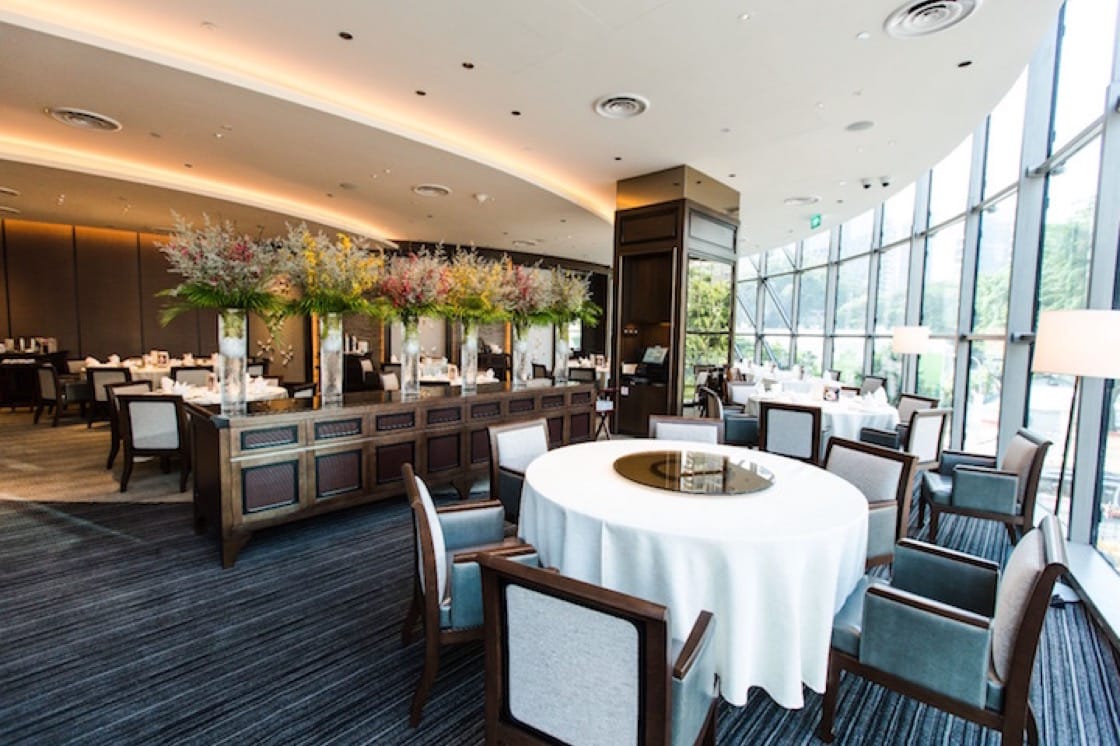 The light-filled interior of Imperial Treasure Fine Teochew Cuisine (Pic: Imperial Treasure website)
Imperial Treasure Fine Teochew Cuisine
This one-Michelin-starred restaurant by the Imperial Treasure group serves up traditional Teochew cuisine in a bright and airy space within ION Orchard. Our inspectors love it for its authentic dishes like pan-fried taro with prawns and steamed mud crabs served chilled. You'll also find classic Teochew-style steamed pomfret, delicate marinated meats and homemade orh nee.

Hung Kang Teochew Restaurant
Hung Kang is a household name, at least among Teochew families in Singapore. Occupying two levels of a shophouse in North Canal Road, this old school Teochew restaurant's specialties include sliced braised duck served with garlic and vinegar dip, oyster omelette and the quintessential steamed pomfret. For special occasions, order a whole Teochew suckling pig that features glossy, crackling skin atop a thin, juicy layer of meat.
Teochew City is local celebrity Chen Shucheng's latest venture (Pic: Teochew City Facebook)
Teochew City
Teochew City is a new collaboration between local television celebrity Chen Shucheng and zi char chain Ocean Seafood. The restaurant is located in MacPherson Road and serves hard-to-find heritage dishes like chilled pig jelly, five-spice fried liver rolls and Teochew braised duck. Chen is a Teochew man himself and a proponent of Swatow cuisine and culture, so you know it will be an authentic experience.
Swatow Seafood
Swatow Seafood is well-known among aficionados of Teochew cuisine, with three outlets across the island in Toa Payoh, Serangoon Gardens and the Singapore Recreation Club. Some of the chain's signature items include cold crab, crispy pork liver roll, braised scallop with cabbage and Teochew braised shark's fin.
Teochew Restaurant Huat Kee
Established in 1969, Huat Kee is another heritage brand that has served authentic Teochew chow for over three generations. On the menu, you'll find classic dishes like Teochew-style stewed vegetables, jellied pork trotters and traditional poached fish served cold (pictured right), a rarity even among Teochew restaurants.
Chui Huay Lim Teochew Cuisine
This restaurant takes a place of pride in the 170-year-old Chui Huay Lim Club in Leng Kee Road, which was founded by Teochew businessmen in the 1800s as a recreational club. Today, the restaurant is managed by the Jumbo group but retains its Teochew heritage from humble muay lunches to exquisite seafood dinners covering the gamut of classic regional dishes like
ngoh hiang
, braised goose and
orh nee
.
Hero image from Imperial Treasure Fine Teochew Cuisine website.