The selection of the MICHELIN Guide Hong Kong Macau 2019 has just been released, witnessing a total of 63 and 19 restaurants receiving their star recognition in Hong Kong and Macau respectively. Of which, two restaurants are elevated to three stars, four restaurants earn two stars for the first time and six restaurants debut in the one-star category.
Caprice in Hong Kong.
Newly Minted Three-Starred Restaurants
Caprice has been in the red guide for the past 11 years since it debuted in Hong Kong Macau, receiving two stars in 2009, three stars from 2010 to 2013 and two stars again from 2014 to 2018. This year, Caprice has regained its three-star status. Chef Guillaume Galliot, who joined the restaurant two years ago, works with his team to offer contemporary French cuisine that highlights the most luxurious ingredients in its refined and perfectly executed dishes. Michelin inspectors are particularly impressed by the turbot served with a delicate sea urchin sauce as well as the remarkable wine list.
With Caprice joining the three-star echelon, Hong Kong sees a total of seven three-starred restaurants: Bo Innovation, L'Atelier de Joël Robuchon, 8 1/2 Otto e Mezzo - Bombana, Sushi Shikon, T'ang Court and Lung King Heen.
Jade Dragon in Macau.
In Macau, Jade Dragon is the only restaurant to receive the three-star accolade for the first time. Jade Dragon has risen the ranks since it entered the red guide in 2014, holding on to two stars for the last two years. Jade Dragon is under the leadership of chef Kelvin Au Yeung, who was the sous chef since the restaurant opened and recently promoted to the position of executive chef.
According to inspectors, the restaurant dons beautiful surroundings of ebony, crystal, gold and finely-chiseled silver, and offers a delicious ballet of authentic Cantonese specialties made from the highest quality ingredients. With this new addition, Macau now has three three-starred establishments, including Robuchon au Dôme and The Eight.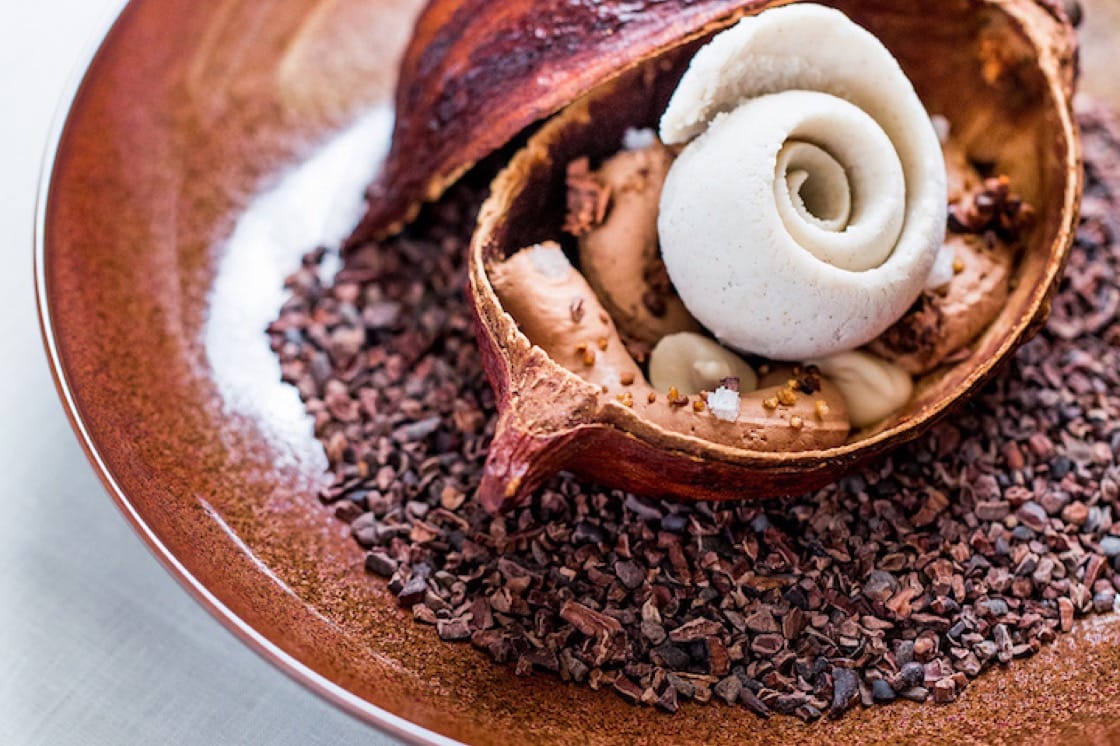 Coffee dessert with toasted buckwheat at Alain Ducasse at Morpheus, using chocolate from Alain Ducasse Manufacture in Paris.
Four New Two-Starred Entrants
The 2019 selection is also enriched with four new two-starred restaurants. Hong Kong now boasts a total of 12 two-starred restaurants; new entrants include Ecriture, which opened only in April this year under the helm of executive chef Maxime Gilbert and offers cuisine celebrating French specialties combined with Japanese ingredients. Sushi Saito, founded by legendary chef Takashi Saito, is among the best sushi restaurants in the city. The Cantonese restaurant Ying Jee Club, which had one star in the previous selection, also gains a second star this year.
Macau now sees a total of five two-starred restaurants, including newly-minted Alain Ducasse at Morpheus. In addition to original creations, it offers some of the most famous dishes of the iconic French chef.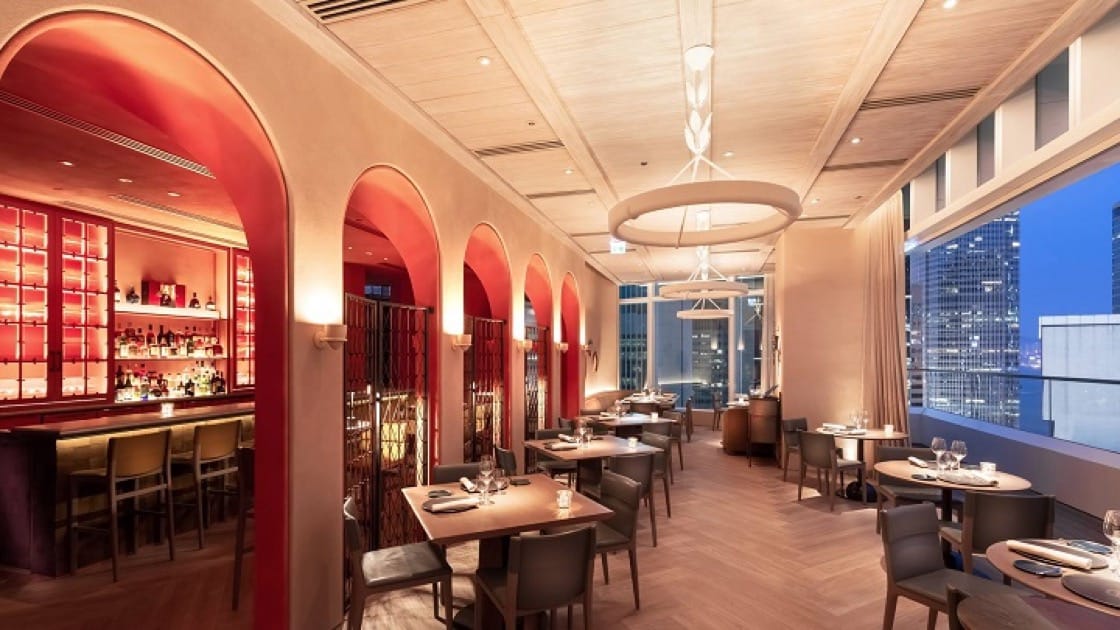 Arbor in Hong Kong.
Joining The One-Star Category
The MICHELIN Guide Hong Kong Macau 2019 also lists 55 one-starred establishments, including six new additions in Hong Kong: Arbor, Guo Fu Lou, New Punjab Club, Octavium, Xin Rong Ji and Belon. These new establishments alone illustrate the gastronomic diversity of this selection.
Arbor, helmed by young chef Eric Räty, is the sister restaurant of one-starred Épure. Despite its short opening period, Räty's take in employing Japanese ingredients in French cuisine has impressed both diners and Michelin inspectors alike, earning the restaurant their first star in the red guide.
Belon, elevated from The Plate to one star, is a neo-Parisian bistro which has an understated décor as chef Daniel Calvert wants the food and wine to be in the foreground. "He is a chef who understands sophisticated simplicity perfectly and his pared-back, delicious classic French dishes are delivered with consummate skill and accuracy," state inspectors.
New Punjab Club is a boisterous tandoor grill house that offers excellent specialties from North India. To their co-founder Syed Asim Hussain, a proud Punjabi, New Punjab Club is his restaurant group's most personal project and brings the best interpretation of his heritage to Hong Kong.
Umberto Bombana (right) and Octavium's executive chef Silvio Armanni at Octavium. (Photo courtesy of Octavium Facebook Page.)
Guo Fu Lou serves tasty Cantonese dishes while Xin Rong Ji showcases some of the finest flavors of Taizhou cuisine—its Shanghai outpost was elevated to two stars in the MICHELIN Guide Shanghai 2019. Octavium, operated by chef Umberto Bombana of three-Michelin-starred 8 1/2 Otto e Mezzo - Bombana, serves delicious Italian cuisine. "Detail is everything, from handmade Venetian glasses and a wall covered in Norwegian tree bark to the cool Italian furniture," state inspectors. "But the décor and tableware don't outshine the food."
80 Bib Gourmand Restaurants
The 2019 selection includes 80 Bib Gourmand restaurants. Spotted by our inspectors during their gourmet wanderings in the streets of Hong Kong and Macau, these eateries offer three courses (drinks not included) for a maximum price of HKD$400 (in Hong Kong) or MOP$400 Pataca de Macau (in Macau).
The new entrants into the Bib Gourmand selection include: Taiwanese eatery What To Eat, dessert shop Kai Kai and Le Souk who offers Middle Eastern cuisine. What To Eat is operated by the same Taiwanese duo who opened Qing Zuo but later left the operation.
Gwendal Poullennec, the International Director of Michelin Guides
"Hong Kong and Macau are very special cities within the gastronomic world," says Gwendal Poullennec, international director of the MICHELIN Guides. "They attract many tourists and business people from around the world, and as a result, these cities have been blessed with gastronomic influences that oscillate between traditional Cantonese and Macau cuisine, combined with international flavors. The 2019 selection highlights this diversity particularly well, and the many star additions testify to the dynamism and talent that permeate the Hong Kong and Macau dining scene."
In summary, the 2019 selection includes:
In Hong Kong
7 three-star restaurants (including 1 new)
12 two-star restaurants (including 3 new)
44 one-star restaurants (including 6 new)
71 Bib Gourmand restaurants (including 4 new)
In Macau
3 three-star restaurants (including 1 new)
5 two-star restaurants (including 1 new)
11 one-star restaurants
9 Bib Gourmand restaurants
View the complete selection of the MICHELIN Guide Hong Kong Macau 2019 here.