These kitchens at Michelin-starred restaurants are decked with pearls of wisdom that don't only reflect the style, philosophy and beliefs of the chef as well as the restaurant; they also boost the morale of their team members and unite them to march forward together. More importantly, these slogans act as the best forms of reminders to everyone — chefs and managers alike.
Taïrroir
Two MICHELIN Stars, MICHELIN Guide Taipei 2019
The first three slogans on a whiteboard hanging in the Taïrroir kitchen read "Never get perfect, better and better", "Share your happiness to people around you" and "One team, one philosophy, one target". Apart from the second sentence, which was written in 2019, the other two have been there since its opening day.

Many of the slogans on the whiteboard in the Taïrroir kitchen have been there since its first day of operations. (Photo: Hsieh Ming Ling)
A return to calmness and simplicity
Those three slogans are accompanied by the phrases "Pride comes before a fall" and "To take on complex matters with a simple heart". The former, which came from the Book of Documents, was written when Taïrroir received one star in the first edition of the Michelin Guide Taipei; while the latter — a quote from Tzu Chi founder Cheng Yen — was written when it earned two stars in the Michelin Guide Taipei 2019.
Kai Ho, Chef of Taïrroir, says that a constant flow of incoming information today is disruptive to one's thoughts and life. "When the mind feels unsettled, it's hard to settle down. And when one cannot settle down, one cannot gain wisdom and is in no position to make decisions," he explains.
This can also be applied to cooking. Kai says many people tend to overcomplicate their dishes by adding layers to them. "But once you start to complicate things, they only get more and more complicated, and there's no turning back. We want to keep things simple — not easy, but simple."
On another cork board lies a sheet of kitchen rules (right photo: Hsieh Ming-ling) which says:
- Chef is right!
- Chef is always right!
- Even when Chef is wrong, the 1st rule applies!
- Chef doesn't eat. He (she) tastes.
- Chef doesn't sleep. He (she) takes rest.
- Argument with Chef, means going hungry for the day.
"7 out of 10 of them who put these rules in place found them hilarious," says Kai. By "Chef is always right", Kai takes it to mean that the chef has the power to make decisions but also has to take full responsibility, although everyone in the team is welcome to debate those decisions at any time.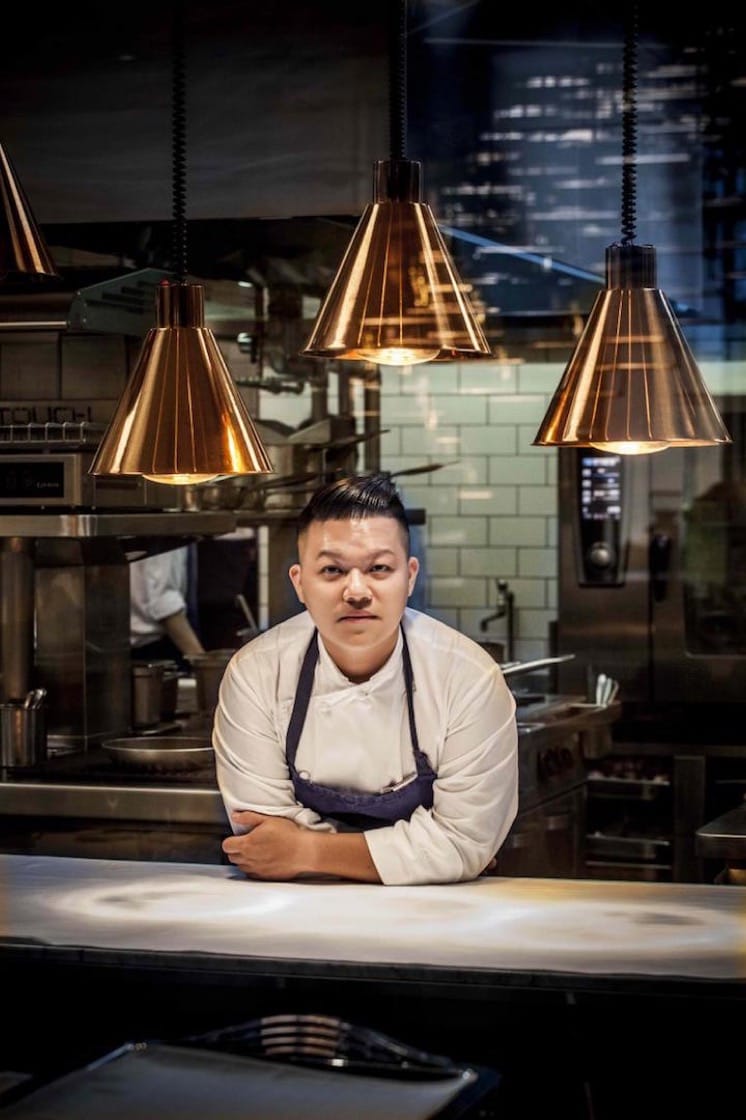 For Kai, having the right mindset and attitude are important when it comes to working in the kitchen. He often reads these rules and slogans to remind himself of where he'd come from, how he'd gotten there, and how much he appreciates and cherishes everything around him.
MUME
One MICHELIN Star, MICHELIN Guide Taipei 2019

The cork board at the entrance of the MUME kitchen has three A4-sized sheets filled with kitchen rules. On the first sheet, where the most obvious set of rules are displayed, Chef-owner Richie Lin has quoted Rosio Sánchez, former noma head pastry chef who currently helms Restaurant Sanchez Copenhagen.

Richie Lin of MUME believes there's a need for a more human-centric and contemporary management style in the kitchen. (Photo: Hsieh Ming-ling)
Rules of the Kitchen by Chef Rosio Sanchez
- Respect everyone at all times.
- Always be aware of people around you and acknowledge them with a greeting (Say hello and smile. A little effort goes a long way).
- Offer information you would like to know.
- Make your statement clear - no one can read your mind.
- Never assume people know what you mean, follow up if someone seems confused.
- Politely ask when you do not know something.
- Offer insight when you feel someone needs it (Remember: some people need further explanation, offer it kindly) .
- Ask for a manager when making decisions when you are in doubt.
- Don't overreact - it only makes the situation worse.
- See a problem all the way through.
- There may be assholes out there. But you don't have to be one of them!
- When in doubt, kill them with kindness.
Contemporary and human-centred kitchen management
Richie Lin (right Photo: Hsieh Ming-ling) used to work with Rosio Sánchez at noma. For him, this set of rules differs markedly from that of a traditional French kitchen: not a militant style of complete obedience, but a more contemporary and human-centric approach. "I don't have to use fear to run the kitchen. This is the way I like it," he says.

In the six years since his approach was put into practice, he feels that the team has changed and that everyone is intrinsically motivated to do a good job. "I feel that this way, I can see the team progress and create a positive, progressive environment where even newcomers would feel like they're a part of it," says Lin. "That's the spirit of the team."


Every week, Chef Nobu writes down the highlights and reminders for that week on the team roster. (Photo: courtesy of Orchid)
Orchid
MICHELIN Plate, MICHELIN Guide Taipei 2019
Before printing the weekly team roster, Chef de Cuisine Nobu Lee of Orchid Restaurant marks out the "Focus of the Week" in red. Sometimes it's the main task of the week, such as developing a summer menu or a banquet; other times it's a motivational reminder.
For instance, he recently wrote "Tough time don't last. Tough team does!" on the team roster.
The slogans are updated every week on the team roster. He's also written "Stay hungry, always hungry", which he reckons is apt for chefs. "We should not only be hungry for knowledge, but to literally be hungry to keep our taste buds sharp," he quips.

Every week, Chef Nobu writes down the highlights and reminders for that week on the team roster. (Photo: courtesy of Orchid)
Nobu started this habit of motivating his team four or five years ago as a head chef who had his own team in Australia. "I realised that it was lonely working as a chef at fine dining restaurants and I had to endure a lot of stress. There was so much pressure to improve every day, so I hoped to inspire others," says Nobu. For example he has written "push push", which means "push push, make it happen", or "Can you look me in the eye". It reminds everyone to check if their conscience is clear, whether or not they've done anything wrong to themselves or the team.
Leading a team always comes from the heart. These pearls of wisdom in the kitchen can indeed make a difference to the head chef and the rest of the team.

This story is written by Hsieh Ming-ling and translated by Tang Jie. Click here to read the original article.