Competition is fierce in the restaurant industry. Each establishment strives for unique selling points to entice diners. Some may highlight their mastery of advanced cooking techniques, while others proudly showcase rare, exquisite ingredients, directly sourced locally or from abroad. But what always manages to hit home usually goes back to simplicity and familiar flavours that can be enjoyed every day.

This could be said about Phed Phed Bistro (Bib Gourmand, MICHELIN Guide Thailand 2021), an Isan, or Northeastern, Thai restaurant that entered the 2021 MICHELIN Guide Thailand that serves simple food with bold flavours. Featuring familiar dishes that every Thai knows and local flavours that may be forgotten, the restaurant injects a new life to Isan delicacies and brings them centrestage again.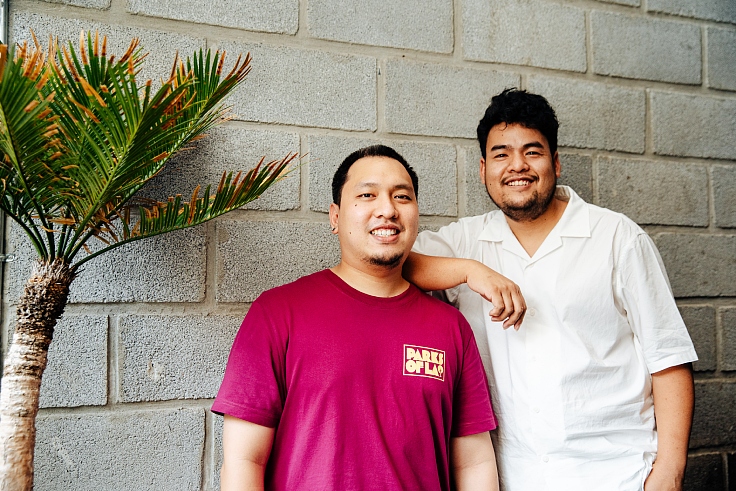 The duo behind Phed Phed. (© Watsamon Tri-yasakda/ MICHELIN Guide Thailand)
Phed Phed: from then till now
Founders Nuthakorn "Ohm" Jivarungsinee and Nattaphong "Tom" Saehu built Phed Phed into the spicy eatery it is today. Recalling their early beginnings, the pair had wanted to open a fashion retail space that also served food. Towards the end of 2017, they opened their first location around Bangkok's Phaholyothin Soi 8, which eventually transformed into a full-fledged Isan restaurant. From only one location four years ago, there are now five. Every branch has a different concept, but what they all have in common are the fiery flavours that spares no one.

At the Ratchapruek branch, Chef Saehu is proud to present menus that showcase recipes from his native Nakhon Phanom and from his experiences travelling across the Isan region to Bangkok.

Tam Luang Prabang at Phed Phed Bistro in Ratchapruek area of Bangkok. (© Watsamon Tri-yasakda/ MICHELIN Guide Thailand)
To be or not to be spicy? Must Isan food always be spicy?
The restaurant's name implies that the food will be spicy to some extent. Phed phed is a common description that lovers of spicy food usually give when ordering food. The level of spiciness is crucial, as it complements all the other flavours.

"You can choose between four levels of spiciness. We recommend most to go for regular spiciness, because that is quite spicy," Chef Saehu explains the levels of hotness at his restaurant. "From my observations, people who eat very spicy food don't usually like sweet food. This is why foods that are heavy on spiciness are also heavy on saltiness and sourness too."

This depicts how flavourful the food at Phed Phed is, straddling in between "just right" and "too much".

"Not all Isan food has to be spicy. We need to understand first that flavourful food is not always spicy. Whether it is salty, sweet, or sour, it can all fall within the flavourful category too. There's a reason why some dishes taste a certain way. That's because they are seasoned to enhance the flavours of the main dish, while others are seasoned to cancel out certain flavours. This doesn't even include all the countless sauces and pastes on the side yet! We can proudly say that many dishes served here are actually much more flavourful than some roadside stalls."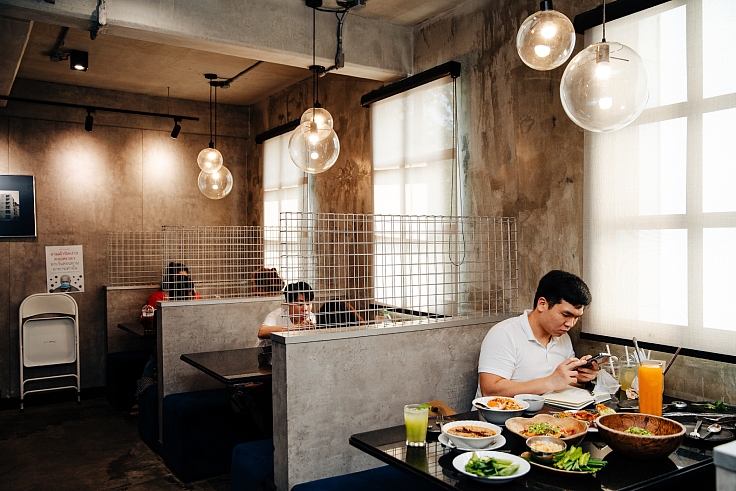 A popular spot for Isan food lovers in Bangkok. (© Watsamon Tri-yasakda/ MICHELIN Guide Thailand)
Isan food in the capital and the tastes of the times
Compared to food from other regions, Bangkok dwellers are used to Isan food. It would seem that they could eat it every day and not get bored. This in part is due to the fact that Isan food in the city has adapted to the metropolitan environment and its inhabitants' taste preferences. "In Isan, restaurants will only sell one type of food. A lab restaurant will only have lab, while a som tam restaurant will only have som tam. You won't be able to find both lab and som tam in the same place— this is how a truly authentic Isan restaurant functions."

It is possible that location, rent and limited time has forced Isan restaurants in Bangkok to offer many types of dishes, while also using minimal time to season.

"A clear difference between how people from Bangkok and people from Isan eat is in the complementary dishes. When dining, central Thais or people from Bangkok usually have many dishes and curries, as well as myriad dips and condiments. But a meal for Isan people does not consist of many different dishes. They usually eat only one main type of food along with sticky rice and vegetables. Another interesting observation is how people eat som tam. In Isan, som tam is considered a snack in between meals. It's something you pick at while having a chat with your friends in the afternoon. It isn't something you eat seriously as a main meal," Chef Saehu clearly points out the differences between Isan food in the capital and in its own region.

Sam Chan Tot Nampla or pork belly deep fried in fish sauce. (© Watsamon Tri-yasakda/ MICHELIN Guide Thailand)
Besides location, another difference lies in the shifting Isan taste across the time and popularity. "Back in the day, it was not common to season Isan food with sugar because saving time was emphasised. That's why everything was mainly salty. Plara (fermented fish) was the main seasoning, so this is why people were more familiar with salty rather than sweet flavours. But times have changed and people who have had the opportunity to taste food from other regions have been exposed to food with sweet and sour tastes more than before. This leads to salty food becoming less prominent as sweet or sour flavours gain popularity."

As for ingredients, Chef Saehu shares, "There are sure to be changes as transportation becomes more accessible. It used to be difficult to travel between provinces or regions, because roads were not as developed. Today, it's not considered strange anymore if you see ingredients in Isan food that are not local to Isan. Seafood never was one of those ingredients, but people have included it into Isan dishes. Back in the day, at most you'd just see some mackerel."



The queue maybe long during busy hours, especially during the weekend. (© Watsamon Tri-yasakda/ MICHELIN Guide Thailand)
Creating delicious flavours
Phed Phed Bistro prepares many components themselves, from fermented fish or sausages to sun-dried beef. "The fermented fish that we use in our som tam has been fermenting for two years before we put it in the food we cook today," the chef laughs, while also pointing out that a consistent taste comes from carefully weighing and measuring every seasoning and ingredient.

"We have over 10 different som tam recipes, and even though many dishes share some ingredients, the amount of each ingredient varies. Or a different species or variation of a certain ingredient is used."

Can't handle the heat? Opt for the School Fried Rice. (© Watsamon Tri-yasakda/ MICHELIN Guide Thailand)
"Our restaurant's most popular dishes are Tam Plara Gung Sod (papaya salad with fermented fish and fresh shrimps) and Tam Luang Prabang. Just the chilli used in each is very different.

For the Tam Plara Gung Sod, we used dried chili, bird's eye chilli, and jinda chilli (a larger type of bird's eye chilli). For Tam Luang Prabang, we use tabasco pepper and bird's eye chilli. These two dishes have their own flair— for the Tam Plara Gung Sod, besides the fermented fish that we make ourselves, the fresh shrimps are pickled in our signature fish sauce for one night. As for Tam Luang Prabang, the fermented fish, shrimp paste, and crab paste enhance each other to create a well-rounded taste. Both dishes are then sprinkled with river tamarind seeds."

This guilty pleasure helps tone down the spiciness as well. (© Watsamon Tri-yasakda/ MICHELIN Guide Thailand)
Nevertheless, Phed Phed Bistro is not famous only for its spicy fare. There are many other dishes that may not be that spicy or spicy at all, but are still just as rich and flavourful. Tom Sap Mu Sap Khao Khua (spicy ground pork soup with roasted rice) is a soup that takes its cues from pork lab. Served piping hot, this dish is great for washing everything down and canceling any oiliness.

Sam Chan Tot Nampla (pork belly deep fried in fish sauce) helps tone down the spiciness and also enhances flavours from the main dishes. The pork belly is deep fried in fish sauce and comes with three sauces: Nam Phrik Ma-uek (hairy eggplant chilli dip), seafood sauce, and sweet fish sauce.

The single-dish Khao Phad Rongrian (School Fried Rice) is not an Isan dish, but is inspired by childhood memories of fried rice made with black soy sauce. It's a dish that schools and parents nag children to eat to get their fix of vegetables and nutrients from the five food groups—rice, diced vegetables, ground pork, pork sausage, fried garlic, and fried pork rinds. Topped with a runny sunny-side-up egg, it is recommended to pop the egg yolk to mix with the rice for added tastiness.

Here's What Our Inspectors Said About Phed Phed Bistro (Bib Gourmand)
While each of Phed Phed group's three branches makes quality Isan food, each has a different focus. This one, with its minimalist décor and wire mesh accents, focuses on comfort food made with quality ingredients. Among the highlights is the Som Tam with pickled shrimps. The green papaya is crisp, the raw pickled shrimps are fresh and bouncy, and the sauce is tangy and delightful. There's often a line to get in, but the wait is worth it.



Bib Gourmand • Inspectors' favourites for good value
39 Ratchaphruek Road, Bang Ramad, Bangkok