When Back Seung-Wook first told his parents he wanted to be chef, they laughed and then they got mad. "My family was hoping that I'd go to college and take over my father's business — typical Asian family, right?" recalls the chef, chuckling. "But somehow, I was like: 'Man, that's not my style, I have to do something different'."
Today, the charismatic chef goes by the name Akira Back and is chef and brand owner of more than a dozen eponymous restaurants in major cities from Dallas to Dubai, including one-MICHELIN-starred
Dosa
in Seoul and MICHELIN Plate restaurant
Akira Back in Singapore
.
Born in South Korea, Back moved to Aspen, Colorado, with his family when he was a child. There, he became a professional snowboarder for seven years during his teens. He confesses that he was never interested in cooking and really only started working for sushi master Kenichi Kanada in Aspen because he thought Kanada looked cool serving customers and wanted to be like him.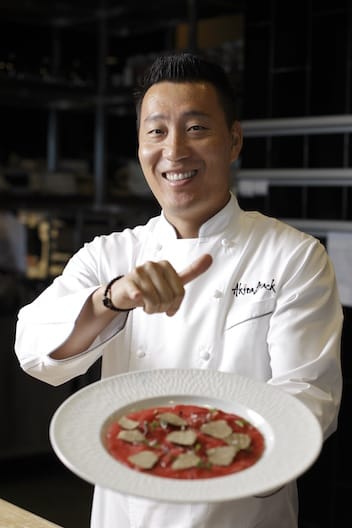 "In the beginning, I had a really tough time. Every single day for the first three years, there were people saying: 'You cannot do it'. But I stuck around just because I didn't want to hear them say 'I told you so'," he says. "In a way, you get a fire in your stomach. You guys are wrong and I want to prove that I'm going to be somebody one day."

He spent his first few years at the Japanese restaurant learning things the hard way, recalling that once, Kanada even made him count grains of sushi rice with chopsticks as penance for wasting rice. "He said I had no respect for the rice. But these days, I'm starting to understand why he taught me the way he did."

Though Back spent seven years there training in Japanese cuisine, when it came time for him to express his own culinary style at Yellowtail Restaurant & Lounge in Las Vegas in 2008, he found himself injecting influences from his Korean-American roots into his modern Japanese cuisine.
One of the dishes to quickly become a signature on the Akira Back menu is the AB Tuna Pizza, which encapsulates the chef's culinary ethos perfectly: sexy and easy to eat, served on custom plates printed with his mother's abstract artwork. "The tuna pizza is my mum's favourite dish, so I decided to put her art inside it. I want people to unveil a little more of the art underneath the pizza as they eat each slice and enjoy her art as they enjoy her favourite dish. While they're eating it, I hope they think about their mothers too, that's how I want to connect with my diners."
RELATED: Ode To Mum: Chefs Whose Mothers Inspire Their Careers
The signature AB Tuna Pizza (Pic: Akira Back)
"I always dreamt that I wanted to make my own style of food that represents who I am. Akira Back is modern Japanese with a Korean-American twist, and some people say: 'What kind of food is this?', but chefs are artists too and I stand up for what I believe in," says the chef emphatically.

Back's confidence in his cuisine stems from a solid foundation in technique and a wide knowledge and respect for ingredients. "I think that technique is very important because if you understand technique, you can really design different things."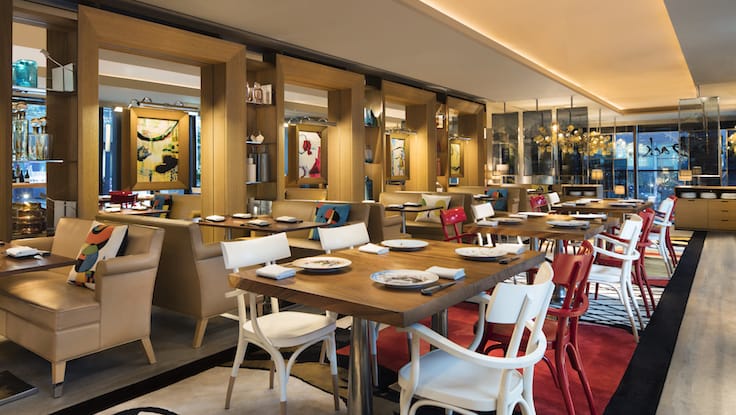 Abstract art pieces designed by Back's mother adorn the walls in Akira Back Singapore (Pic: Akira Back)
The technically demanding signature Jidori Chicken is a mainstay across all his restaurants and is the first dish he tries at every restaurant opening. The seemingly simple plate of sliced chicken breast on a bed of pillowy mash belies its complexity and sheer amount of work required to put it together. The chicken roulade alone takes about eight hours to prepare from brining and sous vide cooking to chilling and browning; the mash is based on
Joel Robuchon's detail-intensive recipe
, learnt during Back's brief stint with the legendary chef.
"Having courage in the kitchen is simple. It's just: 'Do you really want to do this? Do you really love it?' Because we care about quality and passion. Our team is passionate, I'm still passionate, that's why we are here," says Back. "I love cooking and I love developing new things, so I hope I can keep going. The day that I don't have any ideas is the time that I have to do something else."