Korean-American chef
Akira
Back
, may be best known for the chain of Japanese restaurants around the world which carry his name, but for his debut restaurant in South Korea, he chose to go back to his Korean roots.
Despite his experience and brand-name recognition in the restaurant scene, he was still in for a shock when he opened
Dosa
in Seoul in July 2016.
In a candid interview with the MICHELIN Guide Digital at
Akira Back Singapore
last month, the chef Back shares that starting Dosa, an innovative Korean fine-dining restaurant, was "like a roller-coaster ride".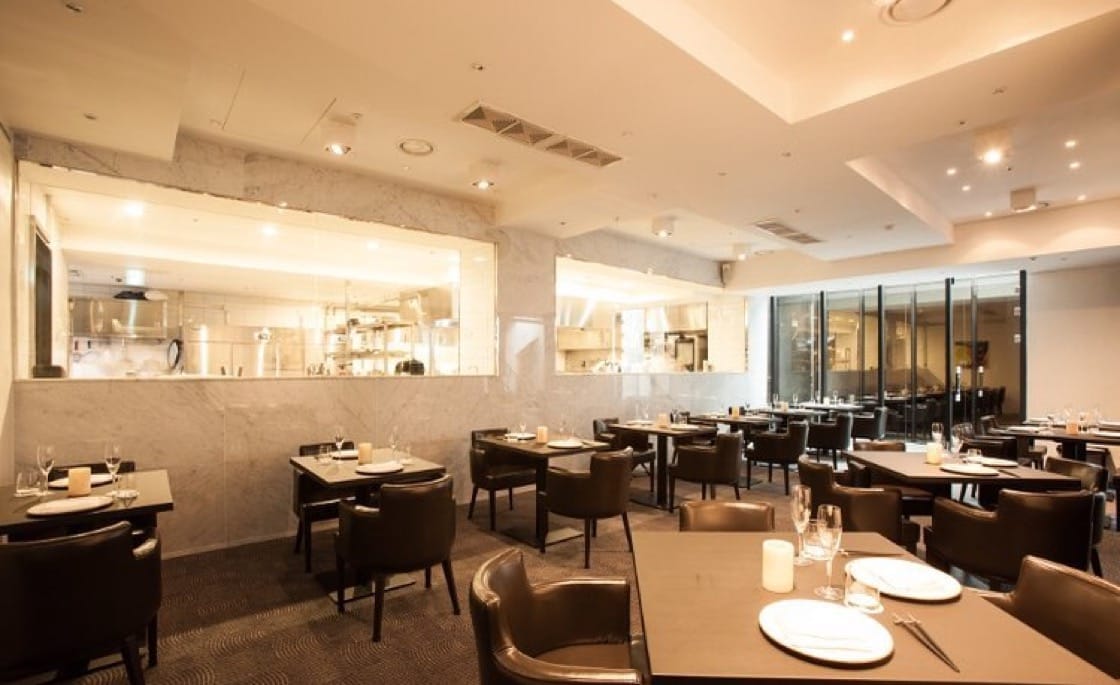 Dosa Restaurant in Seoul (Credit: Dosa Facebook Page)
He reveals: "Earnings for my restaurants have always been stable, but at Dosa, it was like a roller-coaster ride. I misjudged the Seoul market and thought that it would be easy as we have a brand name. Some Korean diners also do not like the idea of its basement location. More diners only started coming eight months after we opened." His regulars were also surprised that
Dosa
, with its simple white-washed interiors, is a pared-down version of his swanky Akira Back restaurants.
Back, whose Korean name is Back Seung-wook, opted for a "more challenging" route. Instead of opening yet another Akira Back restaurant, he decided to pay a homage to his Korean roots by opening Dosa in Seoul's Cheongdam-dong district, the area he grew up in before he relocated to the United States when he was 14. Dosa is a Korean slang for being good at something.
His gamble of sticking to his heritage paid off: The restaurant received one Michelin Star in the
MICHELIN Guide Seoul 2018
last November.
One of Dosa's signature dishes, ribeye with endive kimchi that is grilled and braised. The dish features tangy, umami-laden flavours from ssamjang (spicy paste), doenjang (miso) and, jangajji (pickled garlic). Credit: Akira Back
The 34-seat restaurant serves modern Korean food that are inspired by his childhood memories from growing up in Seoul. Back uprooted to Colorado with his family and was a professional snowboarder for seven years before his interest in cooking beckoned. He enrolled in culinary school and worked in Japanese restaurants in the US, Japan and Europe.

Despite living in the United States, Back grew up with Korean food at home. He says with a grin: "My dad has to eat traditional Korean food every morning. Whenever I travel in Asia, I will have a stopover trip in South Korea. I never stopped eating Korean food."

Some highlight dishes on Dosa's menu include ribeye with endive kimchi that is grilled and braised. The dish features tangy, umami-laden flavours from ssamjang (spicy paste), doenjang (miso) and, jangajji (pickled garlic) that defined his childhood.

In the dish named 'Garden', microgreens are served on a soil of nuts, garlic and silkwood powder. He says: "My mum used to wrap crushed silkworm in a lettuce to help me calm my nerves before a baseball match when I was young."
The Sujeonggwa dessert - a "yolk" made of pineapple, date and Korean pear ice cream, and cinnamon mousse (Credit: Akira Back)
Later this year, he intends to roll out a new dessert that is inspired by sujeonggwa, a Korean cinnamon punch, at all his Akira Back restaurants. Nestled in an egg shell are a "yolk" made of pineapple, date and Korean pear ice cream, and cinnamon mousse — the various elements that make up the traditional dessert drink.

On making his mark in the Korean culinary scene: "I was born and raised here. Most people know me as a Japanese chef, but I want to show people that I can cook Korean food, and not just sushi. It has always been a dream to go back to my roots."
Chef Akira Back (extreme right) and his team at Akira Back Singapore (Credit: Akira Back)
What was your first encounter with the MICHELIN Guide?

I grew up with cooking books by chefs from Michelin-starred restaurants. As I read them, I wanted to be like these chef-idols. When I was 18, everyone was talking about chef Thomas Keller (of Michelin-starred Per Se, The French Laundry and Bouchon) and how it is so difficult to get into his restaurants. As soon as I heard that, I bought The French Laundry cookbook.

How did you feel when Dosa received one Michelin star?

I have not felt such a sense of relief in a long time. I am a strong guy and don't usually cry, but tears of joy came out when I heard this news as this is the first restaurant that I owned and have wholly invested in.
I want people to know that I am not just a sushi chef pressing sushi, but I know how to cook in the kitchen. Once you get a Michelin star, you get respected by other people. Getting a Michelin star has always been one of my goals, so I feel great about having such an awesome achievement.
What do you remember most from the Michelin ceremony?

I wasn't sure that I would be getting a star as I received a rather confusing email from the organisers. My parents told me not have too high expectations. It was only at the ceremony when I found out that most of the chefs who attended the dinner were likely to get accolades.

What advice do you have for young chefs aiming for Michelin stars?

Don't give up as following your dreams takes a long journey. The younger generation have to pay their dues. Whenever I get an email from a young chef, I always tell them to make sure that they have stayed in a restaurant for at least six years.
Moving around is only good at the later stage of your career. They need to learn the basics and understand a cuisine very well. Without proper "roots", the "tree" of your career will not grow.
RELATED: Click here for more First Day I Got My Michelin Stars stories