With the commercial momentum built by the natural wine movement over the past 20 years, it's not unusual to see this style of wine gaining in recognition in the gastronomic circles of the world.
Two-MICHELIN-star Noma in Copenhagen was the one of the first restaurants of its calibre to embrace the natural movement in food and wine when it opened in 2003, so much so that its former wine director Pontus Elofsson named his 2012 memoir, At Noma You Get Lumpy Wine, on the very topic.
But for restaurants not built around the philosophy of locavorism, foraging, fermentation and the likes, natural wines may not always be a desirable fit. The wines are often considered to be 'funky', risky, and vary greatly from bottle to bottle, while the category as a whole has yet to be regulated or defined.
Natural wine refers to wine made with minimal human intervention.
As head sommelier Vinodhan Veloo of one-MICHELIN-star Cheek Bistro explains, "The term 'natural wine' is defined very differently from one person to another. Some think that natural wines are natural because there is no sulphur added. Some believe that (only) orange wines are natural wines. Others think that wines that appear cloudy must be natural wines."

To generalise, natural wine refers to wine made with minimal intervention. The grapes are farmed organically or bio-dynamically without the addition of chemicals, vinified into wine without additives or commercial yeast, and bottled with minimal or no sulphites. Many winemakers and consumers also use the terms "living", "raw" or "unplugged wines" to explain the hazy, tangy, yeasty or funky wines that result from this style of wine-making, with some drinkers likening the taste to kombucha or sour beers.

We asked the sommeliers of one-MICHELIN-starred restaurants Summer Pavilion, Restaurant JAG, Buona Terra and Cheek Bistro to shed more light on what you can expect when you opt for natural wine pairings on your next visit.

Buona Terra
One MICHELIN Star
MICHELIN Guide Singapore 2019
Buona Terra's wine director, Gabriele Rizzardi (left), first introduced natural wines to the Italian restaurant's wine list in 2013, but waited a good five years before he sold the first bottle. He says: "I enjoy being experimental when it comes to wine pairing, such as offering a glass of wine that's different for each course. The new generation of diners is very open to trying something different, as opposed to before. Also, many are now more concerned about the impact of human activities on the environment and nature, and so are more likely to opt for natural wines."

Rizzardi — whose grandfather used to make wines in the natural way for his family's own consumption — was ahead of the curve. "It was only when Gravner, my favourite Italian white wine producer and a pioneer of natural wines in Italy, started producing natural wines that I was exposed to it commercially," he recalls. Gravner shifted to producing natural wines with wine aging in terracotta barrels and with a very long maceration with the skin, which took Rizzardi by surprised, and piqued his curiosity towards how such wines evolve with aging. "Till today, I still love Gravner's range of natural wines," he adds.

That was the reason why he initially imported a small quantity of Gravner and Radikon from Friuli Venezia Giulia and Valentini from Abruzzo in 2013. "The motivation behind this was purely to surprise our guests during wine pairings with something different from the usual, as well as to give our guests the chance to try wines in the way wine was made three to four thousand years ago."

He tries to cover two ends of the spectrum: "safe" options that include wines that are almost comparable to conventional wines, and on the more extreme end, more "funky" wines. For natural wines with a cleaner taste, he recommends Frappato by Arianna Occhipinti, and for the more extreme ones, Radikon or Massa Vecchia wines. Responses are generally positive for both, he observes.

READ MORE: The First Day We Got Our Stars: Denis Lucchi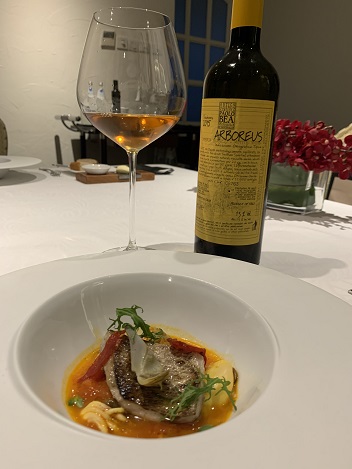 "Anytime we do wine pairings, we first think of the food followed by the wine, taking note of the sequence. For a complementary experience, we start with light food and wine, with the food and wine getting heavier as the meal progresses," he explains.

On the current menu at Buona Terra, you are as likely to discover Massa Vecchia Ariento Vermentino 2017, a natural wine from Tuscany as you are a Barbaresco Asili 2012 from Bruno Giacosa. With the complex dish of Japanese Sea Perch, Artichoke, Bouchot Mussels, Baby Squid, Sun-Dried Tomato, Black Olives and Preserved Lemon (photo, right), Rizzardi boldly offers Paolo Bea Arboreus Bianco 2015, a lively amber-hued 'white' that exudes intense apricot and honey notes, and acts as a foil for the intense flavours of the dish.

Summer Pavilion
One MICHELIN Star
MICHELIN Guide Singapore 2019

Fine Cantonese cuisine and natural wines may seem unlikely bedfellows — but just as natural wines are breaking through previous barriers, sommelier Helen Chong is looking to add more variety to the wine programme at Summer Pavilion.

"We believe that the wine list should complement the restaurant's dishes and the chef's style, so we have curated a range of wines to cater to different guest preferences, be it in terms of wine type, price, age or region," she says. As an introduction to natural wines, the Gravner Ribolla Venezia Giulia IGT 2010 her pick from Summer Pavilion's wine list. "I have recommended this wine to some of our regular guests depending on their wine preferences, or to guests who are adventurous enough to want to uncork a new experience," she elaborates.

Summer Pavilion offers a limited time Grower Champagne and Dim Sum Pairing Menu, with wines selected by sommelier Helen Chong. (Photos: The Ritz-Carlton, Millenia Singapore)
Noting that the restaurant's regulars are mostly business diners and families with "fixed preferences" in their choice of wine, Chong is naturally cautious in adding labels that may be considered too new and unusual. But having personally discovered Gravner when she travelled to Italy, she was impressed with its unique dryness, freshness and minerality.
"I have tried Gravner Ribolla Gialla and Radikon Ribolla, both from Friuli Venezia-Giulia of Italy, with lamb chops and steak," she elaborates. "Most natural wines have a slightly more unconventional flavour, are lighter in acidity, and have a more pure fruit taste due to minimum intervention in the winery. Because natural wines are fermented with their skins, additional flavour is extracted from the tannin, just like in red wines. This contributes to their full-bodied and structured character, so there are various natural wine options that will complement the diversity of Cantonese cuisine."
This year, even though the restaurant has not been able to organise its regular wine pairing dinners, it has launched an exciting Grower Champagne and Dim Sum pairing menu, taking place from 15 September to 15 November. The inaugural menu pairs chef Cheung Siu Kong's exquisite Cantonese dishes with artisanal Champagnes from Goutorbe-Bouillot, Pierre Gimonnet et Fils and Diebolt-Vallois, which are family estates that cultivate the vineyards, harvest the fruit, and produce the wines with their own hands.
Look for the silky, delicate Goutorbe-Bouillot Reflets de Rivière, Brut NV, which capably complements the Poached Prawn And Preserved Vegetable Dumpling With Sweet Black Vinegar And Chili Padi, while the more textured Diebolt-Vallois á Cramant Rosé NV refreshes the palate for the Braised King Scallop Served With Stuffed Eggplant, Prawn Paste And Spicy Sauce.

Restaurant JAG focuses on flavour and terroir when it comes to pairing food and wine. (Photo: Restaurant JAG)
Restaurant JAG
One MICHELIN Star
MICHELIN Guide Singapore 2019

Co-founder and managing director Anant Tyagi of Restaurant Jag is well aware of the production ideology behind natural wines, but he prefers to consider sourcing from another approach. "The wine programme at JAG is central to our philosophy and focuses extensively on small family owned producers whose approach over the generations has singularly been towards not only quality but the preservation of terroir too," he explains.
About 80 percent of the restaurant's wine catalogue represent organic and biodynamic wines, with the remaining showcase the same philosophy in the form of Japanese sake. "We have a limited selection of natural wines on the list and we indeed like the ideology behind the production. However, the central factor is always taste and terroir at JAG," emphasises Tyagi. He points out that the dishes on JAG's omakase or degustation menus focusses on the wild-foraged herbs of Savoie and change almost daily, following the seasons.
Wines on the menu include Domaine Eric Texier from Rhone, Damien Laureau from Loire and Domaine Eric et Francois Carell's wines from Savoie. Both represent estates that are small, independent and that often work with natural processes – without labelling themselves as natural winemakers.
Tyagi finds that the appreciation for natural wines is more prevalent in countries where there is a history of wine production, such as in France and Italy. "In Singapore and at JAG, there is a greater demand for organic and biodynamic wines," he observes. "Even though they are not actively sought after, natural wines that travel well and taste well are truly appreciated by those who seek them."
Cheek Bistro
One MICHELIN Star
MICHELIN Guide Singapore 2019
Natural wine lovers are spoilt for choice at Cheek Bistro, where chef-owner Rishi Naleendra's focus on organic and natural produce aligns with the philosophy of natural winemakers and "creates a more holistic food and wine experience," explains head sommelier Vinodhan Veloo.
He notices that there are people who seem to enjoy only natural wines and seek them out at restaurants. "But on the other hand there are also people who ask where these natural wines are on the list to make sure to avoid them. We do give our customers a heads up to prevent any unwanted surprises table side, as natural wines can have flavours that are quite different and atypical of the variety and region," he adds.
"If I were to pick specific wines that pair well with the dishes, I would go for Jurtschitsch's Belle Naturale Grüner Veltliner as it has a great freshness that pleasantly accompanies many of Cheek Bistro's snack items such as the cheese bread, olives and oysters, but it also works great with the meatier dishes such as the Fish & Chips, Black Grouper and Iberico Pork Collar. Teroldego by Foradori is the perfect red wine with any of the meat and fish dishes with it is very clean and vibrant with a red-fruit intensity, and a great structure holding up the wine, quite unlike most natural wines," Veloo enthuses.
They've also launched a selection of Pet Nat (Pétillant Naturel) sparkling wines in the new brunch offering that showcases a lineup of only natural winemakers. And not to worry about stemware – serious Gabriel Glas stemware is on hand while the producer-focused wine list ensure that there is something for everyone.
(Wine bottle photos: Cheek Bistro)
Banner image: Buona Terra