To welcome the Year of the Ox, MICHELIN Guide-recommended restaurants all over the island have put together festive feasts fit for a king with ox-picious dishes featuring beef done in myriad ways as well as indulgent seafood creations and sweet treats. But with many opting to stay home during the pandemic, restaurants have also stepped up their game to offer creative takeaway solutions including full multi-course menus and yusheng and pencai in all shapes and sizes.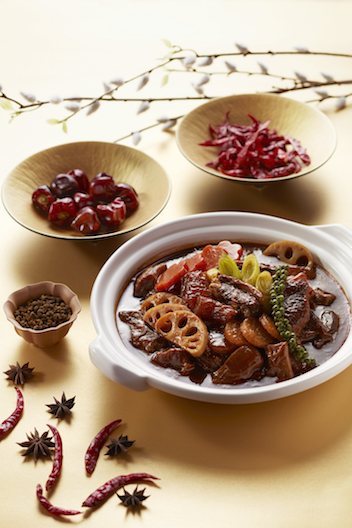 Shisen Hanten
Two MICHELIN Stars, MICHELIN Guide Singapore 2019

Dine-in: Shisen Hanten by Chen Kentaro's auspiciously-themed set menus start from the eight-course Prosperity menu at $138++ per person for a minimum of two persons, to the nine-course Majestic menu at $298++ per person for a minimum of six persons. Notable highlights include Stewed Mala Beef Brisket (pictured right), Braised Bird's Nest With Crab Meat And Crab Roe In Superior Broth, Barbecued Boneless Suckling Pig, as well as Sautéed Half-lobster In Yuzu Butter Sauce.

Takeaway: The Baby Abalone Fortune Pot ($468) is good for 5 to 6 persons and comes with a complimentary Salmon Yusheng ($78, $128) and Glutinous Rice With Dried Sausage ($50). Otherwise, pick up whole a roast chicken ($75) or London Duck ($105) and other CNY goodies from Steamed Hokkaido Pumpkin Nian Gao ($38) to Golden Pineapple Ingots ($39). Available from 25 Jan to 26 Feb.
(Photo: Regent Singapore)
Summer Palace
One MICHELIN Star, MICHELIN Guide Singapore 2019

Dine-in: A la carte offerings include new ox-themed dishes such as Traditional Stewed Beef In Casserole ($50) and Stir-fried Diced Tenderloin Of Beef With Black Pepper And Asparagus ($46) as well as once-a-year highlights like Braised Dried Oyster With Sea Moss And Bean Curd Skin ($48) and Braised Sea Cucumber With Goose Web And Vegetables ($108). Set menus combine the best of these and range from $108 per person (minimum of 4) to $3,888 for 8. Available from 25 January to 26 February.

Takeaway: New this year are three 5-course takeaway sets (from $618 for 5 persons) which come in elegant tiffin carriers. Unstack them to reveal dishes like Smoked Chicken with Jasmine Tea Leaves, Stir-fried Glutinous Rice with Dried Shrimp and Meat, and Steamed Cod Fish with Fungus and Red Dates.

For reservations and enquiries, call +65 6725 3288 or email summerpalace@regentsingapore.com.sg.

(Photo: Summer Pavilion)
Summer Pavilion
One MICHELIN Star, MICHELIN Guide Singapore 2019

Dine-in: Summer Pavilion's yusheng features plump Australian greenlip abalone and ikura while other Lunar New Year creations include sautéed Japanese wagyu beef with black truffle; double-boiled sea whelk soup with fish maw, chicken and wild mushroom; and bird's nest egg tart. 6-8-course set lunch and dinner menus are priced from $118 per person, and are available from 1 to 26 February 2021.

Takeaway: Chef Cheung Siu Kong's luxurious pen cai, filled to the brim with prized ingredients like whole abalone, Chinese mushrooms, goose web, roast duck and pork, king prawn, dried scallop and fish maw, will be cooked to order for takeaways complete with the claypot to keep its precious contents warm and ready to eat.

For reservations and enquiries, call +65 6434 5286 or email rc.sinrz.summerpavilion@ritzcarlton.com.


(Photo: Goodwood Park Hotel)
Min Jiang and Min Jiang At Dempsey
MICHELIN Plate restaurants, MICHELIN Guide Singapore 2019

Dine-in: Symbolic ingredients make up the feasting at Min Jiang in dishes like Double-boiled Chicken Soup with Abalones and 'Ba Wang Hua' as well as Slow-braised Spicy Oxtail With Pickled Mustard And Enoki Mushrooms In Claypot. 6- to 9-course set menus at Min Jiang start at $138++ per person (minimum 2 to dine) while 6- to 8-course set menus at Min Jiang At Dempsey start from $138++ person (minimum of 2 to dine). Available from 24 Jan to 26 Feb.

Takeaway: Both restaurants are offering 6-course Festive Treasures takeaway menus with yusheng featuring appetiser platters, seafood, meat and rice dishes as well as dessert for $843.15 for six persons. Take the festive feasting up a notch by adding the Prosperity Sea Treasures pen cai ($522.15 for six) in a wooden pot.

For reservations and enquiries at Min Jiang, call +65 6730 1704 or email min_jiang@goodwoodparkhotel.com; and +65 6774 0122 or mjdempsey@goodwoodparkhotel.com for Min Jiang At Dempsey.


(Photo: Mandarin Oriental Singapore)
Cherry Garden
MICHELIN Plate, MICHELIN Guide Singapore 2019

Dine-in: Choose from five variations of yusheng featuring the likes of truffle and caviar to go with new festive dishes such as Double-Boiled Spring Chicken Soup, a new culinary creation flavoured with Peruvian ginseng, abalone, sea cucumber, snow fungus, fish maw and conpoy. Available from 8-26 Feb.

Takeaway: Various yusheng platters ($88-$288) and a takeaway version of Cherry Garden's signature Pen Cai ($408) are available for purchase online alongside exquisitely crafted hampers (from $168), nian gao ($36-$48), homemade radish cake ($48) with waxed meat, dried shrimp, white radish and carrots and even whole oven-roasted suckling pig ($250).

For reservations and enquiries, call +65 6885 3500 or email mosin-dining@mohg.com.


(Photo: Man Fu Yuan)
Man Fu Yuan
MICHELIN Plate, MICHELIN Guide Singapore 2019

Dine-in: Select from eight prix-fixe menus (from $138++ per person, minimum of two to dine, to $2388 for 8 persons) featuring dishes like superior crab meat and pumpkin bisque with bird's nest and crab roe; braised three-head abalone with sea cucumber, truffle and pumpkin abalone sauce; as well as braised lobster tossed with signature X.O. sauce topped with ikura. Available from 12 Jan to 26 Feb.

Takeaway: Besides three options for yusheng ($88-$158), the Man Fu Yuan Abundance Treasure Pot ($468) and an array of CNY goodies, Year of the Ox-inspired dishes for takeaway include Man Fu Yuan's classic Braised Beef Pot ($248), featuring a variety of beef cuts such as Beef Tendon, Louver and Brisket, all packed with robust flavours. Other signatures include whole smoked duck with truffle sauce ($108) and roasted chicken with garlic crumble, almonds and dried chilli ($58).

For reservations and enquiries, email sinhbmanfuyuan.manfuyuan@ihg.com or visit the InterContinental Shoppe.


(Photo: Crystal Jade)
Crystal Jade Golden Palace
MICHELIN Plate, MICHELIN Guide Singapore 2019

Dine-in: Indulge in Teochew specialities such as Marinated foie gras in Teochew style and tau suan with gingko nuts alongside festive dishes like Roasted Irish Duck With Crispy Rice In Chef's Special Sauce and Braised Hand-pulled La Mian With Lobster In XO Sauce. Set menus start at $108 to $198 per person (minimum two to dine) and $528 to $1,988 for four to eight persons. Available 25 Jan to 28 Feb.

Takeaway: Those choosing to dine at home this year can still get their hands on the restaurant's new Season Of Wealth Golden Scallop Yusheng ($108/$168) and Abundance Abalone Treasure Pot ($398). Available online from now till 23 Feb.

For reservations and enquiries, call +65 6734 6866 or book online here.