Friday means fish, Christmas calls for turkey and, for Easter, it just has to be lamb. From shank to shoulder, rack to rump, and loin to leg, lamb is a versatile and varied meat, so it's hardly surprising it's omnipresent on the menus of many of the UK and Ireland's finest restaurants. So, for those looking for suggestions of where to enjoy the best lamb dishes, here are some ideas:

Lamb has long been a feature of many a Mediterranean country. The Hand and Flowers pays tribute with their loin of Wiltshire lamb 'Provençal' with braised breast, black olive crêpe, pesto and lamb gravy (is there a more appetite-inducing word than 'gravy'?). At Sabor, you can dive into their delicious grilled Iberian lamb cutlets with roasted Jerusalem artichokes. For a hint of Greece and the promise of summer, head to Pied à Terre, where your lamb comes with tzatziki and feta.

Photo: Etienne Gilfillan/Pied à Terre
Many restaurants opt for two different cuts on one plate, using two different cooking methods. Martin Wishart's roast saddle of Dornoch lamb is accompanied by crispy belly; while, also in Scotland, Andrew Fairlie at Gleneagles pairs herb-crusted loin with braised shoulder. At The Bridge Arms, roast saddle comes with confit breast of Blackface lamb; while at Wild Honey Inn, rump is coupled with braised neck.

Wild garlic and sheep's curd are two popular accompaniments these days. Sorrel uses wild garlic, along with broccoli pappardelle, to enhance their Cornish lamb; Eipic also use it with their Blackface lamb; as does Meadowsweet with their Hindolveston lamb. Le Champignon Sauvage makes good use of sheep's curd for their roasted Cotswold lamb chump which also comes with Romaine lettuce and peas. Bybrook uses both curd and wild garlic in their Huntsham Farm Ryeland lamb dish.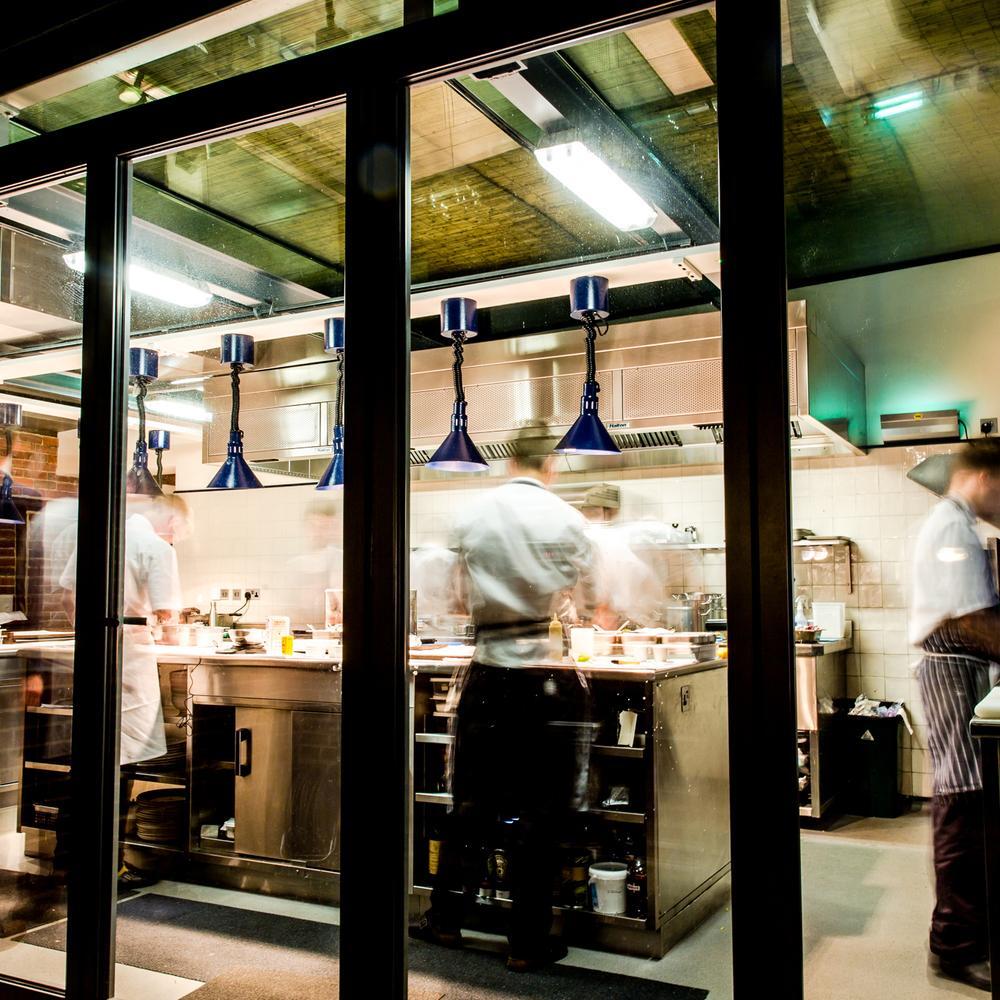 Photo: Paul Judd Food/Sorrel
No talk of lamb would be complete without mention of that most delicious of delicacies – sweetbreads. At Da Terra, sweetbreads accompany their Cornish lamb, along with kale and cassava.

Lamb is an integral part of Indian cuisine and our Michelin Starred Indian restaurants serve it in a variety of guises. At Jamavar Adraki lamb chops are cooked in the tandoor; Benares uses Welsh lamb for a curry; while Opheem opts for that classic Kashmiri dish, rogan josh.

Lamb's versatility is shown with Le Gavroche's lamb and sage ravioli with pumpkin, while Northcote serves a Wellington using local Cumbrian lamb. Its popularity in North African cooking is celebrated by Chez Bruce with their lamb tagine with pastilla and aubergine relish.

Photo: Jamavar
If you'd prefer Asian flavours, then try Hakkasan Mayfair's wok-seared lamb chop with baby leek, or the soy and honey marinated roast lamb at Kai. At A. Wong you should always order the Shaanxi pulled lamb burger with Xinjiang pomegranate salad.

While we all love lamb, hogget and mutton should never be excluded from the conversation. The Old Stamp House serves Yew Tree Farm Herdwick hogget with scrumpet. The Cellar at Anstruther offers dry-aged Balcaskie mutton, while at Lyle's they pair Romney mutton with spring greens and anchovy.

Enjoy your Easter lamb, whether cooking it at home or – better still – having it in a restaurant. And once you've enjoyed it, you can then start on all that chocolate…

Photo: Carré d'agneau tranché - StockNinja/iStock
Hero Photo: Carré d'agneau alle12/iStock