Laotian food has adopted and contributed to many cuisines for hundreds of years due to the country's constant exposure to merchants along the caravan trading routes stretching from the Golden Triangle, China and India.
"Historical Lao cuisine is layered with flavor and texture for which Paste has been recognised for... Laos is a country with enormous pristine forests and unrestrained nature. The sparse, rural population, with as much connection to hunting and foraging as agriculture, fosters a strong connection to plant-centric cuisine, and a clever, precise inherently sustainable approach to food," Said Chef Bee Satongun.
Recognised as the godfather of Laotian food, Phia Sing's cookbook published posthumously is one of the key pillars of inspiration behind Paste Laos.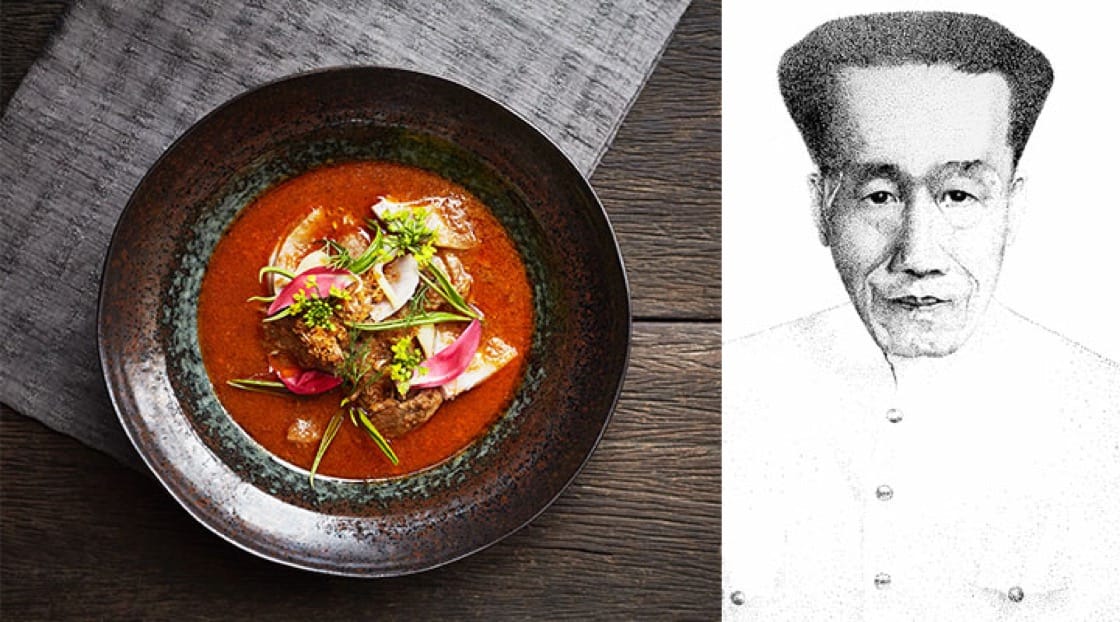 Signature dish for Paste Laos: ແກ້ງກະລີ່ເປັດ - A recreation and slight reinvention of the classic recipe for Laos Duck Curry - Kalee Ped originally created by the polymath Phia Sing (right).
From L-R: ຂົ້ວສົມຜັກ Pad (Khoua) som phak Stir fried pickled cabbage, salt cured mushrooms, fermented onion shoots, smoked pork knuckle and our own white ginger flower vinegar. The most famous dish of the UNESCO heritage city of Luang Prabang - Laos ເອາະລາມໄກຟ້າ Or Lam Gai Faa Stew Slow braised French pheasant in low temperature animal fat.
ຍຳໝາກເຂືອຂື່ນ Laos salad of bitter eggplant, air dried beef, sawah flower rush, fermented guava. Tossed in kaffir lime juice and prickly heat. Chef Bee Satongun (right).
"Phia Sing's knowledge of technique, ingredients, and deep connection to Lao culture, combined with his extensive education and experience in the fine arts, is what makes it so interesting in the context of modern Laotian food and what we're doing at Paste Laos," said Chef Bee Satongun.

Paste Laos is scheduled to open in November 2018.

Please visit website for bookings, menu and more details.
Here's what our inspectors said about Paste Bangkok (One Michelin Star)
The striking interior is dominated by a spiral sculpture made from hundreds of silk cocoons, floor to ceiling windows, and unusual curved booths that offer privacy. The designed-to-share menu draws inspiration from royal Thai cuisine and uses century-old cooking techniques with ingredients often sourced directly from local growers. Signature dishes include roast duck with nutmeg and coriander; fragrant hot and sour soup with crispy pork leg; and yellow curry from the Gulf of Thailand. Service is attentive but not overbearing.
More about Phia Sing
Phia Sing worked for the Laos Royal family as Master of Ceremonies as well as mentor to the young princes. His unique knowledge and familiarity with the recipes of the Royal kitchen, as well as close observation of old customs and rituals made him an important figure in Laotian cuisine.