Fried Olives
Canola oil for deep frying
1 cup (237ml) all-purpose flour
4 large eggs, beaten
3 cups (711ml) fine panko
2 cups (473 ml) pitted Kalamata olives
Labne
Harissa oil
Instructions

Heat enough oil in a skillet or medium pot to deep-fry the olives.
Line up three large bowls and fill the first one with the flour, the second with the eggs, and the third with panko.
Working in very small batches (no more than 8 to 10 olives at a time) with the help of your trusty slotted spoon, throw a handful of olives into the flour and shake off any excess flour. Quickly dip the olives in the egg, then into the panko. Shake off the excess panko, then put the olives back into the egg mixture one last time. Transfer from the egg mixture back to the panko and shake them around to coat evenly. Shake off any excess crumbs with the slotted spoon and place in an airtight container until ready to use. If the panko begins to get gooey or chunky from the egg, take a moment to strain it off any clumps. This can be done up to a day in advance as long as it is stored in the refrigerator.
When the oil reaches about 375°F (190°C) carefully place a handful of olives in the oil using the slotted spoon. Fry until golden brown, about 1 minute. Transfer the fried olives to paper towels to absorb any excess oil.
To serve, dollop the labne evenly across the bottom of a shallow serving bowl. Add the piping-hot fried olives in the middle. Carefully pour the harissa oil around the circumference of the bowl.


Admony says, "This is one of my signature dishes that I just can't let go of—it's been with me from the time I created my first menu in New York. I serve it as an appetizer at Balaboosta, but it's also a great snack with a cold beer. The saltiness, acidity, and crispy texture make for the perfect bite!"

Balaboosta's fried olives with harissa oil. Photo courtesy of Balaboosta
Sabich Deviled Eggs
6 eggs, hard-boiled
Beet juice (optional)
Mayonnaise
1 Eggplant, charred
1 Japanese eggplant, sliced thin and fried
Amba
Turmeric
Salt
Pickled beets
Sorel or other micro-green
Instructions
Hard-boiled eggs: Bring a pot of water to boil with a pinch of salt, add the eggs and let boil for 10 minutes, promptly removing and cooling afterward. Peel once cooled. For an accent color, soak peeled eggs in beet juice. Finally, cut the hard-boiled eggs in half and spoon the cooked yolks into a bowl.
Charred eggplant: Char the eggplant in an oven or over an open flame until skin is very dark and the eggplant has taken a creamy texture. Remove skin and set aside in a colander over a bowl to remove excess water.
Japanese eggplant chips: Slice the eggplant thinly with a mandolin. Fry slices until golden brown in 300-325°F (150-165°C) oil, approximately 30 seconds to one minute, and salt lightly.
Filling: Place the egg yolks, mayonnaise, charred eggplant, amba, and turmeric in a food processor and mix until well combined. Put the mixture in a piping bag (optional) and fill the halved eggs. Garnish with the eggplant chips and sorel, salt to taste, and serve!

"Sabich is originally an Iraqi Jewish sandwich served in a flatbread called laffa or stuffed in a pita. It usually contains hard-boiled egg, fried eggplant, amba, hummus, and fresh or pickled vegetables. It is my favorite sandwich of all time! I always try to find ways to serve this flavor that is easy to grab and easy to host with. For my Sabich Deviled Eggs, I took two signature dishes, one from Israel and one from America, and combined them — two cultures, one bite."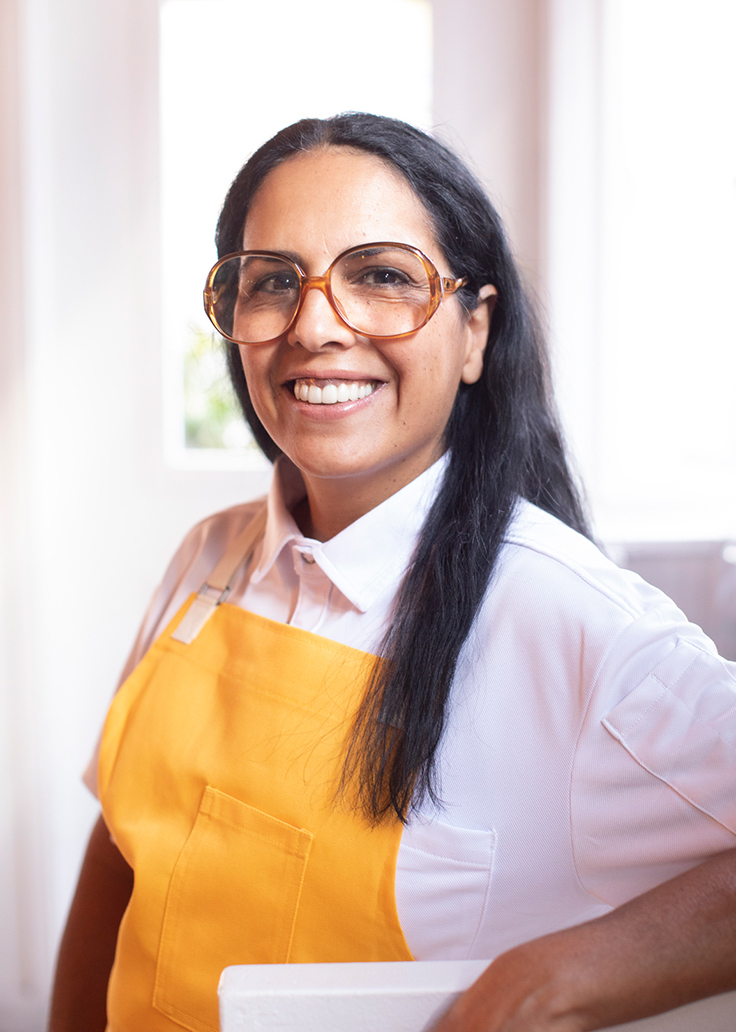 Balaboosta chef-owner Einat Admony.
Photo by Heidi Harris

Hero image: Balaboosta's sabich deviled eggs. Photo courtesy of Balaboosta