Beyti Güler, who is 94 years old today, gave his name to his restaurant as well as his signature lamb dish. Behind this name, there is a long-standing family tradition. In 1945, Beyti Güler opened a small, four-table restaurant in Küçükçekmece with his father, Abdülmuttalip, and within a few years, it gained great fame as one of the best meat restaurants in the city. Journalists such as Burhan Felek recommended it and its popularity grew.

Beyti // The old place of the restaurant
After spending a quarter of a century in the same spot, Mr. Güler constructed a new restaurant, which is still in operation today. The building, which they moved in 1983, was designed by famous architect Yılmaz Sanlı and took 10 years to build. It's unique in İstanbul because of its architectural style, handmade wall tiles and wood-carving decorations. As you step inside, the atmosphere prepares you for what is to come. Mr. Güler takes great care and delivers an extraordinary experience here, where classical handicrafts and delicate workmanship blend with a modern kitchen.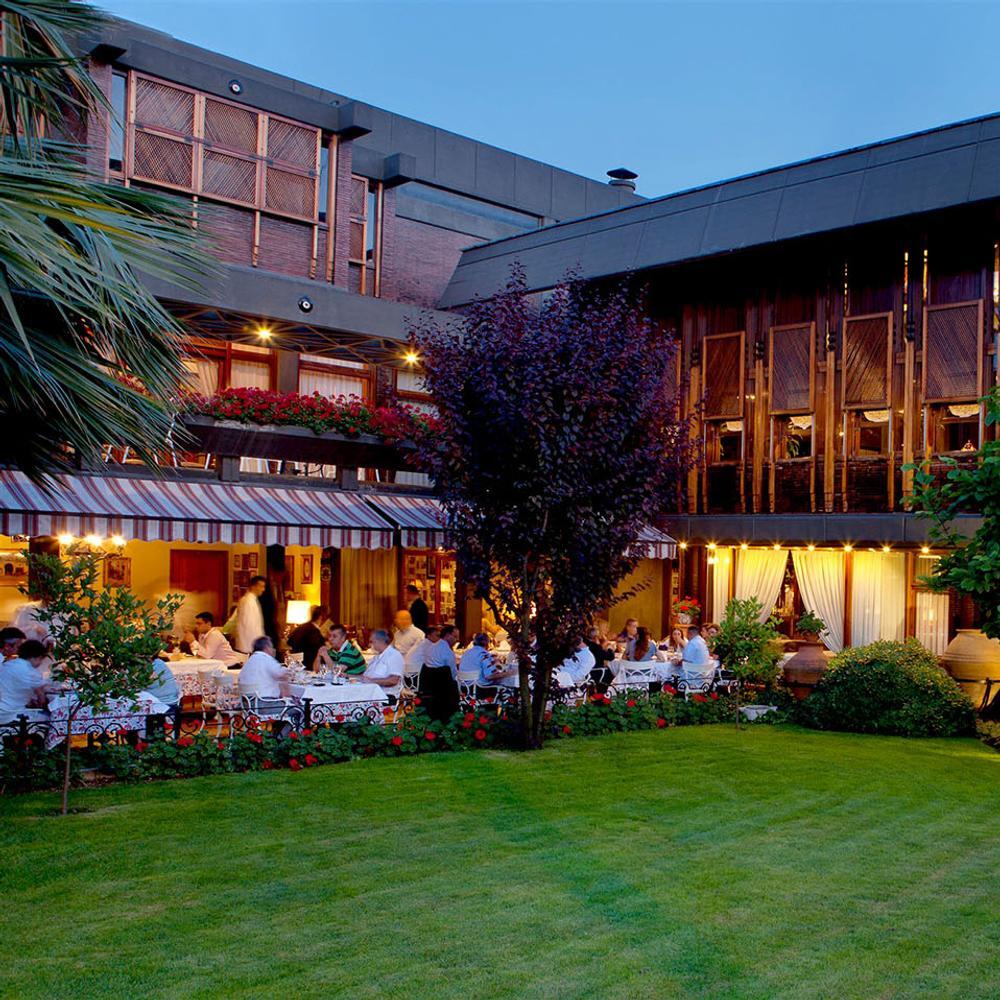 Beyti // The glamorous building in Florya, Istanbul
Beyti Güler stands out among many other talented restaurateurs because he learned from craftsmen, including his own father, who taught him how to cook and the butchers in Küçükçekmece who shared the finer details of processing meat. Technical know-how aside, he never stops searching for the different and new while holding on to tradition. Indeed, Beyti Güler has combined his craftsmanship and care with his constant craving for learning, creating a unique dish with his name. An even bigger success is perhaps to maintain it and pass it to the next generations…

Now, the 94-year-old Mr. Güler runs his restaurant with his son, Ahmet, and grandson, Cem, and continues to visit the restaurant regularly to see his customers. After all, this is a place where one out of two people walking in is a "regular customer", and regulars seek special attention. Still, his son and grandson are not the only ones helping him continue the legacy; his employees have become family, too. Osman Yılmaz, who has been the restaurant manager here since 1985, makes sure everything runs as Mr. Güler would want it, tending to every detail from the kitchen to service. Maintaining the quality of the meat that has brought the restaurant its fame is a matter on its own and Mr. Paşa, one of the chefs, emphasizes that in order to keep the quality, they never compromise on the meat they purchase – a certain type of lamb from Eastern Trace (a region located in the northwest of Türkiye) called "Kıvırcık".

Lamb meat rolls: they will be sliced the day after for new "beyti" dishes
"Beyti kebab," named after Beyti Güler, is created by processing the meat of Kıvırcık in a unique way. The meat rests for 12 days, is marinated in onion juice, vinegar, and extra virgin olive oil for three days, then pieces from the lamb back strap and filet are rolled to rest for another day. Finally, it is sliced the following day. Thanks to the fat on the outer layer, the meat remains extremely soft and flavorful, and with the capable hands of the grill chefs you are served a juicy, delicious lamb cooked. Obviously, this "beyti" made by rolling lamb pieces bears no similarity to the ubiquitous "minced meat kebab with veggies". The fact that this minced meat kebab which is served with or without being wrapped in thin bread is also called "beyti" is a completely different topic…

Beyti // Juicy and flavorful: "beyti" on the grill
Beyti // Slices of döner kebab, meatball, lamb entrecote, and of course, beyti
However, beyti kebab is not the only dish Beyti restaurant serves. Grill and kebab selections, such as thick and juicy döner kebab slices or flavorful lamb chops, as well as salads, are all delicious. Unlike other traditional restaurants who don't serve alcoholic beverages, Beyti offers a wide selection of fine wine. In fact, as one of the most prominent spirit Turkish experts and Keeper of the Quaich, Burkay Adalığ states, just like pairing whisky with lahmacun (flatbread topped with minced meat, herbs and spice), many of Türkiye's traditional dishes are actually quite compatible with wine and spirits. Beyti stands out with its menu rich in spirits and boutique Turkish wines. And a final note on the desserts: They deserve compliments for making all the desserts in-house, and not just the delicious quince dessert with clotted cream, pumpkin dessert, rice pudding etc., but also desserts like baklava and ekmek kadayıfı (bread pudding with syrup and clotted cream), which require technique and effort.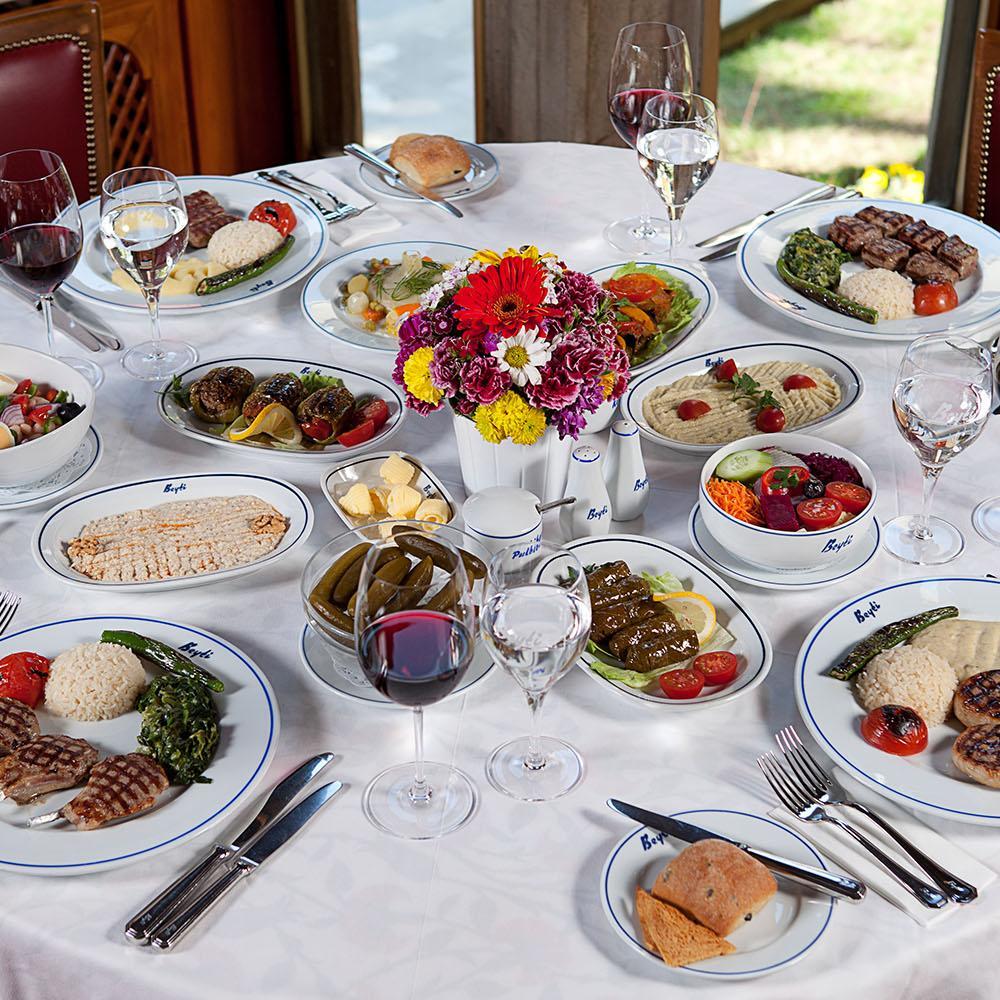 Beyti // Meat and olive oil dishes, salads and pilav (rice)... a real traditional table
From a sapling into a big, rooted tree; this is what Beyti Güler has created with his extraordinary vision. This adventure that has been going strong for four generations continues to preserve one of İstanbul's gastronomical treasures.


Illustration image: Beyti // Beyti Güler, a real Turkish master
This post is brought to you in partnership with GoTürkiye