Istanbulites are quite proud with their highly flavourful Bosphorus fishes - as well as other seafood products - and they are notorious with labeling the fish elsewhere as "lacking intensity in flavour". The shoal of fish here which dance among the currents between the Marmara Sea and the Black Sea indeed fatten with the cold currents, thus get a stronger flavour. Particularly starting with late autumn, Istanbul turns into a fish heaven and offer fish aficionados amazing dishes.

Left: bluefish // Kıyı, right: red mullet and turbot // AQUA
At this point, there are two things to consider to fully enjoy this treasure: first and foremost, knowing which fish is in season and eating it at the right time; second, being sure that fresh seasonal fish are prepared properly. A good fish restaurant is the best friend of any foodie, because it does not only select the best quality fish, but also helps you to choose the best pairing of fish and cooking technique, and prepares this precious ingredient in the right way.

If we are talking about the special types of fish dishes of Istanbul, surely lakerda takes the first place, not just because it's a "cold starter" but also because it is an ancient dish inherited from Byzantium. Lakerda may look like yet another salted fish at first glance, but its technique is different, and its butter-like texture that dissolves in your mouth makes it unique. A lakerda made by capable hands using a big bonito (called torik) which has enough fat and is caught before the south-west winds hit (otherwise the flesh would not be firm!) is a true miracle, because it helps intensify the flavour of the fish, so lakerda lands on your plate as if it was "concentrated". The most traditional way to enjoy this dish is to accentuate it with olive oil and rings of onion, and pair it with Turkish rakı, as it is served in Kıyı restaurant which has been serving seafood for more than 50 years; so you can be sure to have a perfect lakerda at any given time.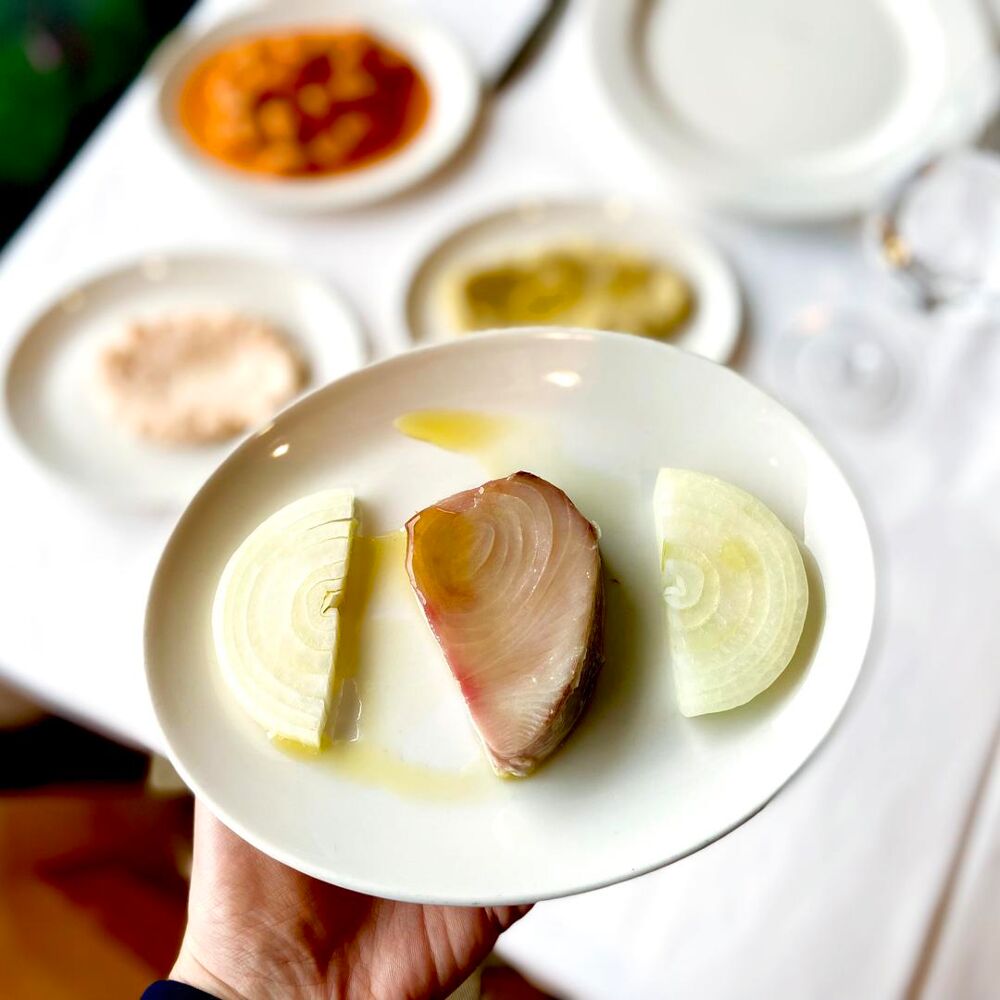 Kıyı // Traditional lakerda dish with onion and olive oil
However, you can also have a modern take on this dish and ask your sommelier to pair it with the right wine: For instance, in AQUA which is in Four Seasons Bosphorus, lakerda has a brand-new interpretation with celery slices, artichoke and an amazing sauce made with purple basil. At the first glance, this dish doesn't reveal what it is and what an amazing flavour it hides, and then surprises you by successfully combining each of these strong flavoured ingredients with lakerda in a balanced way.

AQUA // A contemporary touch to lakerda with local ingredients
Even though the star of November is bonito, by December, bluefish (lüfer), "the sultan of the Bosphorus" takes the lead. Bluefish does not have this honorary name in vain; there are poems, historical records and sayings about the "bluefish frenzy" that tell us aristocrats (including the sultan) were going for bluefish hunting when Istanbul was the capital of the Ottoman Empire. Indeed, while bluefish from Atlantic or Mediterranean has mediocre taste, the Bosphorus bluefish conquers palates with its extraordinary flavour. But it's important to be sure that the bluefish is at least around 30 centimeters long for tasting a really delicious one.

If you want to get the most out of bluefish, the best way is to grill it. Due to its delicate taste, it should not be overshadowed by anything else, therefore, any kind of seasoning should be kept very light. Kıyı with its never-changing style and chef for more than 45 years, gets all the praise for cooking this fish the way it's supposed to be, not letting it stick to the grill or dry up. Pair it either with a glass of rakı, a local Narince wine, or a strong Chardonnay; you always know that whenever you go to Kıyı, you will find exquisite fish there. If what you're seeking is tasting the best seafood in its unvarnished form with consistent quality, then Kıyı is where you should go…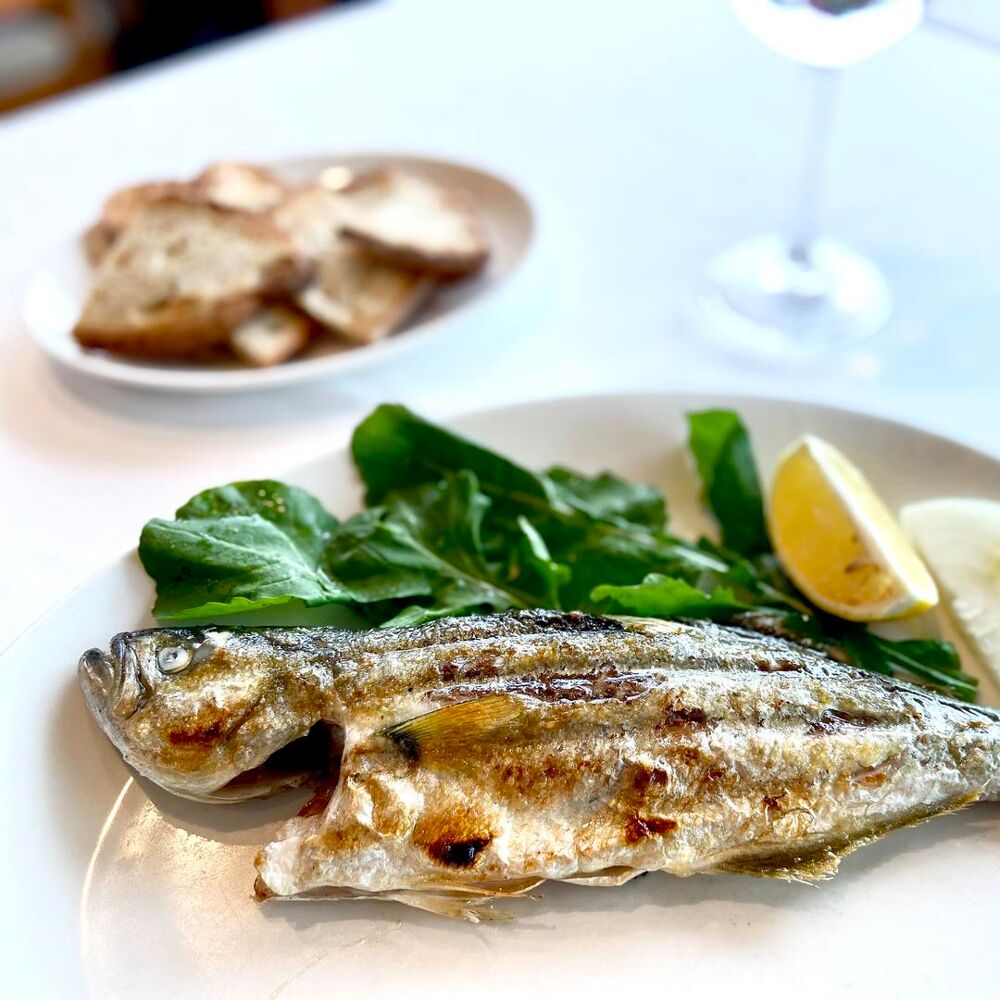 Kıyı // Grilled bluefish of Bosphorus: simple, unvarnished, delicious and flavourful
Yet, if a decision had to be made to pick just one fish, Istanbulites would have a hard time choosing between bluefish and turbot! Because fried turbot is another famous treasure of the city. Still, sometimes we'd like to taste more innovative and venturous plates, experience traditional ingredients with contemporary interpretations. At those times, AQUA is the perfect place to visit. For instance, serving turbot with a spectacular purple basil sauce and side of morel mushrooms and root vegetables, AQUA raises the bar higher while presenting a new take on this beloved fish of the city. In this sense, we can say that the chef of AQUA, Görkem Özkan knows his ingredients well, and he is highly capable on the creative side.

AQUA // An unconventionally good match - turbot and seasonal mushroom variety with root vegetables
Gastronomically speaking, it is certain that following the seasonality of the ingredients is a prerequisite of flavourful discoveries. For this reason, those who would like to have a special night out or who visit iIstanbul in winter season should use this time as an opportunity to try the legendary fishes of the city. Those who would like to celebrate the New Year's Eve with seafood could choose AQUA which is inside Four Seasons Bosphorus, a spectacular Ottoman palace built by the Bosphorus in 19th century, and have an unforgettable night in this restaurant which combines many delicious ingredients - such as the turbot mentioned in this article - , but also others like caviar, shrimps with surprising side dishes with a perfect fine-dining experience.

Istanbul is ready to blow our minds with its precious winter gifts. And what about us, are we ready to discover the Bosphorus fishes shining like the gems of the sea?


Illustration image: AQUA