Always had a burning question but not sure who to ask? In our regular Ask the Experts section, we do all the noseying about so you don't have to.
---
Ivan Capelo is leading surfaces producer and distributor
Cosentino
's Technical Manager in Asia.
The former interior designer has carved for himself a career in the stone industry, with more than a decade of experience from technical assistance to surface fabricators and kitchen studios. As a product manager, he is also constantly studying new market trends in countertop surfaces and even developing new colors.
Dear Ivan,

I'm so excited to finally have my own kitchen! What kind of countertop surfaces are available these days and what are some things I should consider when I am choosing the right one for my home?
Choosing the appropriate countertop is not a simple decision. After all, it is a material that will be present for several years in the kitchen, and will determine the aesthetic and functional aspects of it.

To date, there are so many options on the market—solid surface, natural stone, granite, marble, wood, cement, laminate, among many others—that it can become difficult to make the right decision. Here are two main things you should consider as you explore your options: functionality and aesthetics.
Functional features

The countertop is a working area so the material you choose should have a high scratch-resistance, high stain-resistance, and be easy to clean and maintain. Some of the hardier and more popular options include:

Granite: Granite is very resistant to scratches but needs to be periodically sealed to prevent stains

Engineered Stone: This is a compact, high scratch- and stain-resistant quartz. At Cosentino, we have Silestone with its revolutionary new technology N-Boost, which prevents liquid adhesion, enhances gloss and intensifies the colors.

Ultra Compact Surface: This new generation product is composed of quartz, porcelain and glass, and is of great hardness and highly resistant to stains. It's an alternative that is growing very fast due to its great variety of colors and textures and high resistance to the heat and UV stability. Dekton is a good example of an Ultra Compact Surface that is carried by Cosentino. Some popular but less durable options: Marble: A classic choice with high aesthetic value but low resistance. You could use it in specific areas of the kitchen like an island that's used for dining, but it is not recommended as a worktop due to the high risk of staining over time.

Solid Surface: This has grown very popular in recent years for its affordability. It is easy to clean but is prone to scratches and so requires periodic maintenance to preserve its original appearance.

Laminate: Laminates are an economic product with a wide range of colors and realistic textures to choose from but it is not ideal as a kitchen worktop surface because it can be deteriorated by moisture and deformed over time.
Dekton by Cosentino is an example of Ultra Compact Surface
Aesthetic value

Of course, another important point to consider is the look we want our kitchens to possess. The combination of furniture, appliances, textures and colors that we choose will mark the style of this space.

In terms of functionality as explained above, both Engineered Stone and Ultra Compact Surfaces, give great reliability in the long term. Combined with the fact that these materials come in a wide variety of colors and textures that would fit any kitchen style, they are very viable modern-day options for your kitchen.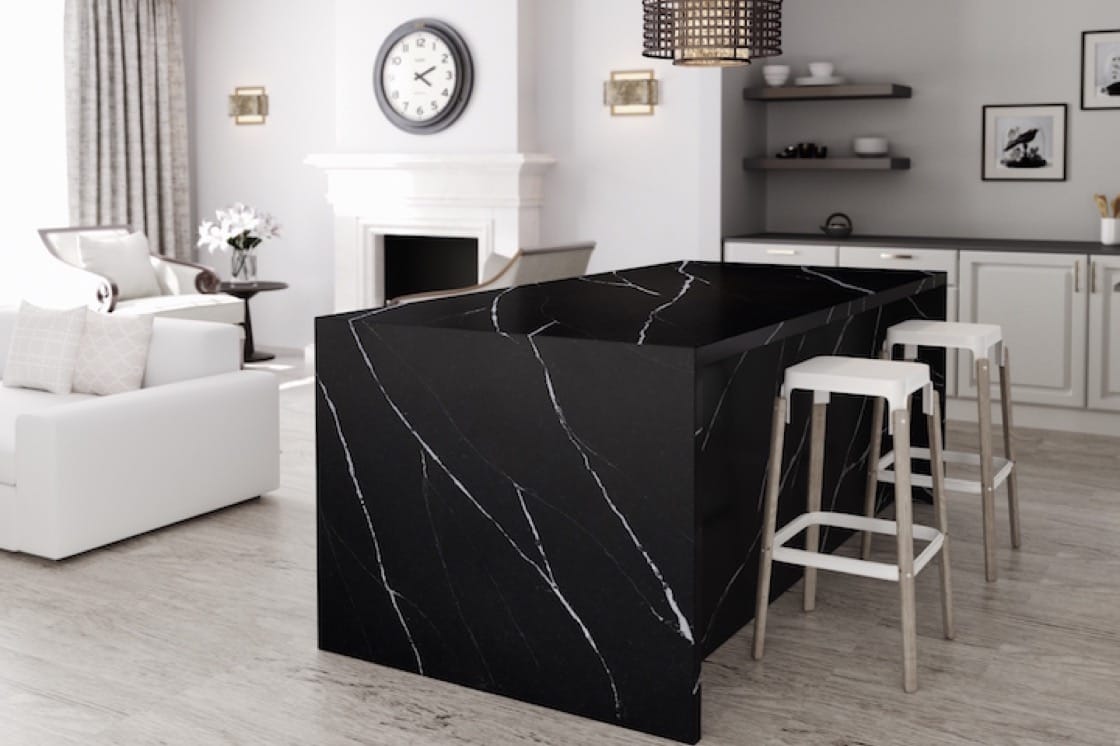 The Silestone surface looks just like real Italian Marquina marble
With technological advancements, these engineered surfaces can be made to look just like naturally occurring materials such as high-end marble or granite. For example, the new Eternal Collection by Silestone is inspired by natural stone colors like the highly sought-after Calacatta Gold marble with its deep grey veins and taupe hightlights, dramatic black Marquina or distinctive Italian Statuario marble. This really combines form and function.
Recommended reading: Get more tips and insights from experts here.