More than collecting stars or amassing a fortune, what acclaimed chef Daniel Boulud looks for is to be happy.
And at the mention of family, he instantly softens up, barely managing to hold back his tears as his eyes turn red and he tries to suppress his emotions.
"A great chef is something that will take a lifetime of hard work [to achieve] and no one can see what a chef has to go through to become a great chef," he says. "Wanting to succeed at the highest level, it's a commitment, it's a sacrifice as well."
In 1993, a decade after Boulud arrived in New York City, he boldly struck out on his own to open his first and eponymous restaurant, Daniel, then located on East 76th street in the heart of Manhattan's Upper East Side. Remembering those times, Boulud says that they were some of the most challenging moments in his life. Looking back now, he remembers them also as the "most rewarding."

In a career spanning more than 40 years, the renowned 63-year-old French chef, who grew up on his family's farm in Saint-Pierre-de-Chandieu outside of Lyon, has worked with some of the greatest chefs in the world.
"I think in every young chef, there is a dream," he says, speaking about all the great chefs that he has worked with. "My dream was about my mentors, I wanted to be one of them. I wanted to succeed like them."
"I wrote a book called Letters to a Young Chef and that book is about giving very good advice to someone who chooses to become a chef." He adds, "They don't have to take my path. They don't have to believe in me. But if they believe in cooking, they should know what to choose to do."
Boulud should know. He illustrious career has seen him bagging numerous coveted awards.
Remembering his time in the kitchens as a young chef, he says, "I don't know if there is a particular quality for a young chef. I think you want to be ambitious, but you want to be humble at the same time. You want to be generous, but you also want to have a sense of the economics of things. You want to be very creative, but you want to be focused and grounded and rooted at the same time. I think humility is more important than pretension and arrogance."
"And you have to be patient," he adds. "Things will come at you. That's why when I see a young chef, I tell them there is no rush to become a famous chef. Just keep working at your craft, be patient, be loyal and be confident."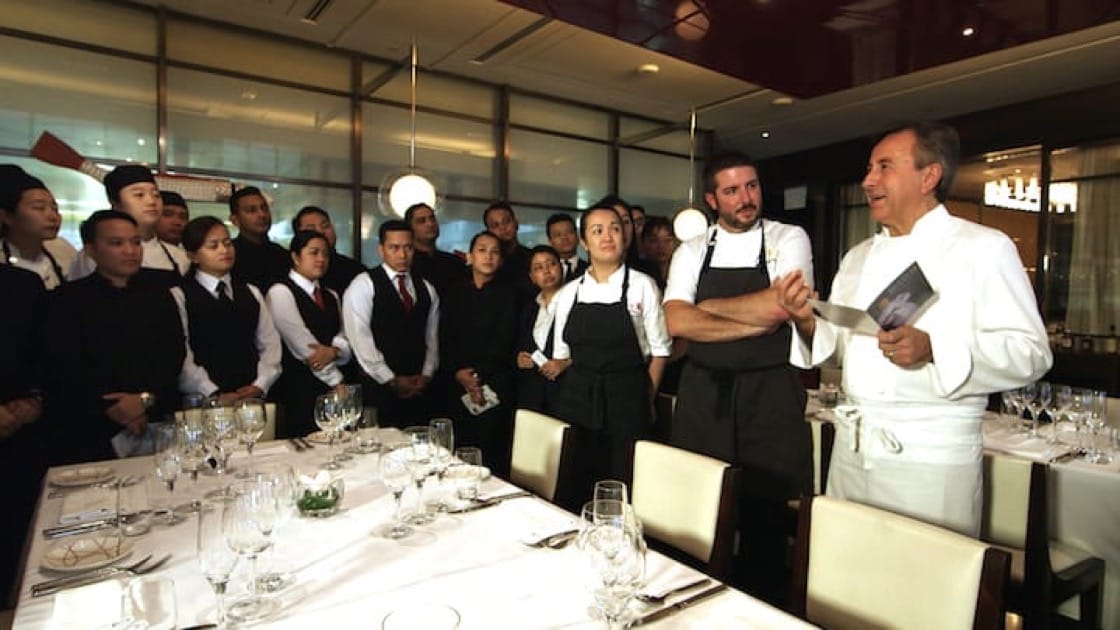 During a recent trip to Singapore, The MICHELIN Guide Digital Team had the privilege of following Boulud in the kitchen at db Bistro & Oyster Bar—it was like seeing his words of wisdom come to life.
He was every bit as energetic as his teenage self was. Sharing about his childhood days, Boulud says it impacted him greatly and imbued him with the passion he has for kitchen work through today.
"As a child, growing up on the farm, everything we had on the table every day was humble but everything was homegrown and homemade. My father was at the farmers' market every week and we would sell everything, from vegetables we were growing to the cheese we were making, to the chicken, the rabbit ... everything we were growing on the farm was sold to the market."
"On some days, there would be a big feast, but the big feast was still made with ingredients from the farm and we would have kept the best for just ourselves," he continues. "I think that also gave me a sense of passion for making beautiful ingredients, to see how people were attached to [you] because you cared. You cared for what you did and you cared for what you were giving to customers. But then we also travelled. We would travel to Brittany or the south of France and discover a whole different cuisine, different tastes and different ingredients, and I think that initiated my passion for cooking as well."
For Boulud, cooking is first and foremost about pleasure. He reminds you that this means cooking "has to, of course, make you very happy."
Inspired by the seasons and nature's gifts, and driven by tradition, travel and culture, Boulud's gift to the culinary world has always been his ability to redefine dishes with refinement and elegance—even if it is as simple as a burger.
Ask him about the qualities chefs are made of and he responds: "You have to be a great listener. I think within myself, that besides the steps of creating a beautiful dish, it's the discipline, the respect, the understanding of ingredients and the economics of cooking."
While he has built a global empire of restaurants, it has never been with a financial goal in mind. He cautions that, "Accomplishment in our business has a lot to do with how we can achieve our dream and not go broke on the way to making that dream come true, because that's the hardest part."
Amassing Michelin stars constitutes part of that dream. As he puts it, moving from one to two stars takes "a lot of work," while from two to three, "it's a decision."
"Do you have what it takes to earn it and to keep it?," he asks. "Is there any support to you who can help you achieve that? And some chefs don't wish to have three."
Despite his many successes, he has also had his fair share of disappointments. In 2014, his flagship Daniel went from three Michelin stars to two.
"I had the three stars and they took them away. One thing I would say in my situation, which is maybe a little different than others, is that I feel I had proven myself before Michelin came to New York. I had proven who I was and what I was able to do," he says.
"The model of the restaurant and the business I had wasn't compatible to Michelin, maybe or maybe not, but I never really set my goals on just one particular obsession and I think my obsession has always been my customer, my team and my community, and I think that was very important," he continues. "And my reputation also comes from the loyalty of my customers as well and that of the team. I cared about that a lot."
He still has that ambition of earning a third star, because he "believes and knows he can."
Speaking matter-of-factly, he says that every chef has his own ambition and limitation. "If you understand that and know that, you live very happily and can be very successful in business."
Success, for him, is derived from the work he does and the impact he has on his community, city and country. Mentoring is definitely one of the biggest rewards for him.
"I think, to me, as long as I am appreciated and respected for what I have done, what I do every day and what I represent in my industry, I think it's my reward, in a way. To be a great chef, I think you have to be a fighter, but you [also] have to be happy with yourself."